Shuffle

qbap |
Cydia Tweaks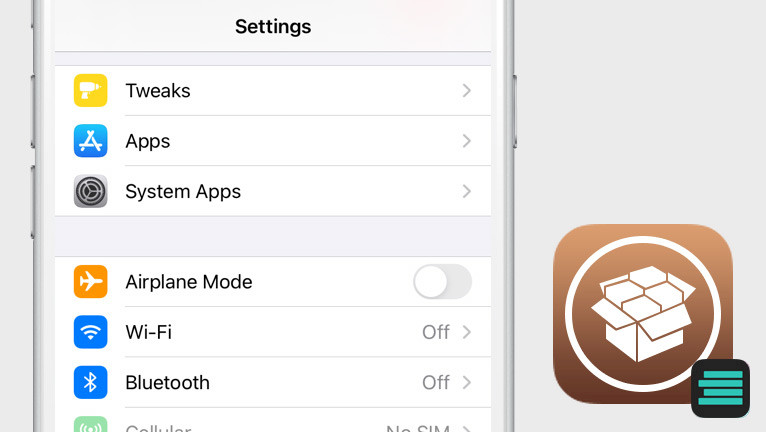 When you install a lot of jailbreak tweaks on your iPhone or iPad the Settings app could look messy. Thankfully there is a better way to organize tweaks using Shuffle. It puts all apps and tweaks in sections available on top of the Settings app.
Add Shuffle Repo to your package manager.
What is Shuffle?
Shuffle is a jailbreak tweak that redefines the look of the Settings app allowing you to better organize apps and installed tweaks through Cydia. The tweak works with all modern jailbreaks running iOS 10 - iOS 14. The latest release of the settings organizer is 1.6.1.
Once installed, Shuffle adds to the top of the Settings app new sections with Tweaks, Apps, and System Apps. This allows you to quickly manage all tweaks preferences without scrolling down. Everything is organized the way you would expect from the beginning.
When you have installed a lot of tweaks you will be happy to know that each section comes with a search bar allowing you to find tweak preferences. This works also with installed Apps.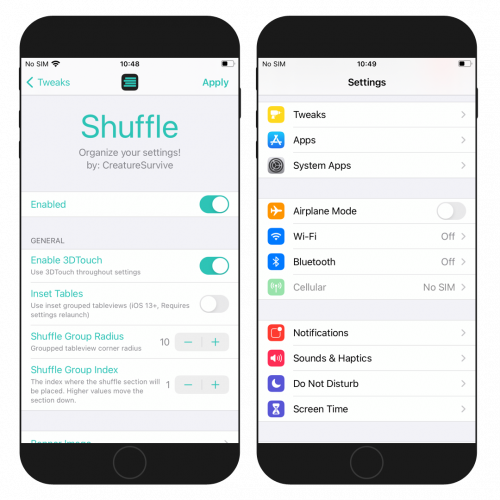 But wait, there is more! Shuffle tweak doesn't only organize the tweak list in sections. It can also manage Preference Bundles allowing you to disable the settings pane for selected tweaks. This option is available through the Advanced tab available at bottom of the Tweaks Section.
It is packed also with some useful actions for all jailbreak systems. Use Shuffle tweak to execute Respring, SBReload, Safemode, UICache, LDRestart, and Rebbot from the Actions menu.
Other Advanced features provided by the tweak offer an option to disable tweaks dylibs (compatible with iCleaner),manage Debian Packages allowing you to view tweaks information (size, dependencies, architecture, etc.),and remove packages from the system.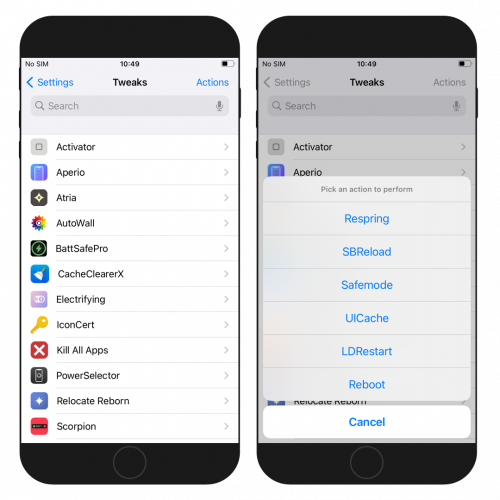 There is also a build-in APT Sources Viewer. It supports all popular package managers like Cydia, Zebra, Sile, and Installer. From here you can view the list of all installed repositories per APT and copy all sources from the selected package manager or combine all to a clipboard.
Shuffle tweak installs its own preference pane in the Settings app as well. Use it to toggle on or off the tweak, enable 3D touch through settings, inset tables, shuffle group radius and index, change sections titles to your liking, or add a banner image to the top section.
When you are happy with the configuration of the tweak, Shuffle can also backup and restore your settings. This is an excellent free tweak that should be installed on all devices by default.
Repository
To download Shuffle tweak add the CreatureSurvive Repository to Cydia Sources. Install the tweak on your iPhone from the official Shuffle Repo on iOS 10.0 to iOS 14.8.1.
Open the Sources tab in the Cydia app.
Tap on Edit → Add buttons and enter https://creaturesurvive.github.io/ Repo URL.
Shuffle tweak will be available from the newly added repository.
Respiring your iPhone to apply changes.
Configure the tweak from the new preference pane in the Settings app.
Alternatively, please use the quick links available at the top of this page to add the repository to your favorite package managers (Cydia, Sileo, Installer, Zebra) with just one click.
What's new
Fixed an issue with header cell height affecting some tweak preferences
Added option to move shuffle group to the top of settings
Added System Apps section
Fixed a crash after the Preference app was suspended
Rewrote Force Touch support
Fixed crash when opening the Language & Region
Added Advances section
General optimizations and refactoring
Fixed occur for users on < iOS 14 when loading the third-party app section
Post a comment