iCleaner Pro

qbap |
iOS Apps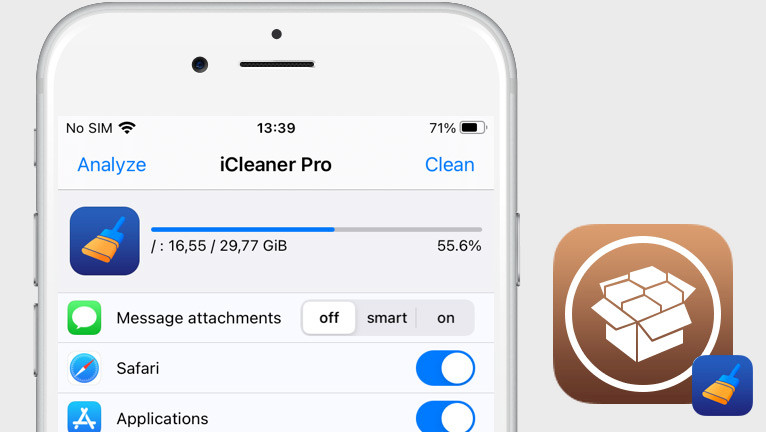 The best iOS app to clean the system from junk files is iCleaner. It's the must-have app for jailbroken devices via Cydia. Remove unnecessary files from iPhone, delete additional languages, manage Cydia Substrate Addons & Launch Daemons and more.
Add iCleaner Pro Repo
What is iCleaner Pro?
iCleaner Pro App is the most advanced tool to free up space by removing unnecessary files from your iPhone or iPad. It works with all jailbroken iOS 4 - iOS 14 devices. iCleaner is released in two versions Pro and Free with fewer features available. It's like CCleaner for iPhone but better.
The main feature of the app is to clean and optimize the system.
iCleaner can delete message attachments sent and received via iMessage or MMS, free up memory by removing Safaris cookies, browsing history, and cache files, clean app caches, cookies, temporary files, snapshots, downloaded iOS update files, log, and temporary files.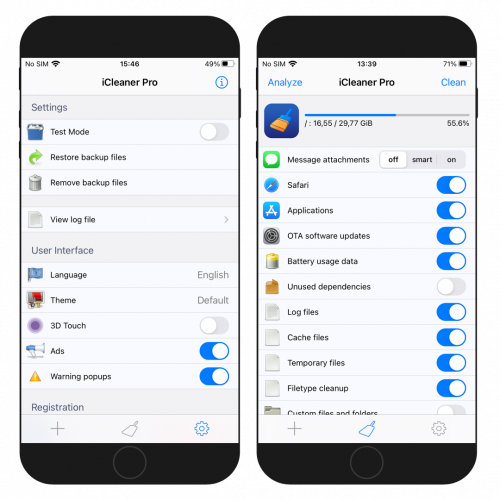 There is also an option to configure filetype cleanup based on file extensions. By default, it looks for log and temp files all over the directory tree. Additionally, iCleaner Pro is packed with "Custom files and folders" feature. You can add any file or folder to the cleanup process.
iCleaner can also easily remove all localization assets you don't need from your iPhone. This includes languages from iOS and any app that supports localization, keyboard files, and additional languages used by Siri and Voice Control.
Be aware that removing languages (and images) will also affect IPA files transferred from the device to iTunes. The English language will not be removed as a security feature.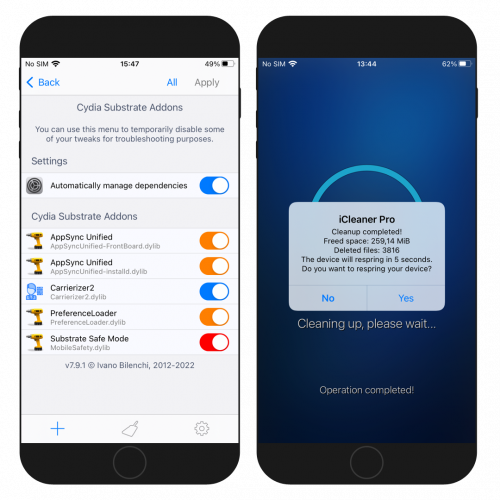 From the main screen of the app, you can enable or disable parts of the system that would be scanned for junk files. It allows also to analyze the system without deleting any files.
iCleaner Pro can do much more. Use it to wipe the list of available APT packages, remove the dictionaries used by the defined function of your device, remove the stock wallpapers that come with your iOS device, or move the "Fonts" folder from/to the System partition.
Create and restore backups, vie log files from all operations, change themes, remove additional images for Retina display or iPad.
There is even a command line support. The command line interface is a stripped down version of the GUI app, which can be invoked via any terminal app or SSH console.
iCleaner without jailbreak will not work. It can't be installed on non-jailbreak devices.
iOS 15 will be supported when a jailbreak exploit will be released. The latest version runs iOS 14.
Repository
Adding iCleaner Pro Repo to Cydia Sources is simple and easy. Add the official iCleaner Repo to your list of Cydia Sources and install the tweak. iCleaner is also available through BigBoss Repo.
Run Cydia app from the Home Screen.
Tap Sources → Edit → Add the https://ib-soft.net/cydia/ Repo URL.
Search for iCleaner Pro and install the package.
Restart the Springboard to apply changes.
iCleaner app will be available from Home Screen.
Alternatively, please use the quick links available at the top of this page to add the repository to your favorite package managers (Cydia, Sileo, Installer, Zebra) with just one click.
iCleaner vs iCleaner Pro
What is the difference between iCleaner vs iCleaner Pro?
iCleaner Free displays ads when using the app and it offers fewer features related to jailbroken devices. Here are some of the most important features missing in the Free version.
The main difference is that iCleaner Pro is packed with a few additional tools. This includes management of Cydia Substrate addons, Launch daemons, and Preference Bundles. There is also a built-in preference files removal tool and a fully customizable cleanup setup.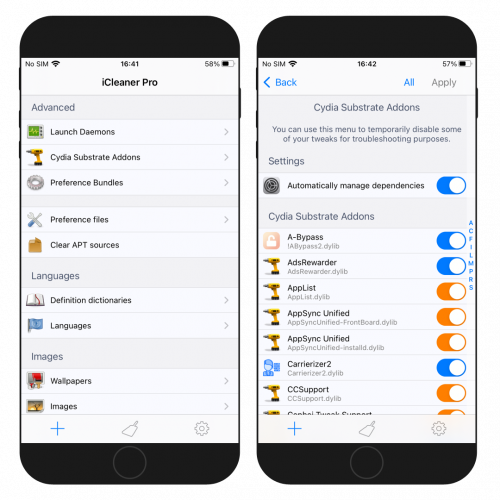 Launch daemons are processes that run in the background. Disabling daemons allows you to breakcore system functions (OTA updates, error logging, etc.). Preference Bundles are responsible for displaying preferences for tweaks installed through Cydia in the Settings app.
And Cydia Substrate addons are tweaks you installed via Cydia. iCleaner Pro allows you to disable them with a single tap, while still having them installed.
Command Line
iCleaner can be run via the command line on your jailbroken iOS device using a terminal app like NewTerm. There is also an option to connect via ssh to your iPhone and access all options from the Desktop. I prefer to manage my iPhone from my macOS.
From the command line, you can also restore Daemons, Mobile Substrate add-ons, and Preference Bundles to their default state. It offers also a simple GUI with all available features.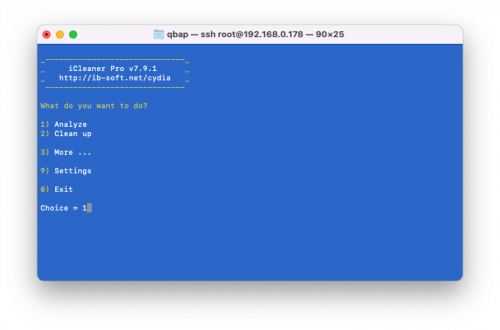 There is even an option to change the app settings from the command line. This includes activating Test Mode, changing message attachment scanning method, setting custom files and folders, manage excludes apps, setting languages to remove, saving log files, and more.
Available terminal commands:
icleaner
-clean 
-clean -autorespring
-respring
-restore-togglable-items
What's new
Add support for new iPads (8th gen, Air 4th gen, Pro 12.9" 4th gen, Pro 11" 2nd gen) and iPhones (SE 2nd gen, 12, 12 Mini, 12 Pro, 12 Pro Max) in the assets removal tools.
Fix wallpapers tool on iOS 14.x.
Fix startup crash on iOS 9.x.
Fix multiple minor visual glitches on iOS 14.x.
Fix non-working app icon on the home screen when upgrading from version 7.8.3.
Post a comment