AIM Pro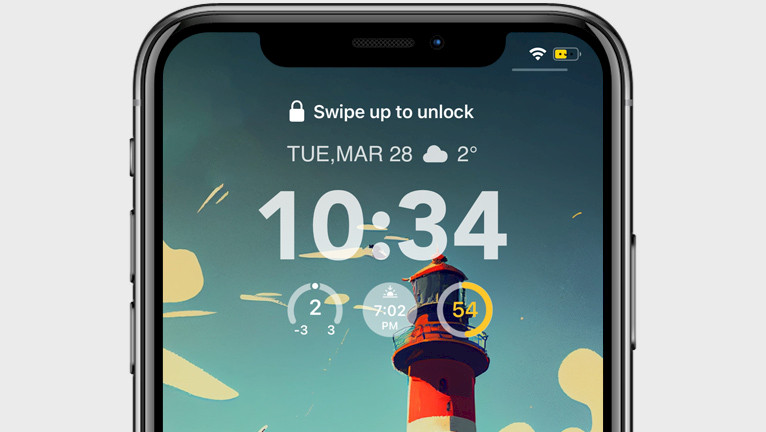 Ali Maulana recently launched the Pro version of this amazing AIM tweak, which brings the iOS 16 Style Lock Screen to iOS 14 and iOS 15. If you enjoyed the original version, you'll be pleased to know that the Pro version comes with new features, such as enhanced customization options for the Lock Screen and Notification Center.
Add AIM Pro Repo to your package manager:
What is AIM Pro?
AIM Pro is a must-have jailbreak tweak that brings the modern iOS 16 style Lock Screen time and widget features to older devices. Developed as the perfect version of AIM, this tweak offers enhanced customization options for both the Lock Screen and Notification Center, making it the ultimate tool for personalizing your Lock Screen on iOS 14 – iOS 15 jailbroken devices.
Once installed, AIM Pro will add a new preference pane to the Settings app. From this pane, you can easily enable the tweak and customize its various options to suit your liking. If you've used the free version of AIM before, you'll find navigating the settings to be a breeze.
However, the biggest advantage of AIM Pro is the ability to modify settings directly from your device's Lock Screen, allowing for even greater convenience and control over your iOS experience. Ali Maulana invested significant effort to ensure that the AIM Pro tweak functions flawlessly and delivers a seamless user experience on all supported jailbroken devices.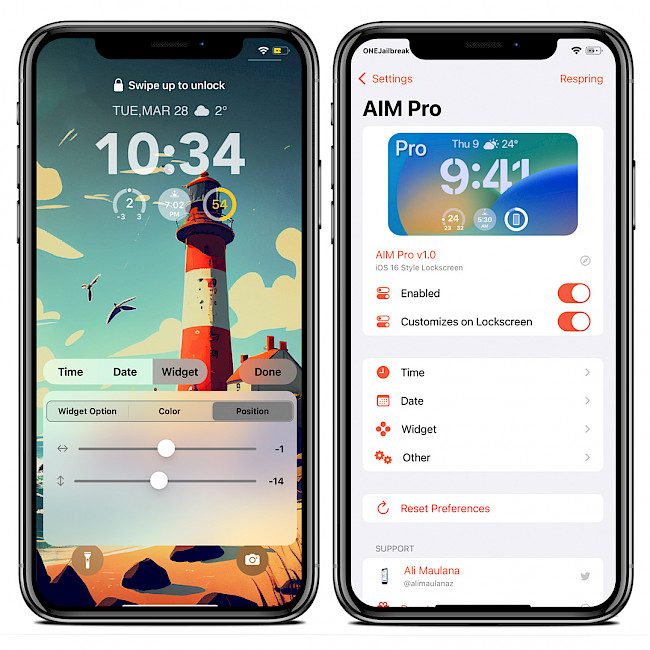 With the latest update to AIM Pro, customizing your device's Lock Screen is easier and more versatile than ever. Now you can make changes to text, date, and widgets in real-time, with a range of options to adjust fonts, colors, positioning, widgets, and date format. This powerful tool lets you effortlessly tailor your Lock Screen to your preferences and makes AIM Pro truly stand out. However, more features are available in tweak's settings pane.
AIM Pro tweak lets you completely customize the appearance of the time on your device's Lock Screen. You can toggle the text on or off, set the format and alignment, change the background and text color, define the font size and type, and choose from all installed fonts, including four original Font Time available exclusively for iOS 16.
Additionally, you customize the date displayed on your Lock Screen. You have the same range of options as with time customization, including format, alignment, style, color, and custom font selection, as well as the ability to position the date exactly where you want it. In addition, you can pick to display real-time weather information next to the date, including temperature, location, condition, and an icon, or upcoming alarms with a clock icon.
In addition to its comprehensive Lock Screen customization options, AIM Pro also includes an "Other" section with a range of additional features available for users. Here, you can hide notification titles, adjust the notification offset using a convenient slider, and customize text for "no older" notifications and "swipe up". You also have the option to hide charging animations, quick actions for the camera and flashlight, and disable the A-font tweak.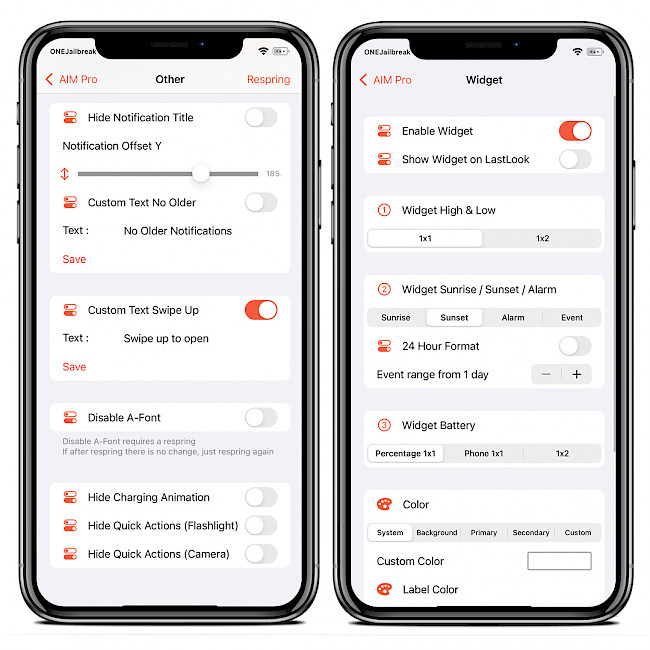 Another useful feature of AIM Pro is the ability to activate low battery mode directly from the battery widget on your Lock Screen. Simply tap on the widget and it will activate low power mode to help conserve your device's battery life. This handy feature is just one more way that AIM Pro helps you get the most out of your iOS device.
Tip: If you're not seeing weather information on the Lock Screen widget created by the AIM Pro tweak, there's an easy fix - simply add your city or location in the Weather app.
The AIM Pro tweak is compatible with all modern jailbreaks released for iOS 14.0 up to iOS 15.7.1, including the latest Palera1n Jailbreak for iOS 15. Additionally, AIM Pro also supports the XinaA15 Jailbreak for iOS 15 – 15.1.1 on A12-A15 devices. Don't hesitate to give it a try!
The latest release of AIM Pro now includes support for rootless jailbreaks like Palera1n, Dopamine, and Fugu15 Max. However, in order to utilize this rootless package, you will need to install the Legacy arm64e Support package from the ElleKit Repository as an additional step.
Add Repository
The newly released AIM Pro tweak is now available for purchase on Havoc Store for $1.49. To install the tweak on your iOS 14 or iOS 15 device, simply add the AIM Pro Repository to your package manager and follow the installation instructions. Currently, AIM Pro is supporting rootless jailbreaks running iOS 15 including XinaA15, Palera1n, Fugu15 Max, and Dopamine.
To install AIM Pro tweak on iOS using Sileo, follow those steps:
Run Sileo app from your Home Screen.
Tap on the Sources tab, then select Edit button.
Add the following repository URL:


https://havoc.app
https://ellekit.space​​​​​​​

Cydia will automatically refresh packages available in the repo.
Search for AIM Pro tweak and Legacy arm64e Support on rootless.
Install the packages and restart the Springboard to save changes.
Configure AIM Pro from the preference pane in the Settings app.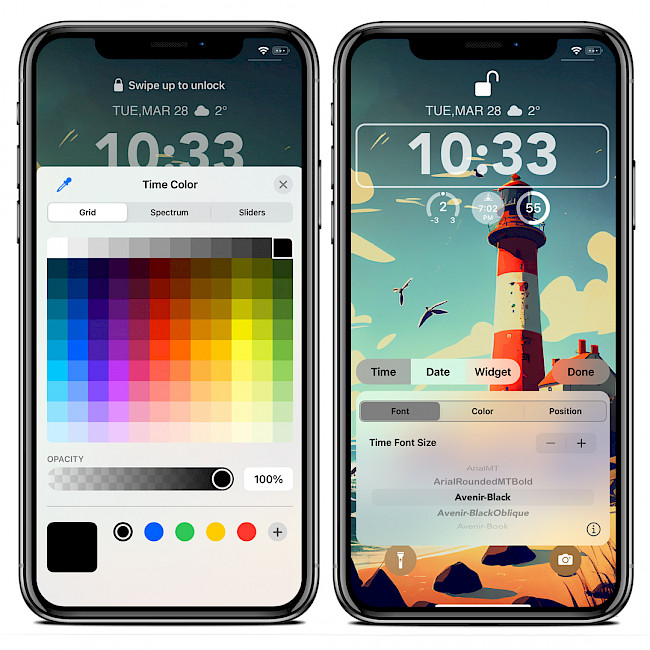 For added convenience, you can quickly add the repository to your preferred package managers (Cydia, Sileo, Installer, Zebra) by using the convenient quick links provided at the top of this page. With just one click, you can easily add the repository and download AIM Pro tweak.
What's new
AIM Pro for iOS 14 – iOS 15
Updated AIM Pro to version 1.0.5.
Added support for rootless jailbreaks.
Fixes memory issues.
Overall improvements and bug fixes.
Added option to modify settings from Lock Screen.
Initial release of AIM Pro tweak.
Post a comment