Download iNDS IPA: Nintendo DS emulator for iOS 15 - iOS 16

qbap |
Emulators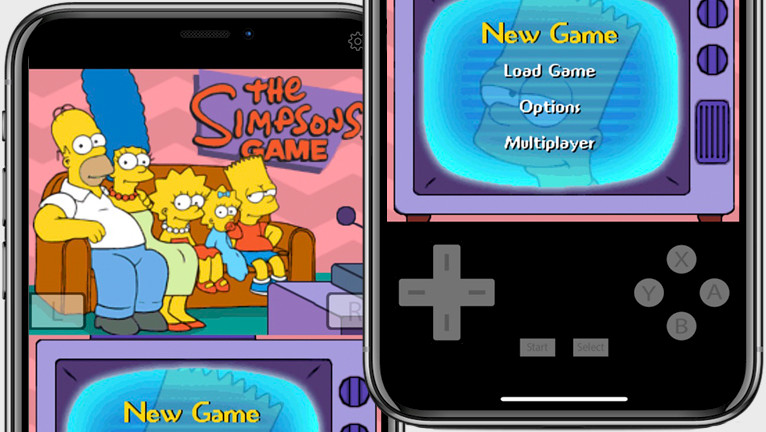 Nintendo DS was a highly successful gaming console, selling over 154 million units worldwide, and featuring a wide variety of games with over 1790 titles. With the iNDS emulator, players can now enjoy playing all those games on their iPhone or iPad.
What is iNDS?
iNDS for iOS is a popular Nintendo DS emulator allowing you to play all kind of games from the console on your iPhone or iPad. This is a derivative of previous Nintendo DS emulators for iOS, including nds4ios and Nitrogen. iNDS supports iOS 9.0 and up including iOS 15 – iOS 16.
The current version of iNDS utilizes the DeSmuME threaded ARM interpreter to provide efficient emulation, allowing it to run at near full speed on devices such as the iPhone 5 and above. However, due to the requirement of mapping the entire ROM into memory, iNDS is not compatible with older devices that possess limited with only 256 MB of RAM.
iNDS is distributed as an IPA package that can be sideloaded on jailbroken iOS 9 – iOS 16 devices. Additionally, a separate DEB package is also available for jailbroken devices. Once iNDS IPA is installed, you can access the Nintendo DS emulator for iOS from the Home Screen.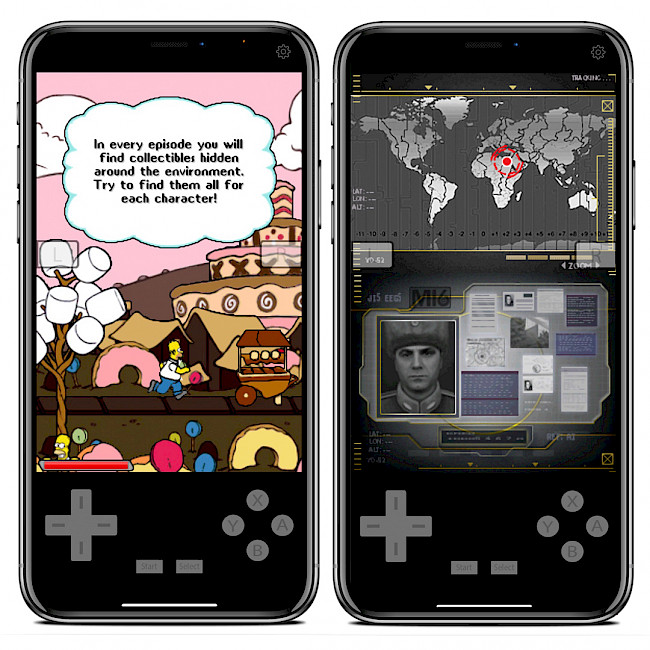 Nintendo DS, short for "Dual Screen," is a handheld game console developed and manufactured by Nintendo. It was released in 2004 and was the first handheld console to feature dual displays, with the bottom screen being a touch screen. It had a wide variety of games, with titles such as "New Super Mario Bros," and "Pokémon Diamond and Pearl".
iNDS for iOS allows you to emulate the Nintendo DS's dual display feature on your iOS device's screen. The app's settings provide options to customize your gaming experience, such as switching the control pad style from a D-pad to a joystick, adjusting the controller's opacity, enabling vibration and haptic feedback, and disabling the touch screen.
In addition to the aforementioned customization options, iNDS also offers advanced settings to further enhance the emulation experience. These include options to speed up the emulation by skipping frames, enabling advanced bus timing, and switching between different emulator engines. The app also has an option to display the current frames per second (FPS) for performance measurement, and support for full-screen gameplay.
iNDS also provides video filtering options to improve the visual quality of the games. These filters can enhance the sharpness of the picture, but they may also cause the emulator to run slower. The filters are arranged in an order from the lowest quality at the top to best quality at the bottom, which allows you to experiment between the quality and performance.
This Nintendo DS emulator for iOS, was released as an open-source project, with the source code made available through a GitHub repository. The emulator was developed using a combination of programming languages, including Objective-C (67.0%),C, Objective-C++, and C++. This allows for a wide range of developers to contribute and improve the emulator.
If you experience low frame rates during gameplay on iNDS, you can try using the Delta Emulator, which also supports Nintendo DS games. This emulator runs in JIT (Just-in-time) mode, which generally results in better performance and smoother gameplay compared to other emulators. However, it is important to note that the performance may vary depending on the device you are using and the game you are playing. Latest devices are recommended.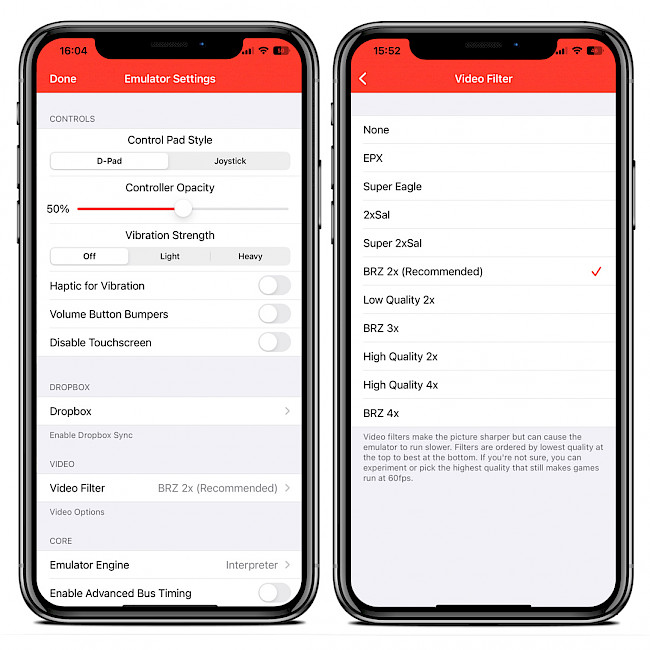 Download iNDS IPA
iNDS IPA can be sideloaded on your iOS device with a tool like AltStore (for macOS and Windows) or SideStore, the on-device IPA installer that doesn't require a computer to sign apps. If you want to run the emulator at full speed without jailbreak use AltStore and enable AltJIT.
To install iNDS IPA on your iOS device using AltStore app, follow these steps:
Download the iNDS IPA from the links below.

Run AltServer application on your PC or Mac.
Connect your iPhone or iPad to the computer via USB.
Click on system tray icon with Alt or Option key to sideload the IPA.
Enter your Apple ID and password to sign the iNDS IPA file.
Open the Settings app from the Home Screen.
Navigate to "General" → "VPN & Device Management".
Click on the developer app associated with your email.
Tap "Trust" to allow the app to run.
Click on AltServer system tray icon and enable JIT.
Note: If you don't have a developer certificate, you can use your free Apple account to sign and install iNDS IPA and use it for up to 7 days before it needs to be re-signed.
Nintendo DS games
The iNDS emulator for iOS allows you to experience some of the most iconic games from the Nintendo DS console on your iPhone or iPad. It is important to note that downloading ISO files for games may be considered illegal in certain jurisdictions. It is always best to check the laws in your country and to obtain games legally.
Here are the top 10 must-play games for the iNDS emulator:
1. "The Legend of Zelda: Phantom Hourglass": This action-adventure game is a direct sequel to The Legend of Zelda: The Wind Waker. Players control Link as he sets out on a new adventure to rescue his friend Tetra, and uncover the secrets of the Ghost Ship.
2. "Mario Kart DS": This classic kart racing game features new tracks and characters, as well as the ability to play against friends wirelessly.
3. "New Super Mario Bros": This platformer game features Mario, Luigi, and Princess Peach as they go on a new adventure to save the Mushroom Kingdom from Bowser.
4. "Pokemon Platinum": This is a role-playing game and is an enhanced version of Pokemon Diamond and Pearl. Players can capture and train Pokemon, battle other trainers, and become the champion of the Sinnoh region.
5. "Brain Age: Train Your Brain in Minutes a Day": This game is designed to help players improve their cognitive skills through a series of brain-training exercises.
6. "Animal Crossing: Wild World": This life simulation game allows players to interact with a virtual village of animals, and engage in activities such as fishing, bug catching, and furniture collecting.
7. "Grand Theft Auto: Chinatown Wars": This action-adventure game is set in a fictional version of Liberty City and players control a young street gang member who must rise through the ranks of the criminal underworld.
8. "Fire Emblem: Shadow Dragon": This strategy role-playing game follows the story of Marth as he tries to reclaim his kingdom from the Shadow Dragon and his followers.
9 "Professor Layton and the Curious Village": This puzzle-adventure game follows Professor Layton and his apprentice Luke as they try to solve the mysteries of the village of St. Mystere.
10. "The World Ends with You": This action RPG game is set in the modern-day Shibuya shopping district of Tokyo. Players control a teenage boy who is forced to participate in a game that will determine his fate.
What's new
Updated iNDS for iOS to version 1.10.8.
Fixed cover art system.
Fixed compilation errors.
Fixed Dark Mode compatibility.
Fixed status bar persistance.
Fixed iOS simulator controls.
Fixed landscape layout on modern iPhone.
Added layout constraints to the layout editor slider.
Fixed Dropbox syncing on iOS 13.
Fixed iOS 13 compatibility.
Fixed background UI crashes.
Post a comment