Emerald tweak: Enhance Status Bar with widgets

qbap |
Cydia Tweaks
Emerald is such a fantastic tweak that it wouldn't bother me at all if Apple decided to integrate its functionality into stock iOS. Its features are so well-executed and valuable that they enhance the iOS experience in a way that feels seamless and natural.
What is Emerald?
Emerald is a free jailbreak tweak that enhances your iOS experience by adding useful widgets and notifications to your device's Status Bar, completely free of charge. Originally released as a paid package, this tweak is now available for anyone with a jailbroken device to install and enjoy.
With Emerald, you can personalize your device and take advantage of the added functionality. Upon installation, the tweak adds a dedicated preference pane to the Settings app, allowing you to enable the tweak and configure its behavior to your preferences on iOS 12 – iOS 14.
Emerald tweak comes packed with 10 useful "pills" that can be activated from the Status Bar. These pills offer a variety of features, including volume control, time and date displays, device information, weather updates, notification management, Bluetooth device connection, network speed monitoring, reminders, battery level tracking, media controls, temperature readings, and calendar integration. For some pills additional configuration options are available.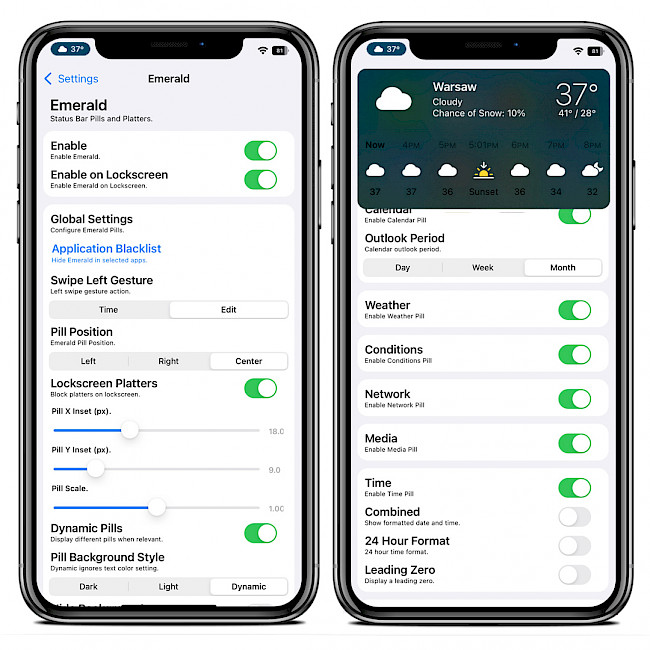 Unfortunately Emerald tweak doesn't support the latest XinaA15 Jailbreak released for iOS 15 – iOS 15.1.1. When you try to install this tweak on rootless jailbreak it will boot loop the device. However, there is a chance that Emerald tweak will work with Palera1n on iOS 15.
Once activated, Emerald seamlessly integrates itself into the time Status Bar, allowing you to easily access its widgets. To select a primary pill, simply long-press on Emerald to reveal the selection menu. From there, you can customize which pill appears in on the left side of your Status Bar, making it easy to access the functions you use most frequently.
The pills displayed in the Status Bar provides a quick and easy way to access basic information with just a glance at your Home Screen or Lock Screen. However, with Emerald, there's even more functionality available when you tap on a pill. By doing so, you'll open up a widget that provides in-depth information and additional features.
Specifically, the Reminders pill allows you to view and manage upcoming reminders, while the Battery pill provides detailed information about the battery status of connected devices. The Media pill enables you to control currently playing media (play, pause, next, previous).
Finally, the Calendar pill lets you view upcoming events, making it easy to stay organized and on top of your schedule. With Emerald, you have access to a variety of convenient tools that enhance your iOS experience and make your device more powerful and functional.
Emerald preference pane offers a range of options to customize the tweak and tailor it to your individual needs. You can easily disable any functionalities that you don't use and adjust settings to suit your personal style including pill positioning and blacklist apps from notifications.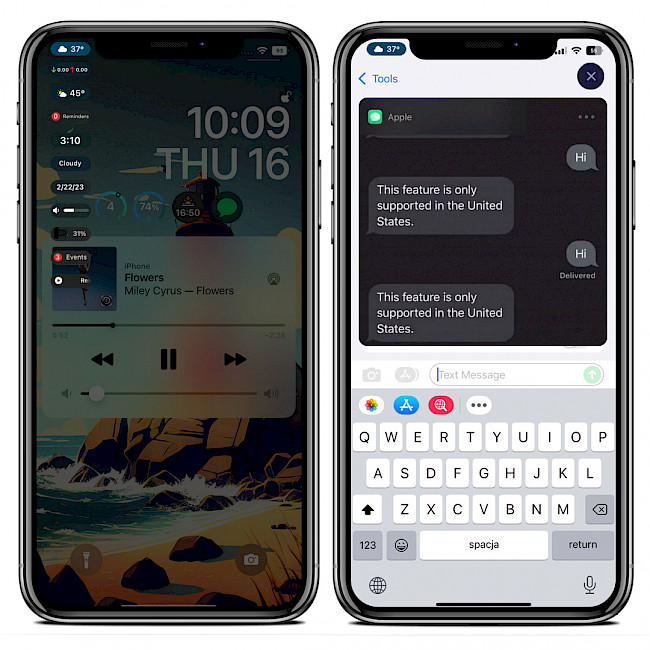 Add Repository
Emerald tweak was released as a free package available for download from Havoc Repository. The tweak allows you to add some useful information widgets to the Status Bar on iOS 12, iOS 13, and iOS 14. The latest iOS 15 and iOS 16 are not supported by the tweak.
To install Emerald tweak for iOS using Sileo, follow those steps:
Open the Sileo app from the Home Screen.
Tap on the Sources tab, then select Edit button.
Add the following repository URL: https://havoc.app
Search for Emerald and install the package.
Respiring your iPhone to apply all changes.
Access the Emerald tweak from the Settings app.
Alternatively, please use the quick links available below to add the repository to your favorite package manager (Cydia, Sileo, Installer, Zebra) with just one tap.
What's new
Updated Emerald to version 1.0.7.
Released the tweak as a free package.
Bug fixes and improvements
Post a comment