Mitsuha Forever tweak audio visualizer for iOS 12 – iOS 15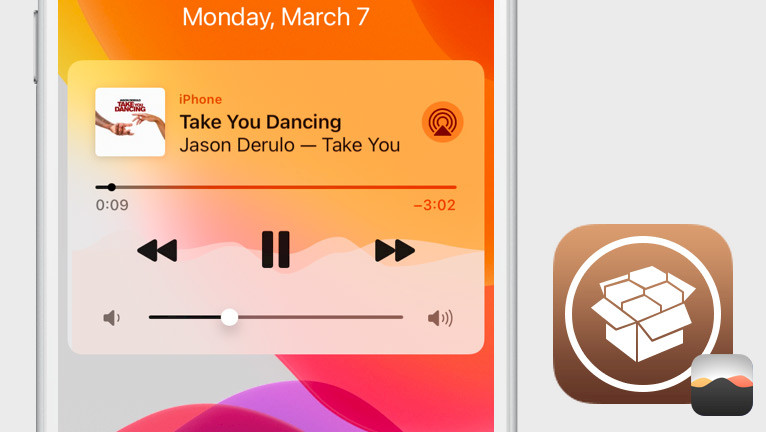 Add beautiful audio visualizer to popular iOS apps with a free tweak like Mitsuha Forever. Supports iPhone, iPad, and iPod touch running iOS 12 to iOS 15. This real-time audio visualizer adds freshness to your iPhone screen. Jailbreak required.
Add Mitsuha Forever Repo to your package manager.
What is Mitsuha Forever?
Mitsuha Forever is a jailbreak tweak that displays wave, bar, line, Siri, or dots styles as audio visualization in apps like Apple Music and Spotify. It also displays visualizations below the Lock Screen and Home Screen. This is a fork of the Mitsuha Infinity tweak created by Nepeta.
Mitsuha tweak allows you to configure separate options for supported music apps and iOS audio player notification. Once installed, a new preference pane is added to the Settings app from here you can configure options to your liking and toggle the tweak on and off on demand.
Mitsuha Infinity was released originally to work with iOS 11 – iOS 12. The tweak was abandoned, but because it was released as an open source project other developers including Ryan Nair and ConorTheDev released a new "Forever" version with added support for iOS 13 and iOS 14.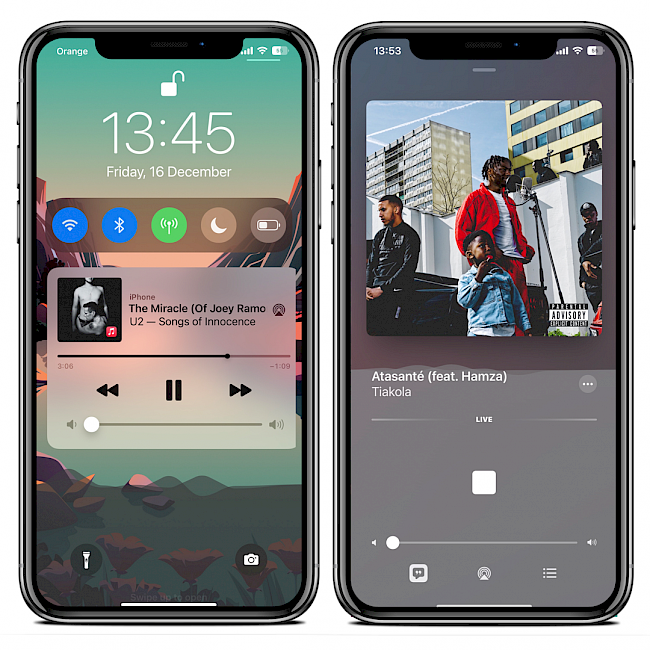 This amazing free jailbreak tweak features custom visualization appearance settings, custom positioning, custom color alphas, custom number of visualizer points and attributes, and custom visualizer speed and sensitivity. Mitsuha also works great on the latest jailbreaks running iOS 15.
Recently Palera1n Jailbreak for iOS 15 – iOS 16.2 was released for A9-A11 iDevices, and XinaA15 for iOS 15 – 15.1.1 on A12-A15. Both jailbreaks can run Mitsuha Forever tweak, and most of the features work correctly without the need to update the tweak by the developers.
Mitsuha Forever offers a lot of options to choose from and all are can be configured per place where the animation is generated. Define if the audio visualizer should be displayed in apps, on the Home Screen, Lock Screen, or notifications section. Select the style of the visualizer (waves, dots, bars, line, Siri), activate frequency instead of amplitude, hide the visualizer, set colors.
At the bottom of the preference pane, you can also access to the Respring button to apply all changes, an option to restore tweak default settings and respring and a button to restart mediaserverd. Mitsuha Forever tweak for iOS 13 – iOS 15 brings bug fixes and new features.
This audio visualizer for iOS 12 – iOS 15 work with such music apps like Apple Music, Spotify, SoundCloud, and iOS audio player notification. The latest feature doesn't work on iOS 15.
Mitsuha Forever like Mitsuha Infinity was released as an open-source project under MIT License. The source code is available for everyone to modify and look through the official GitHub Repository. Recent changes in Mitsuha source code were added on 16 Apr 2021.
As long as you have standard libraries for Xcode 12 projects, and theos libraries installed on your device you can compile the project yourself. Mitsuha Forever source code was mostly written in Logos and Objective-C programming languages. There are also some parts in C and makefile.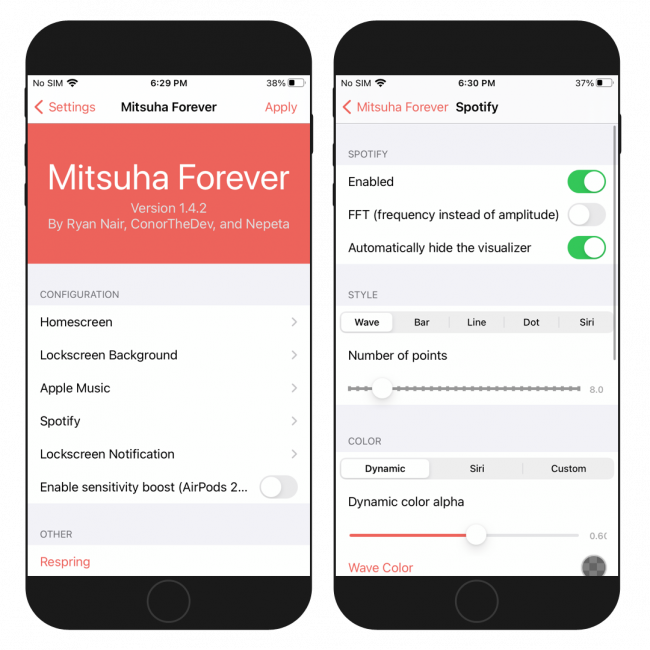 Recently Mitsuha Forever 1.4.3 was released with full support for iOS 15 jailbreaks. Also, the animation widget displayed on the Lock Screen while playing music works without any issues.
Add Repository
Mitsuha Forever, libmitsuhaforever, and AudioSnapshotServer are released through Chariz Repository. Add the official Mitsuha Forever repo to your package and install the audio visualizer tweak for iOS 12 – iOS 15. Mitsuha compatible with iOS 8 – iOS 9.3.3 is still available via BigBoss.
Open Cydia app and switch to the Sources tab.
Tap Edit → Add the https://repo.chariz.com Repo URL.
Search and install the Mitsuha package.
To apply changes restart the Springboard.
Configure Mitsuha Forever tweak from the Settings app.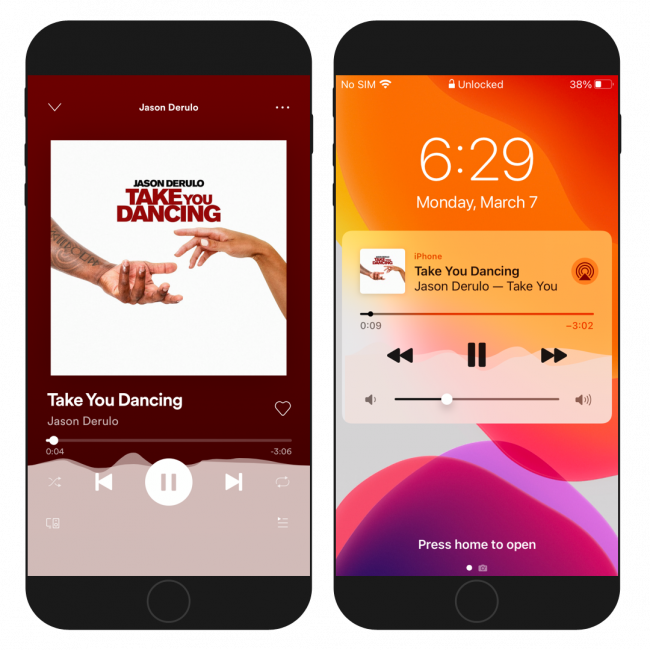 Alternatively, please use the quick links available at the top of this page to add the repository to your favorite package managers (Cydia, Sileo, Installer, Zebra) with just one click.
What's new
Updated Mitsuha Forever to version 1.4.3.
Added support for iOS 15 jailbreaks – Palera1n and XinaA15.
Adds support for the Control Center on iOS 14.2 and up.
Mitsuha Forever now works with the Prysm media module.
The Home Screen view now displays without locking your device on iOS 13 and up.
Fixes battery drain when the device is locked while playing audio from Apple Music.
Adds better support for Colorflow 5 on the lock screen.
Support for Orion coloring on the lock screen views.
Fixes a bug where the visualizer isn't shown after playing music from the lock screen notification.
Better layout adjustments for the lock screen notification on iOS 13.
Makes the server more reliable.
Adds support for libhooker optimizations.
Sponsored links
Post a comment