Dayn tweak redefines notifications on iOS 12 - iOS 14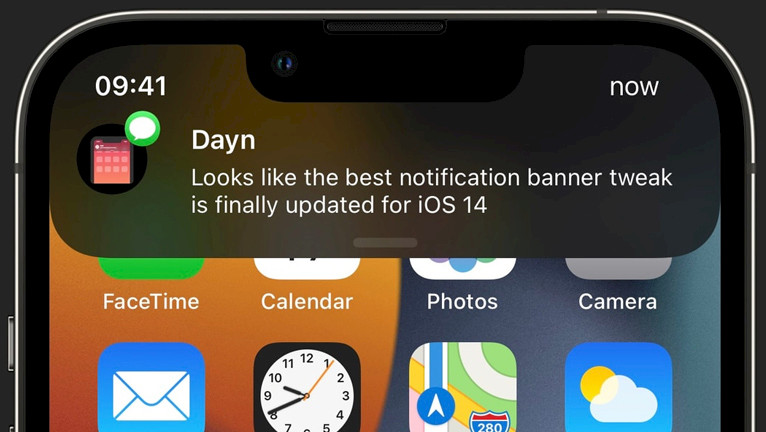 Although the notification system on iOS 12 to iOS 15 served its purpose, it was never particularly enjoyable to use. However, if you have a jailbroken device, you can transform your experience by installing Dayn. This fantastic tweak revolutionizes the notification system on your device, making it visually appealing and enjoyable to use.
What is Dayn?
Dayn is a jailbreak tweak that brings a brand-new notification banner experience that boasts a modern look and feel, along with a wealth of additional features. This tweak is highly customizable, allowing you to tailor the notification system to your exact preferences. Dayn works on jailbreaks running iOS 12 – iOS 14, however it may work also with Palera1n jailbreak.
After installation, Dayn adds a dedicated preference pane to your Settings app, giving you complete control over the tweak. Within this pane, you can enable the tweak and customize a range of options to suit your individual needs. Whether you want to adjust the appearance of notifications or configure advanced features, Dayn puts the power in your hands.
One of the standout features of Dayn is its ability to display profile pictures directly within the notification banner for apps like WhatsApp, Slack, Twitter, Discord, iMessages, Telegram, Messenger, and more. Each of these apps is individually configurable within the preferences, allowing you to customize the appearance of notifications to your liking.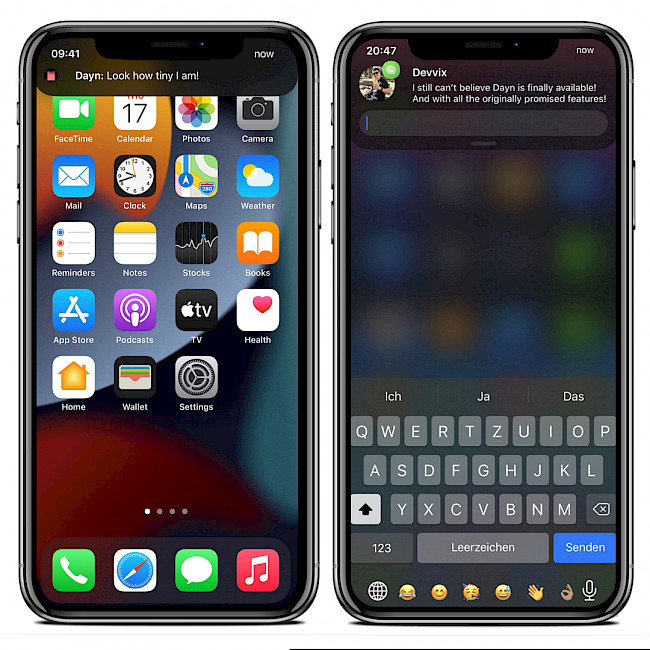 Dayn tweak offers a comprehensive range of preference options, which are conveniently divided into different sections for easy navigation. You can customize everything from the appearance of the banner to the font settings, profile pictures, tiny banner, and more. Once you have completed your configuration, you can send a test banner to preview all of the changes.
There are many Dayn features available, such as automatic Dark and Light mode switching, or unique tiny banner that only appears when a notification has minimal text, allowing you to quickly and discreetly stay on top of important alerts without interruption.
Note: XinaA15 jailbreak for iOS 15 is not supported. You have access to the tweak's preferences, but you can't apply the new look for notifications banners.
Within the Appearance section of the tweak's settings, you can adjust the text alignment, enable background blur, change the banner and icon radius, set the time to dismiss value, or set a new offset position. With Dayn, you can enjoy a notification system that looks modern.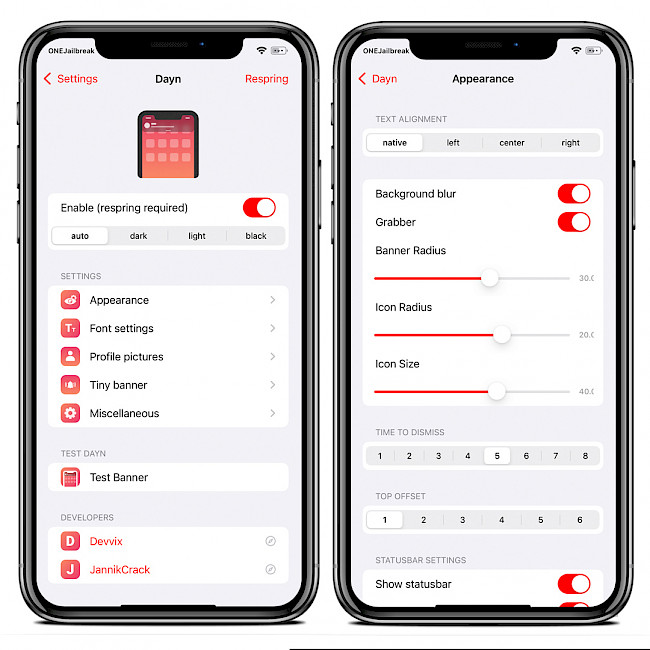 For even more control over the appearance of your notification banner displayed on iOS 12 – iOS 14.8, Dayn offers additional customization options within the Font Settings section. Here, you can adjust the max line count, header font size, text font size, and status bar font size.
Dayn goes beyond just visual customization and also adds additional functionality to your notifications. The tweak supports haptic feedback, providing you with tactile feedback when you receive a notification. Additionally, Dayn tweak allows you to interact with and reply to messages directly from the notification banner, without having to open the corresponding app.
Another standout feature of Dayn is Continuous Notifications, which takes convenience to the next level. With Continuous Notifications, you can view an entire conversation from the notification banner itself, without having to launch the corresponding app to view more context.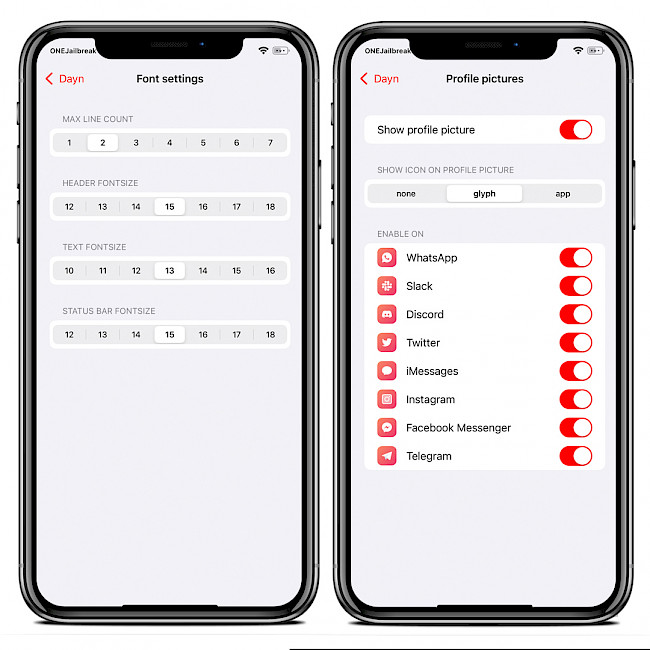 This means that if you receive a new message from the person you're currently replying to, it will update the existing banner instead of hiding the notification like on stock iOS. Dayn tweak supports all jailbreaks running iOS 14 including unc0ver and checkra1n.
Add Repository
Dayn tweak, which enhances the functionality of iOS notification system, is available for purchase as a paid package on Chariz Repository. The tweak comes in two versions: Dayn for iOS 12 – iOS 13 and Dayn for iOS 14 – iOS 14.8. Each version of the tweak can be purchased for a reasonable price of $1.99. All required packages can be downloaded from Chariz Store.
To install Dayn tweak on iOS with Sileo, follow those steps:
Open the Sileo app from the Home Screen.
Tap on the Sources tab, then select Edit button.
Add the following repository URL: https://repo.chariz.com
Search for Dayn and install the package.
Respiring your iPhone to apply all changes.
Access the Dayn tweak from the Settings app.
For added convenience, you can quickly add the repository to your preferred package managers (Cydia, Sileo, Installer, Zebra) by using the convenient quick links provided below. With just one click, you can easily add the repository and download the tweak.
What's new
Dayn for iOS 14 – iOS 14.8
Updated Dayn tweak to version 1.0.2.
Fixed an issue where Dayn dismissal/expanding could appear laggy and get stuck in a half-expanded state.
Fixed dismissal/expansion on landscape.
Fixed an issue where when receiving a shortcut run request, pressing the banner would do nothing or crash.
Fixed several potential crashing issues.
Added experimental support for the NotiBlock tweak.
Dayn for iOS 12 – iOS 13.7
Updated Dayn tweak to version 1.2.1.
Fixed SafeMode crash when unlocking your device using a Bluetooth keyboard.
Fixed big parts of the UI not being translated.
Fixed French banner translation overlapping with the notch on notched devices.
Added a Credits page for everyone that helped with Translation.
Fixed profile pictures for Facebook Messenger.
Increased the maximum corner radius size.
Fixed group names.
Sponsored links
Post a comment