CC modules for rootless Dopamine & Fugu15 on iOS 15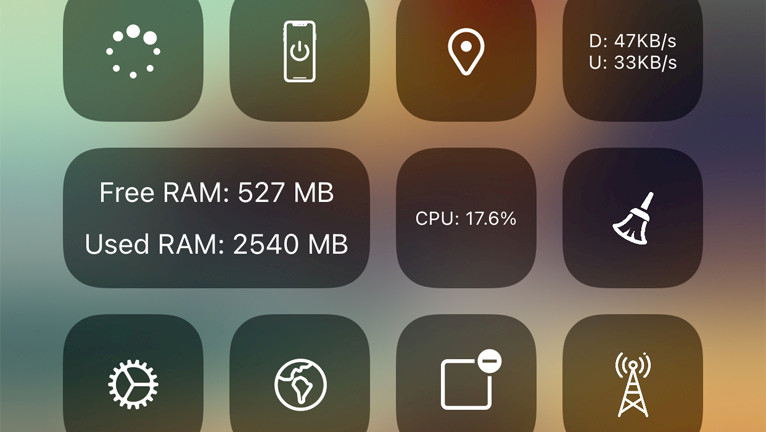 Control Center provides immediate access to frequently used functions. With just a tap, you can snap a photo, enable Wi-Fi, adjust screen brightness, and perform other actions without delay. However, system settings are limited by modules provided by Apple. Here are some jailbreak modules that can expand the capabilities of the Control Center.
The method for accessing and closing Control Center varies depending on the model of your device. For iPhone X and later models, simply swipe down from the top-right corner of your screen. For iPhone 8 and earlier models, swipe up from the bottom edge of any screen to bring up Control Center. To close CC, swipe up from the bottom of the screen or tap the screen.
Personalize your Control Center by adding controls for your favorite apps, settings, and features such as Camera, Alarm, Code Scanner, Music Recognition, Do Not Disturb During Driving, Home, and Dark Mode. To customize Control Center, navigate to the Control Center section in the Settings app. Tap the "Add" button next to the app or feature you want to include.
Furthermore, any jailbreak Control Center modules you have installed on rootless Dopamine or Fugu15 jailbreak will be readily available in this section. While some modules may offer customizable options, most will provide straightforward toggles to enable or disable a feature.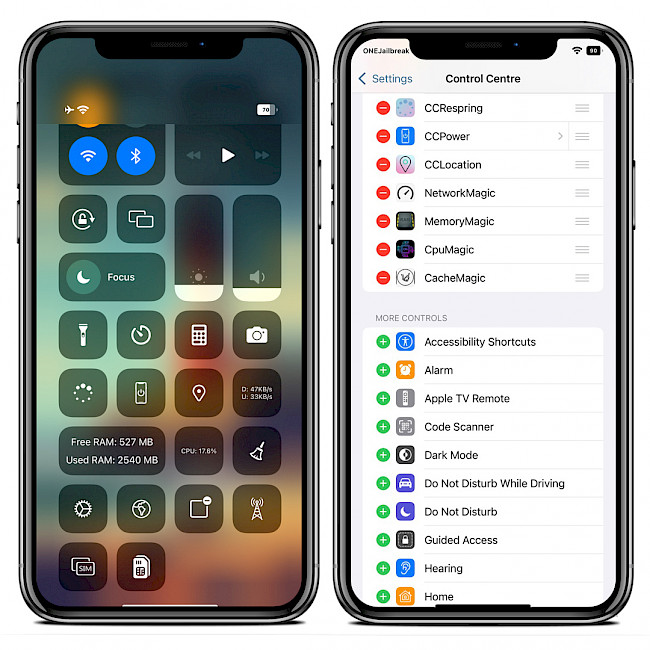 Several modules are available for the rootless jailbreaks on iOS 15 that offer additional features, such as the ability to clear the system cache, display real-time CPU and RAM usage, monitor current upload and download speeds, open Settings app, respring, toggle Wi-Fi and Bluetooth on and off, select the desired SIM card, and switch between cellular networks, among others.
Available CC modules for Dopamine & Fugu15 Max jailbreak:
CC On & Off module
CCSwitchData Rootless module
CCSIM-Rootless module
CCCellularRate Rootless module
CCBadgeClear Rootless module
CCVPN module
CCSettings module
Network Magic Rootless module
Memory Magic Rootless module
CPU Magic Rootless module
Cache Magic Rootless module
CCLocation Rootless module
CCPower Rootless module
CCRespring Rootless module
CCScreenShot module
CCAutoBrightnes module
RealCC module
CCLockScreen module
BackgrounderAction15 CC support
CCVibration module
CCBalance module
CCCalc module
CCMono module
CCCounters module
CCDNDTimer module
CCVibration module
CCLockScreen module
Add Repository
All the aforementioned Control Center modules for the Dopamine & Fugu15 Max are available for download in a few different rootless repositories. To add the modules to your Sileo or Zebra package manager, search for them by name. Please keep in mind that older CC modules are not compatible with rootless jailbreaks unless they have been updated by their developers.
To install CC modules on your iOS device, follow these steps:
Open the Sileo app from the Home Screen.
Tap on the Sources tab, then select Edit.
Add the following repositories URLs:


https://sopppra.mooo.com
https://poomsmart.github.io/repo/
https://repo.initnil.com/
https://skypain.github.io/repo/
https://akusio.github.io
http://apt.thebigboss.org/repofiles/cydia/
https://kingpuffdaddi.github.io
https://lclrc.github.io/repo/
https://havoc.app

Search for CC rootless tweaks in the new repositories.
Respiring your iPhone to apply all changes.
Enable CC module from Control Center in Settings app.
Comments
Justin4 months ago
Post a comment