ByteM8 Activator is a free Untethered iCloud Bypass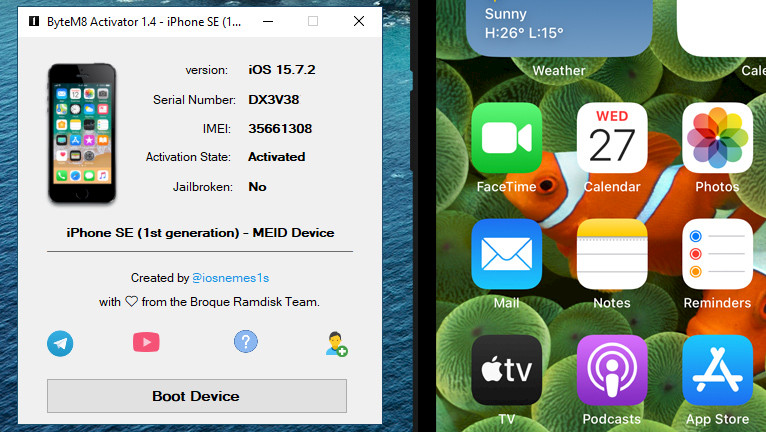 It seems like there's a surge in free iCloud Bypass solutions for Apple devices lately. Today, I'm excited to introduce you to ByteM8 Activator, a powerful Untethered iCloud Bypass tool that comes equipped with a built-in ByteM8 Jailbreak for seamless device access and functionality. Download the latest version of ByteM8 Activator for Windows.
Download ByteM8 Activator Untethered iCloud Bypass for Windows:
What is ByteM8 Activator?
ByteM8 Activator is an untethered iCloud Bypass for PC that comes equipped with an integrated jailbreak tool compatible with iOS 15 and iOS 16. With ByteM8 Activator, you can effortlessly navigate past the Locked iPhone to owner screen and gain unhindered access to your Home Screen and all installed apps. Notably, this bypass remains effective even after restarting your iPhone, ensuring consistent functionality. Only A9-A11 devices are supported.
Similar to various other iCloud bypass tools, ByteM8 Activator utilizes the powerful checkm8 exploit to gain access to the device's file system and carry out essential modifications for activation or bypass. It's important to keep in mind that checkm8's compatibility is limited to older devices, ranging from the iPhone 6 to the iPhone X, operating on iOS 15 – iOS 16. Unfortunately, newer devices, starting with the iPhone XS, are not compatible.
The latest release of ByteM8 Activator boasts an integrated ByteM8 Jailbreak, powered by checkra1n for Windows. ByteM8 Jailbreak offers a seamless journey through the entire jailbreaking process, ensuring its permanence on your device. Moreover, it simplifies the task of entering DFU mode during the process, making the entire experience more user-friendly.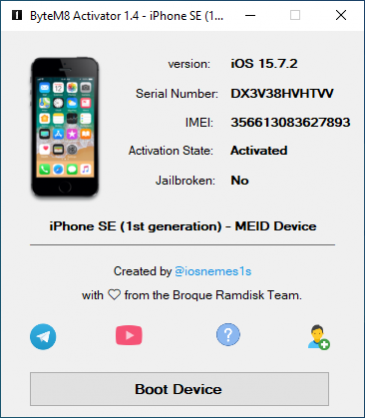 ByteM8 Activator is conveniently accessible for Windows PC users, offering one of the most comprehensive Untethered iCloud Bypass solutions available. Getting started is a breeze—all you have to do is register your device's ECID number, granting you unrestricted access to the software's extensive feature set, all completely free of charge. The latest version of ByteM8 Activator introduces a host of exciting new features, further enhancing its capabilities.
Once you've successfully jailbroken your iOS 15 to iOS 16 device with ByteM8 Jailbreak, initiating the bypass process with ByteM8 Activator is straightforward. The software will automatically make the necessary system modifications to grant access to the Home Screen. While most of the device's services will function normally, it's important to note that signal and SIM card activation will not be available as part of this bypass process.
In case you encounter any issues with the jailbreak process, there are alternative solutions available, including the highly regarded WinRa1n Jailbreak for Windows and Palera1n for Windows. These tools support devices ranging from iPhone 6 to iPhone X, operating on iOS 15 and iOS 16, providing users with additional options for successful jailbreaking.
You can find more free iCloud bypass tools in our dedicated category. Some of them even support signal without any additional cost on checkm8 compatible devices.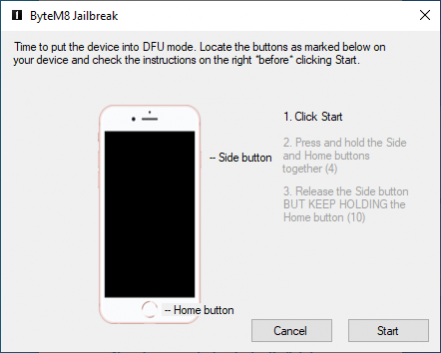 ByteM8 Activator is proudly presented by DollarGad, the same developer behind the free and versatile Broque Ramdisk iCloud Bypass toolbox. With Broque Ramdisk, you gain the capability to effortlessly bypass passcodes, navigate past the Hello Screen, create activation files, eliminate Apple IDs, bypass Mobile Device Management (MDM) restrictions, modify serial numbers, bypass iOS 16, and generate Find My iPhone (FMI) tokens.
Supported devices
| | |
| --- | --- |
| SoC | Device |
| A9 | iPhone 6S, iPhone 6S Plus, iPhone SE, iPad (2017) 5th gen |
| A9X | iPad Pro (12.9 in.) 1st gen, iPad Pro (9.7 in.) |
| A10 | iPhone 7 and iPhone 7 Plus, iPad (2018, 6th gen), iPad (2019, 7th gen) |
| A10X | iPad Pro 10.5" (2017), iPad Pro 12.9" 2nd gen (2017) |
| A11 | iPhone 8, iPhone 8 Plus, and iPhone X |
What's new
Updated ByteM8 Activator to the latest version.
Added ByteM8 Jailbreak.
Overall improvements and bug fixes.
Sponsored links
Post a comment