SkyNet MDM Bypass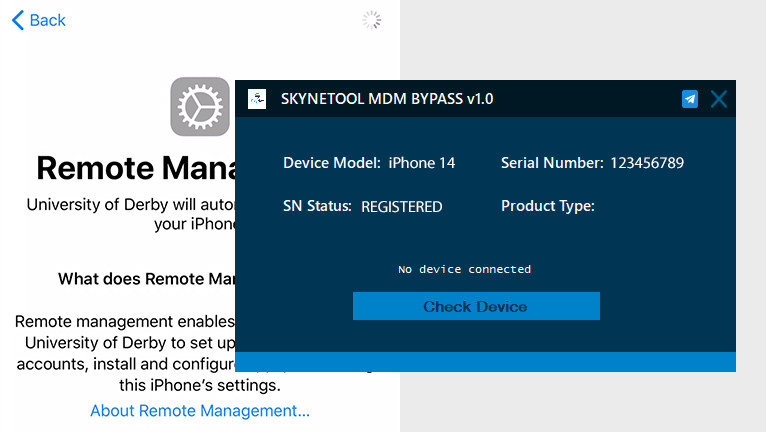 In the ever-evolving landscape of mobile technology, the concept of mobile device management (MDM) has emerged as a pivotal mechanism for organizations to efficiently manage and safeguard their fleet of devices. However, the need to regain control over personal or erroneously locked devices has led to the development of MDM bypass tools like the recently released free version of SkyNet MDM Bypass.
Download SkyNet MDM Bypass for Windows:
What is SkyNet MDM Bypass?
SkyNet MDM Bypass (Skynetool) serves as a potent solution for circumventing the MDM Lock Screen on a broad range of iOS devices compatible with all devices. This tool extends its support to iPhones and iPads operating on both iOS 9 – iOS 16, including the most recent updates such as iOS 15.7.8 and iOS 16.6. Remarkably, SkyNet MDM Bypass has been introduced as a complimentary software, open to all individuals seeking to bypass the MDM Lock.
iOS and iPadOS boast an integrated framework designed to facilitate mobile device management (MDM). This MDM framework enables you to configure devices with utmost security through wireless means. It allows you to effortlessly dispatch profiles and commands to devices, regardless of whether they are user-owned or belong to your organization.
The spectrum of MDM capabilities is wide-ranging: from the seamless update of software and device settings to the imposition of restrictions, vigilantly monitoring adherence to organizational policies, setting a time limit for device usage, and even executing remote wiping or locking of devices. SkyNet MDM Bypass allows you to bypass those restrictions.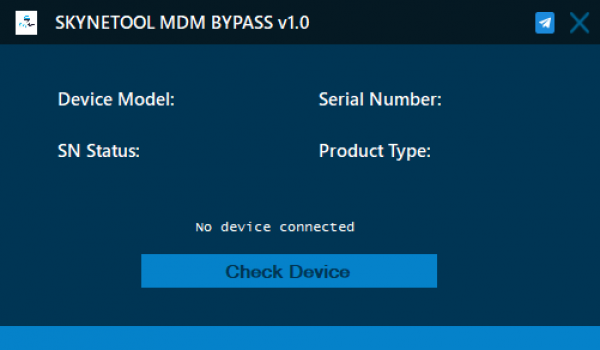 Because it's not reliance on checkm8 exploit, SkyNet MDM Bypass is not limited to any device. It offers support to newer devices launched within the iPhone XR to iPhone 14 Pro Max range.
Note: Before you start bypassing MDM lock with SkyneTool, make sure you do not activate your device, else the iPhone will not be detected. Activate your device after MDM bypass.
SkyNet is known for releasing some amazing and solid iCloud Bypass and Activation solutions for iOS devices. SkyNet Ultra Jailbreak Tool for iOS 15 and iOS 16, SkyNet Activator, and SkyNet Hello Activator No Jailbreak. SkyNet Ramdisk Tool is another tool to activate (without jailbreak requirement) the iDevice with all features including working signal.
SkyNet MDM Bypass has been generously made available free of charge for those seeking to bypass the MDM Lock. It's important to note, however, that the tool does not come with user support. In the event that you encounter any issues while using the app, the responsibility falls upon you to conduct your own research and troubleshooting to rectify the situation.
Supported devices
SkyNet MDM Bypass for Windows extends its support to encompass all A6 – A16 systems on a chip (SoC). Refer to the following list for the precise compilation of compatible iPhones and iPads eligible for utilization with the MDM bypass tool for iOS 9 – iOS 17. Below, you can find the actual list of all supported iPhones by the most recent release of SkyNet MDM Bypass Tool.
| | |
| --- | --- |
| SoC | Device |
| A6 | iPhone 5, iPhone 5C |
| A7 | iPhone 5S, iPad Air, iPad Mini 2, iPad Mini 3 |
| A8 | iPhone 6, iPhone 6 Plus, iPad Mini 4 |
| A9 | iPhone 6S, iPhone 6S Plus, iPhone SE |
| A10 | iPhone 7 and iPhone 7 Plus |
| A11 | iPhone 8, iPhone 8 Plus, and iPhone X |
| A12 | iPhone XS, iPhone XS Max, iPhone XR |
| A13 | iPhone 11, iPhone 11 Pro, iPhone 11 Pro Max |
| A14 | iPhone 12, iPhone 12 Mini, iPhone 12 Pro, iPhone 12 Pro Max |
| A15 | iPhone 13 and 13 Mini, iPhone 13 Pro and 13 Pro Max, iPhone 14, iPhone 14 Plus |
| A16 | iPhone 14 Pro and iPhone 14 Pro Max |
How to use SkyNet MDM Bypass
SkyNet MDM Bypass, akin to other software offerings by SkyNet, has been crafted with a focus on simplicity. This approach ensures that the entire MDM process is made as user-friendly as conceivable. Follow those simple steps to bypass MDM on your iOS 15 – iOS 16 device. SkyNet MDM Bypass 1.2 for iOS 17 provides a similar approach to bypass MDM.
Download SkyNet MDM Bypass and extract it.
Connect your iDevice to the computer.
Launch the SkyNet MDM Bypass and click on "Check Device".
Once device has been identified.
Copy Serial Number and register it at SkyNet:


https://pro-bangla.com/register-ecid.php

Then click on "Bypass MDM" in SkyNet MDM Bypass.
You should see a restore progress bar on your device.
If successful, MDM has been bypassed.
Tip: From now you can activate ECID or Serial Number also directly from Telegram bot. Join https://t.me/GsmiNews and just type for the sake of example /activate 0x00696578.
What's new
Updated SkyNet MDM Bypass 1.2 with iOS 17 support.
Updated SkyNet MDM Bypass to version 1.0.
Overall improvements and bug fixes.
Better management of USB drivers for Windows.
Post a comment