Macaron tweak can change Dock background image
By customizing the Dock background, you can infuse your iOS experience with a touch of creativity and personal flair. Enter Macaron, a user-friendly jailbreak tweak designed specifically to revitalize your Dock. With Macaron, you gain the power to replace the default Dock with a captivating image of your choice while also applying a stylish blur effect, elevating the visual appeal of your jailbroken device running iOS 15 or iOS 16.
Add Macaron Repo to your package manager and install the tweak:
What is Macaron?
Macaron is a lightweight jailbreak tweak by straight_tamago and sugiuta that enables you to change the Dock background images on your jailbroken device. You can use this tweak to display a photo as the background of your Dock. The tweak was released for rootful and rootless jailbreaks and was tested with Palera1n only. It supports iOS 15.0 – iOS 16.5.
Once installed, the Macaron tweak seamlessly integrates with your device by adding a dedicated preference pane to the Settings app. From this convenient location, you have the power to enable the tweak and customize its myriad of available options.
Moreover, Macaron goes beyond simple image customization by offering a diverse range of blur options, including adaptive, dark, and light with adjustable opacity. These additional features elevate your visual experience, ensuring every glance at your Dock is a delightful one.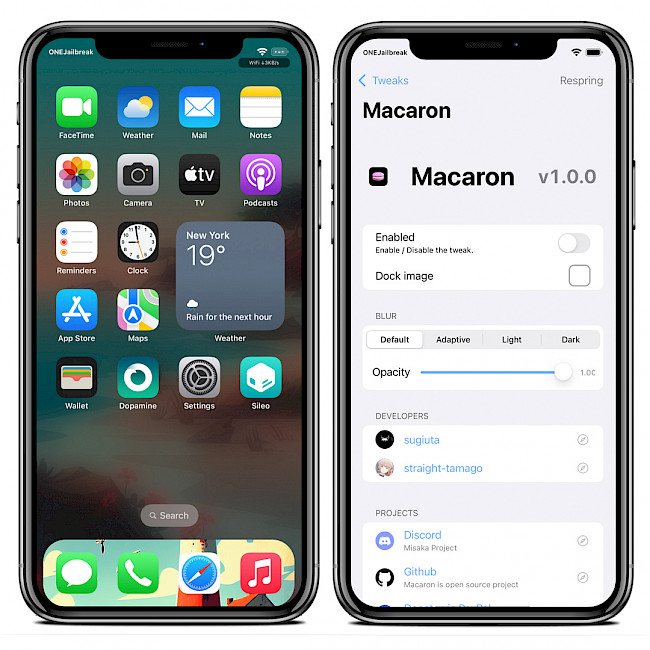 It is worth noting that Macaron tweak extends its support beyond static image files and also includes compatibility with animated GIF images. Macaron tweak was proven to work with rootful and rootless Palera1n jailbreak running iOS 15 and iOS 16 on iPhones and iPads. However, the tweak should also support rootless Dopamine jailbreak on iOS 15 – iOS 15.4.1.
Please note that Macaron tweak was ported from the Misaka project, providing you with the ability to modify your system without requiring a jailbreak environment. This impressive feat is made possible by leveraging the MacDirtyCow exploit. It's important to mention that Macaron tweak may not be compatible with other third-party tweaks that make modifications to the Dock. If you have installed Dock Controller Macaron will send you right to the safe mode.
Add Repository
Macaron was released as a free package that can be installed from the Havoc Store. Add Macaron Repo to your package manager and install the tweak to replace the Dock background with an image on iOS 15 – iOS 16. Macaron rootless tweak has been made available in the same repo. However, please note that it will not be visible or accessible on non-rootless jailbreaks.
To install Macaron tweak on your iOS device, follow these steps:
Open the Cydia app from the Home Screen.
Tap on the Sources tab, then select Edit.
Add the following repository URL:


https://havoc.app

Install the Macaron tweak from the new repository.
Respiring your iPhone to apply all changes.
Open the Macaron preference pane from the Settings app.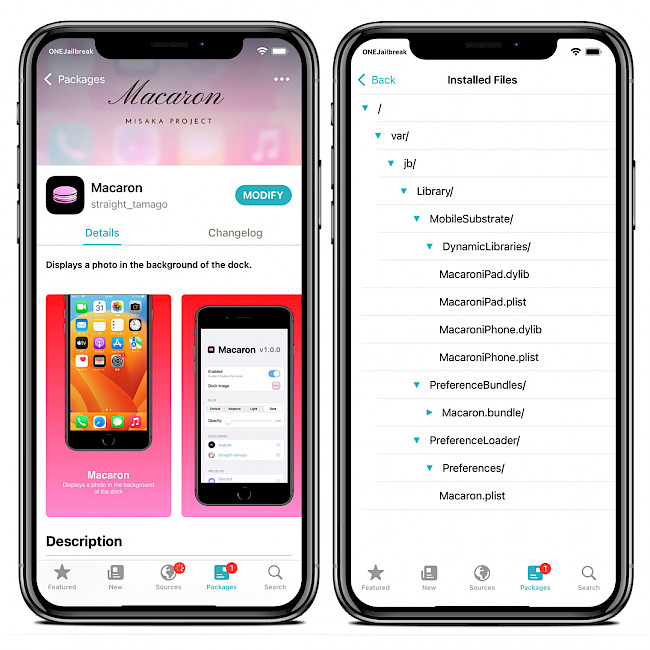 For added convenience, you can add the repository to your preferred package managers (Cydia, Sileo, Installer, Zebra) by using the convenient quick links provided at the top of this page. With just one tap, you can easily add the repo and download Macaron tweak for iOS.
What's new
Updated Macaron to version 1.0.1.
Supports use of iPad dock on iPhone.
Fixed an issue with some gifs playing at odd speeds.
User interface fixes.
Post a comment