LocationSimulation IPA for TrollStore on iOS 15

qbap |
iOS Apps
So far, Palera1n is the only iOS 15 jailbreak with support for a limited number of firmware and devices. Therefore, tweaks, developers are taking the advantage of TrollStore installer and are releasing useful apps with system tweaks that don't require jailbreak.
What is LocationSimulation?
LocationSimulation (LocSim) is a great app for TrollStore compatible devices that can be installed on iOS 15. Its main feature is to change your iPhone location directly on the device without using jailbreak or a computer. There are also seven other useful tools included.
Once installed with TrollStore, the LocationSimulation app icon will be added to your Home Screen, from where you can easily access the tool. When you open the app there will be three sections such as Location Simulation, Useful Tools, and Mine where you can buy a license.
This time this is a paid package with a trial license allowing you to test the app before you will decide to purchase it. With LocationSimulation you can spoof your iPhone location without jailbreak on iOS 15. This feature allows you to add multiple GPS coordinates from Apple Maps to the Location Simulation list and enable them with one tap. Works with all apps.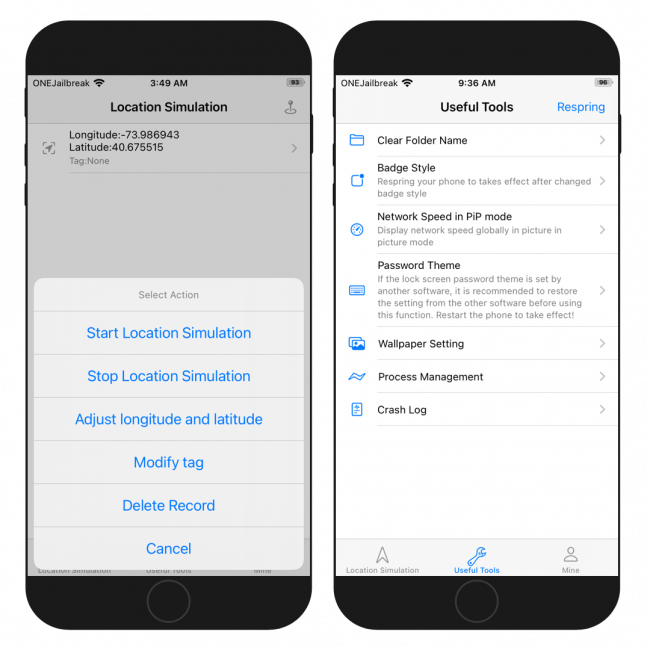 Spoofing iPhone location comes with a couple of actions such as start location Simulation, stop Location Simulation, adjust longitude and latitude, modify tag, and delete a record.
LocationSimulation was designed with faking GPS coordinates on iPhone in mind, but the developer also included some other useful tools. The Badge Style utility allows you to change the badge color (notification next to an icon) with a color picker or replace it with an image.
Password Theme utility can help you easily modify the look of the locks screen password by replacing the numbers with custom images, setting an empty style, and also safely restoring the settings to system values. If the Lock Screen password theme is set by another app like Mugunghwa, restore the settings from the software before using this function.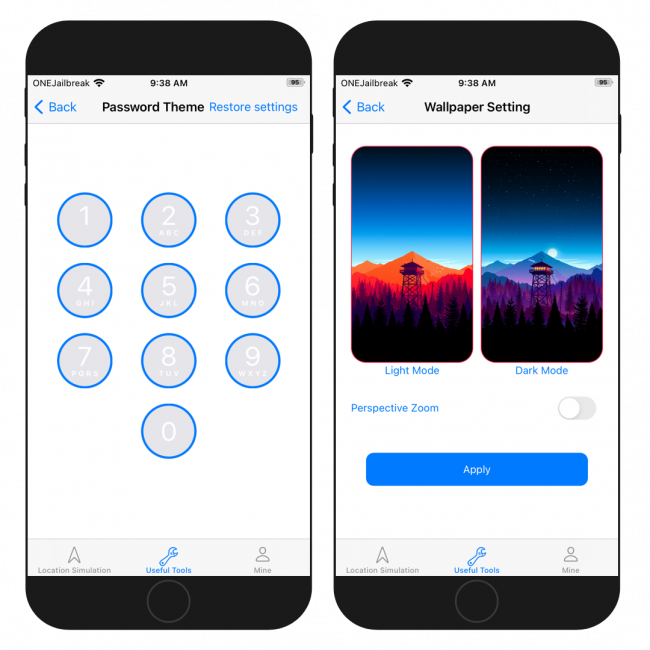 Another LocSim utility allows you to display the network speed on the Home Screen in the PiP mode. Network speed in PiP mode can be customized. Change the size of the floating window or font, and set a new color for the background and font. IP Address can also be displayed on the floating window. Network speed displays the actual download and upload speed.
On top of that, you can also easily create Light Mode and Dark Mode wallpapers from any Pictures located in your iPhone library. Perspective Zoom is also supported. LocSim can also respring your device, clear all folder names with one tap, view all running processes in the background, and terminate them. The tool is also packed with Crash Log Viewer for apps.
Compatibility: iOS 15.0 - iOS 15.4.1, iOS 15.5 beta 1 - iOS 15.5 beta 4, iOS 15.6 beta 1 - 15.6 beta 5. No other firmware releases are or will be supported. No support for iOS 15.5, no support for iOS 15.6, and no support for iOS 16. This app is possible because there is a bug in iOS.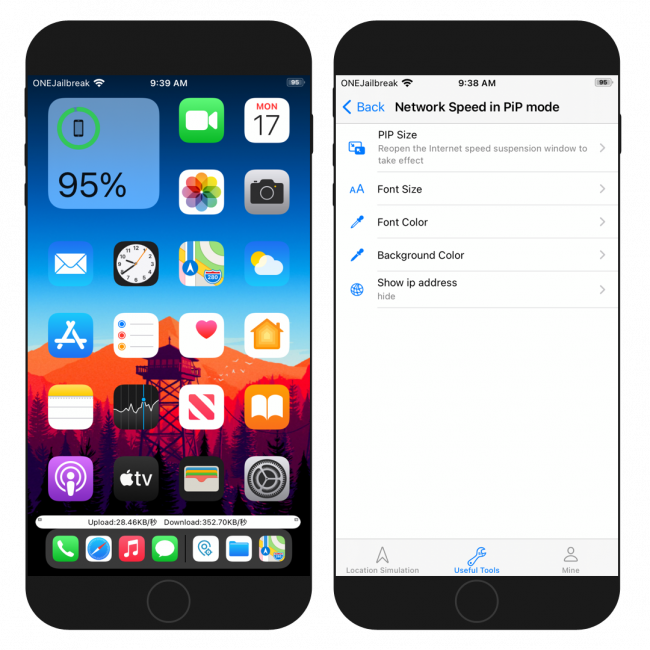 LocationSimulation is under active development and new versions are released pretty often. The latest release includes new features such as add, delete and export multiple location records, new import function for locating records, automatic remark function for locating records, and use long press the app icon to open the Internet speed widget.
How to install LocationSimulation IPA
LocationSimulation was released as an IPA package, but to access those restricted iOS system settings, it's required to sideload the app using TrollStore. This app works on iOS 15 only. When you try to install the IPA using AltServer this will not allow you to access those options.
Install TrollStore on iOS 15 up to iOS 15.4.1 (and some iOS betas).
Download LocationSimulation IPA 1.3.9 in mobile Safari and save it on iCloud.
Share the downloaded IPA file with the TrollStore app.
TrollStore will install LocationSimulation automatically.
Access the LocationSimulation from the Home Screen.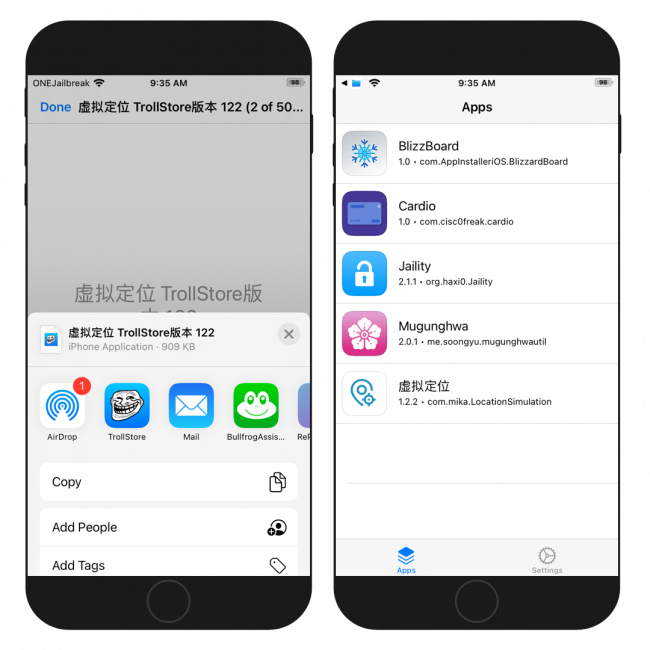 Hint: The old version of LocSim IPA 1.3.2 offers access to all tools that have been removed from the app in newer releases. Download the old version to access those features.
Fake iPhone GPS location on iOS 15
LocSim allows you to fake the iPhone GPS location on iOS 15. There is no need to connect your iPhone to a computer. What's more, the tool can spoof real locations directly on an iOS device without a jailbreak. To set new GPS coordinates on iOS, follow those steps.
Note: Some apps may have a network-assisted positioning mechanism that can detect that GPS location is set to a fake one. If the virtual positioning can't be stopped just restart your iPhone. LocationSimulation works only when installed throught TrollStore!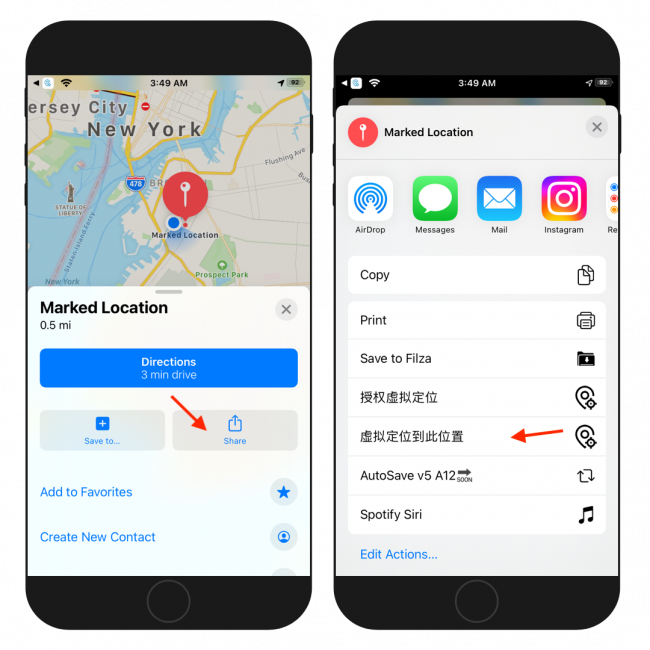 Step 1. Install LocSim IPA with TrollStore.
Step 2. Open LocSim app from the Home Screen.
Step 3. Tap on the pin icon in the right top corner.
Step 4. Select a desired fake location on the map.
Step 5. Use the Share button to view additional options.
Step 6. Tap on the 2nd option to copy the coordinates of the marked point.
Step 7. Return to LocationSimulation app and tap on the location.
Step 8. From the action list, select the Start Location Simulation.
What's new
LocSim updated to version 1.3.9.
Resolve iPad flash back.
Add search function.
Increase simulated altitude.
List mode, Long press for quick positioning.
ActionSheet style pop-up window can click the background to disappear.
Add positioning status display on the home page.
Focus mode added to home map.
Added quick location start/stop access from Home Screen icon.
Removed some useless operations in auxiliary functions.
New in app update mechanism.
Add the current autofocus position after the APP starts.
New manual focus position button.
List Style Adjustment.
Add visual feedback of positioning completion.
New record homepage last open mode.
Add built-in map selection.
Improved the offset problem by using a deviation correction algorithm.
International support.
Updated Network speed in PiP mode module.
Added Wallpaper Settings.
Included Process Management utility.
Post a comment