CC Mod tweak enables different styles for CC on iOS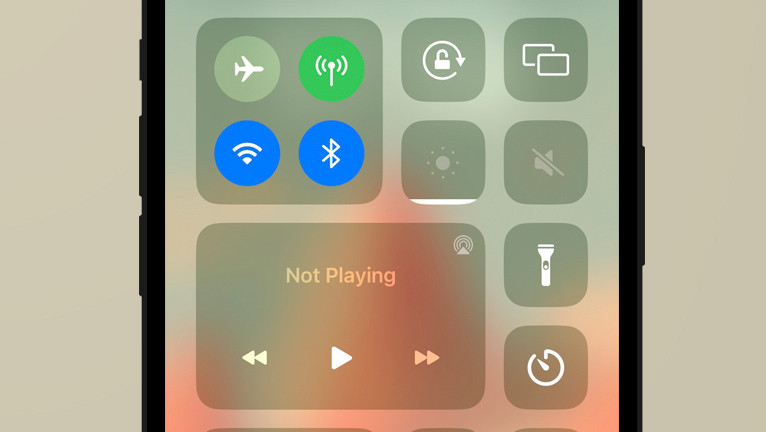 Misaka tweak manager offers an extensive collection of over 400 tweaks, but only a select few provide a genuine jailbreak-like experience without requiring a jailbroken environment. Among these, CC Mod by Phuc Do is certainly a tweak that you'd want to have installed on your stock device. It empowers you to apply new styles to CC modules, rejuvenating the overall appearance and creating a fresh and appealing look.
What is CC Mod?
CC Mod is an exciting tweak for Misaka, offering users the convenience of effortlessly switching between six pre-defined module appearances within the Control Center. If you've grown tired of the default appearance of the Control Center on your device, CC Mod is sure to leave a significant impact on your overall user experience. This non-jailbreak tweak is available in two separate versions: one designed for iOS 15 and another tailored for iOS 16.
Installing the CC Mod tweak is a straightforward process, facilitated by its repository integration with the Misaka tweak manager for iOS. After installation, you can conveniently access all settings by revealing the menu on the tweak icon within the "Packages" section.
Simply tap and hold on the tweak icon to reveal a range of options, including access to Advanced Settings. Importantly, there's also an option to swiftly revert all Control Center style back to their system default values, ensuring a hassle-free return to the original state.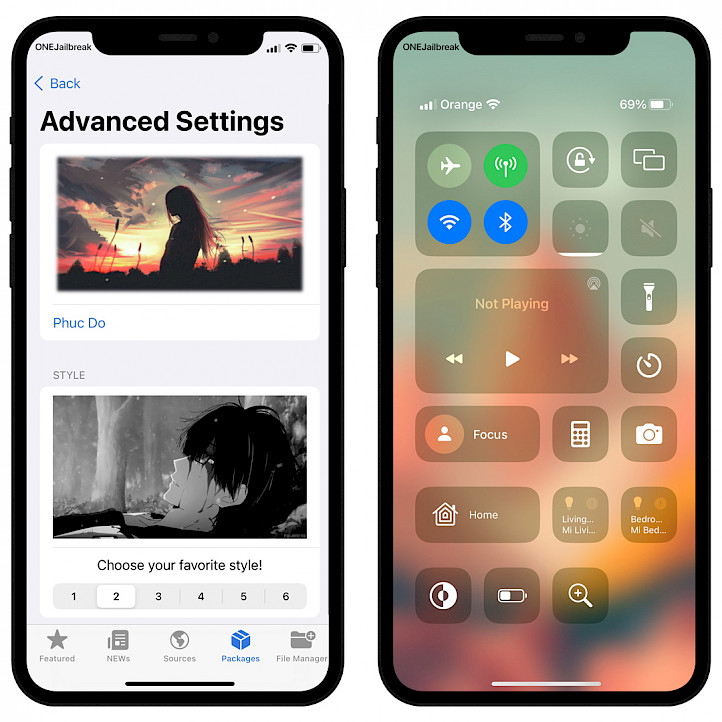 Control Center is a feature in the iOS operating system used on Apple mobile devices like iPhones and iPads. It provides quick access to various system settings, toggles, and shortcuts, allowing users to control essential functions and settings without navigating through the device's settings app. CC Mod for iOS 15 and CC Mod for iOS 16 offer the same features.
Typically, Control Center is accessed by swiping down from the upper right corner of the screen on newer iPhones or swiping up from the bottom of the screen on older models, Control Center includes various modules with predefined sizes by Apple designers such as:
Wi-Fi and Bluetooth: You can turn these wireless connections on or off.

Brightness: Adjust the screen brightness easily.

Volume: Control the volume for media playback and ringer.

Music Playback: Play, pause, and skip tracks for your music or audio content.

Screen Rotation Lock: Lock or unlock the screen orientation.

Flashlight: Activate the LED flash on the rear camera as a flashlight.

Do Not Disturb: Toggle on or off to silence notifications.

Airplane Mode: Quickly enable or disable all wireless connections.

Screen Mirroring: Connect to AirPlay devices like Apple TV.

Airdrop: Share files and content with nearby Apple devices.

Quick Access to Camera: Open the camera app directly.

Shortcuts: Access customizable shortcuts to apps or actions.

Timer and Calculator: Use built-in timer and calculator apps.

Accessibility Features: Quickly access features like Magnifier, VoiceOver, and more.

HomeKit Controls: Control smart home devices if you have a HomeKit setup.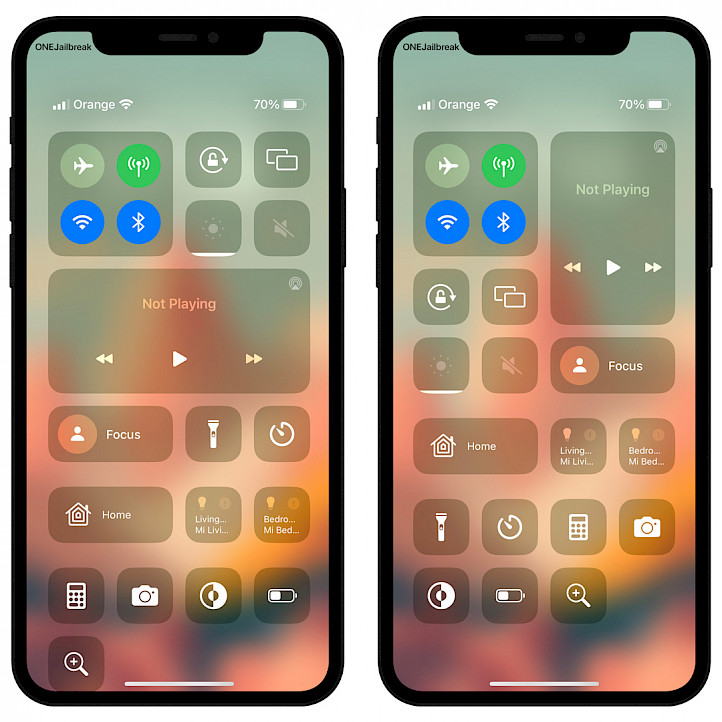 The CC Mod tweak, available from PhucDo's Repository, does not provide the ability to customize individual modules or their positioning and size within the Control Center. Instead, it offers users the choice of selecting from six predefined styles. Once a style is selected, it is necessary to apply it and then respring your device to observe the changes take effect.
This Control Center tweak is compatible with iOS versions ranging from iOS 15 to iOS 15.7.1, thanks to the utilization of the MDC exploit. Additionally, it extends support to iOS 16 – iOS 16.5, and even iOS 16.6 Beta 1 by utilizing the KFD exploit. It's worth noting that all the features offered by this tweak can be accessed without the need for a jailbroken environment.
Supported devices
| | |
| --- | --- |
| SoC | Device |
| A11 | iPhone 8, iPhone 8 Plus, and iPhone X |
| A12 | iPhone XS, iPhone XS Max, iPhone XR |
| A13 | iPhone 11, iPhone 11 Pro, iPhone 11 Pro Max |
| A14 | iPhone 12, iPhone 12 Mini, iPhone 12 Pro, iPhone 12 Pro Max |
| A15 | iPhone 13 and 13 Mini, iPhone 13 Pro and 13 Pro Max, iPhone 14, iPhone 14 Plus |
| A16 | iPhone 14 Pro and iPhone 14 Pro Max |
What's new
Updated CC Mod to the latest version.
Added 3 new layouts for Control Center.
Sponsored links
Post a comment