Zetsu is a free multitasking tweak for iOS

qbap |
Cydia Tweaks
Multitasking on iPhone was always a big disappointment, but now with a tweak like Zetsu, you can run multiple apps simultaneously. Zetsu works with all jailbroken devices running iOS 14 and newer. Open any app in a new window on the Home Screen.
Add Zetsu Repo to your package manager.
What is Zetsu?
Zetsu is a free jailbreak tweak that adds real multitasking features to an iPhone, allowing users to run multiple apps simultaneously from the Home Screen. It also works with iPadOS 14+.
Instead of running apps in fullscreen Zetsu adds a new option to the 3D Touch / Haptic Touch gesture to open an app in a Window. This way you can use multiple apps at once.
Zetsu tweak is available for free, and it offers some great features compared to paid MilkyWay3 tweak. Most importantly, it supports auto-landscape mode and full-screen video for Youtube.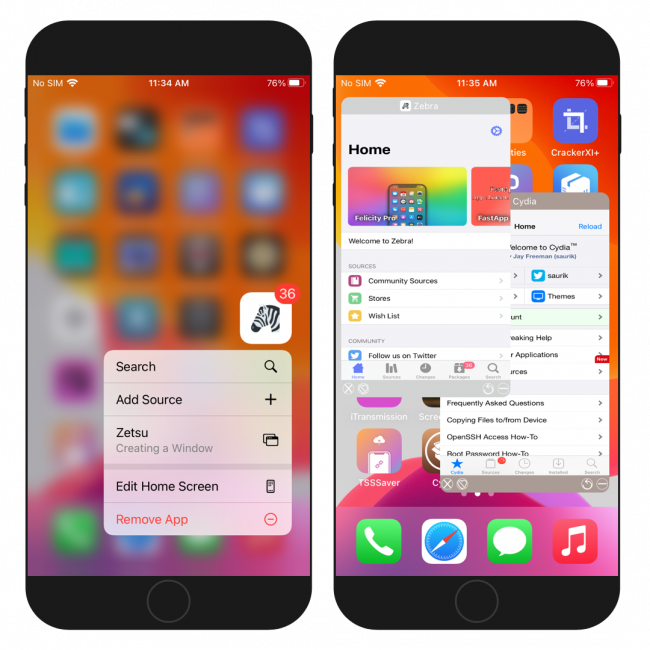 Every opened window can be closed, killed, moved on the screen, refreshed, and also minimized. There is only no option available to maximize the window. But who cares. The control bar is located at the bottom of the window, and it's easy to reach.
After installing the tweak, a new preference pane is added to the Settings app, from where you can enable and disable Zetsu globally and configure all available options.
From the preference pane, you can change window resize settings. This option allows you to choose between whether to resize the app window with the fixed ratio or to resize it freely. Range of movement allows the window to move only within the screen.
There are also a lot of options to select activation mode for creating, showing, and hiding windows. Manage the tweak with 3D Touch, Home Button, Motion (shake),multitouch gestures, sleep buttons, status bar, volume buttons, Springboard, and more.
What's more, Zetsu tweak features auto-landscape mode without compression, the ability to remember your custom ratio before minimized, closing animation, unfixed ratio also without the compressed contents, kill the app when a window is closed, and out of screen protection.
You can also activate a new window from the grid switcher by tapping and holding on an app. Alternatively, you can try the free MilkyWay 2 tweak that works on iOS 14 and iOS 13. It allows you to open and use at the same time multiple apps in a macOS-styled window interface.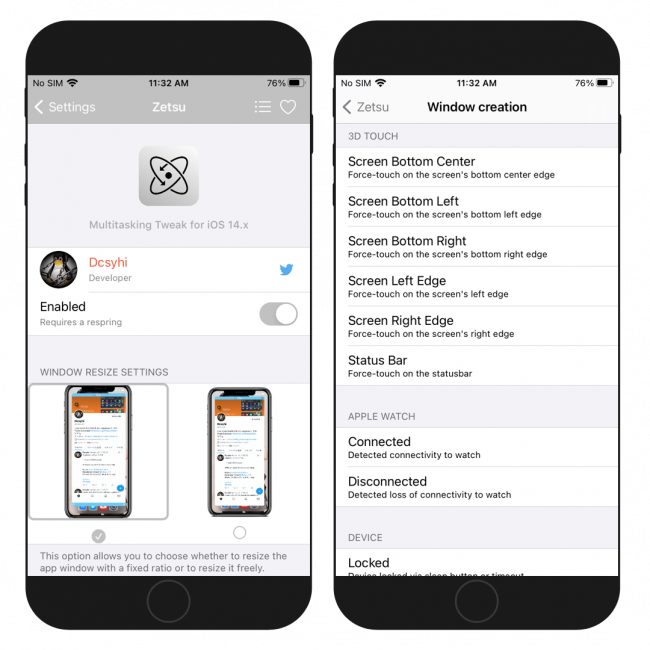 Repository
Adding Zetsu tweak Repository to Cydia Sources is simple and easy. Add the official repo (via dcsyhi repository) to your list of Cydia Sources and install the tweak.
Open Cydia app from the Home Screen.
Tap Sources → Edit → Add the https://dcsyhi1998.github.io/ Repo URL.
Search for Zetsu tweak and install the tweak.
Restart the Springboard when required to complete the installation.
Tweak preferences are available via the Settings app.
Alternatively, please use the quick links available at the top of this page to add the repository to your favorite package manager (Cydia, Sileo, Installer, Zebra) with just one tap.
What's new
Updated Zetsu tweak to version 1.3.0.1.
Now you can use apps that couldn't be used (Facebook Messenger, etc.).
Added a setting item that can fix the window resizing ratio.
Added Activator extension.
Fixed a keyboard bug.
Fixed an issue that caused the switcher to be jerky when scrolling.
Open an application window by pressing and holding Switcher.
Fixed iOS 14 crash.
Post a comment