NiceCaller IPA for TrollStore on iOS 15

qbap |
iOS Apps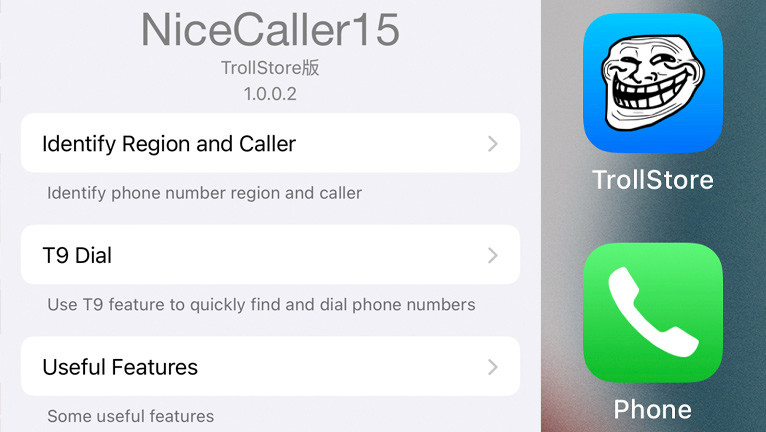 NiceCaller is another jailbreak tweak that was partially rewritten to support iOS 15 without the need to jailbreak your iPhone. It's all possible thanks to TrollStore IPA installer that can not only install IPAs but gain access to some forbidden system files.
Add NiceCaller Repository to your package manager.
What is NiceCaller?
NiceCaller (NiceCaller15) for TrollStore is a special edition of the popular jailbreak tweak designed to work on jailed iPhones. It works on iOS 15.0 – iOS 15.4.1, and it delivers some cool features for non-jailbroken devices. NiceCaller tweak offers even more useful features.
Once installed, NiceCaller adds an icon to the Home Screen that looks exactly like the default Phone app. When you will open the new Phone app you will access all features from stock Phone app including Favorites, Recents, Contact, Keypad, and Voicemail.
Of course, NiceCaller isn't only an iPhone app clone. What's important, the app isn't fully integrated with the system, and will not receive calls. When you will dial ###### it will open NiceCaller's configuration page from where you can set every available option to your liking.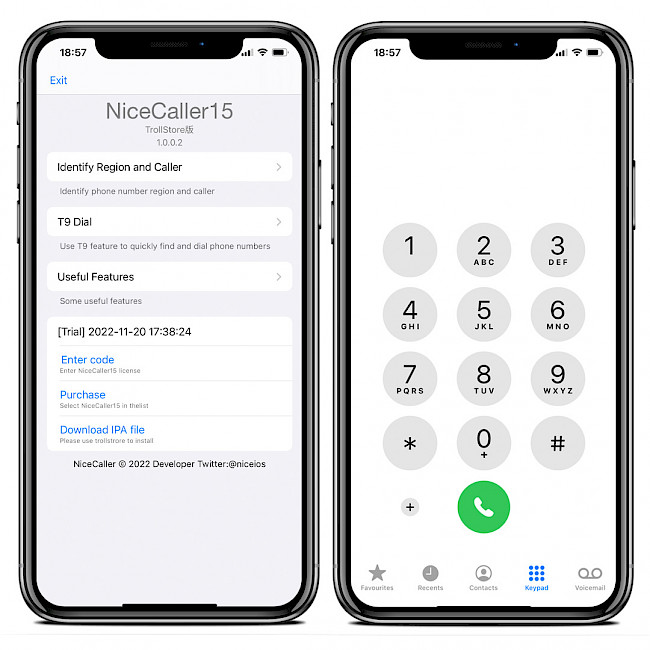 From here you can enable the region and caller identify function (phone number city),toggle on or off the T9 dialing function (support Simplified Chinese Pinyin, Traditional Chinese Phonetic, Greek, Russian, Arabic),or purchase a license. More options are available in useful functions.
NiceCaller15 can customize the recent call history to store up to 500 calls (by default, the call history is 100 entries),choose SIM card before dialing (or use this function as a call confirmation),customize the bottom navigation bar pages, and much more.
There is also an option to pic SIM card before dial, use color dual card label, toggle SIM card, hide SIM card selection tab, merge recent call records, show recently dialed numbers, copy phone number without spaces, display contact phone number, display calls duration, show ringing time, and color the call status. All those features are present in NiceCaller15.
NiceCaller tweak for jailbroken devices offer more exiting features. There is built-in call record hook allowing you to record all conversation, real-time voice changer, and a callbackground music to listen your favorite music during calls. NiceCaller supports iOS 12, iOS 13 & iOS 14.
NiceCaller tweak and NiceCaller15 app are released as a free trial packages. Purchase the tool on both platforms for $5.01 via PayPal. The buy option is available from the settings page. Be aware, that the jailbreak version has more to offer including voice recorder, voice changer, etc.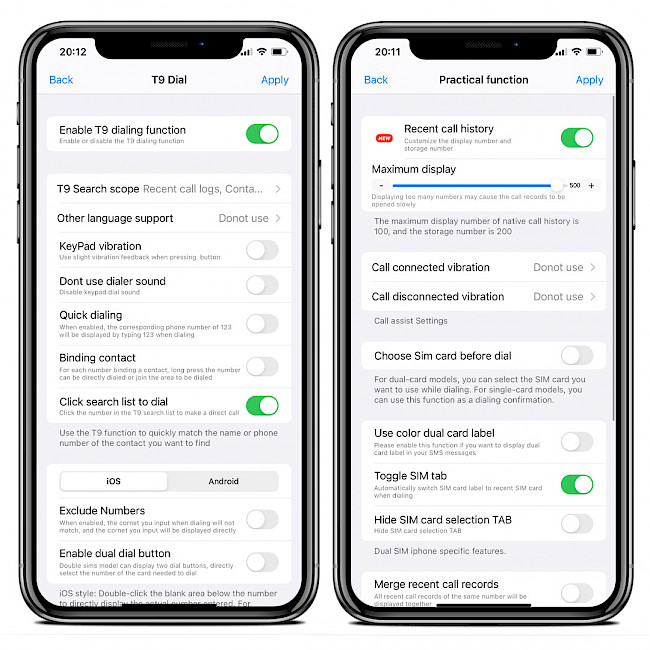 How to install NiceCaller IPA
NiceCaller15 for TrollStore was released as an IPA package that can be installed on iOS 15. You cannot sideload the app with any other tool because TrollStore is using a bug in iOS 15 allowing the app to access some system files that are usually unlocked only in a jailbroken environment.
Install TrollStore on firmware between iOS 15 up to iOS 15.4.1.
Download NiceCaller IPA 1.0 and save it on iCloud.
Share the downloaded IPA file with the TrollStore app.
TrollStore will install TrollTools automatically when loaded.
Access the Phone app from the Home Screen.
Note: To show NiceCaller settings page dial ######.
Repository
NiceCaller tweak was released a trial package through the private NiceiOS Repository. Add NiceCaller Repo to your package manager and access some useful call features. What's more, Callrecord, voicechanger, callbackground music will work also on XinaA15 Jailbreak for iOS 15.
Open the Cydia app from the Home Screen.
Tap Sources → Edit → Add the https://global.niceios.com Repo URL.
Find the NiceCaller tweak and tap to install the package.
Cydia will ask you to respring the device to finish the installation.
From the Settings app, access tweak preferences.
Alternatively, please use the quick links available at the top of this page to add the repository to your favorite package manager (Cydia, Sileo, Installer, Zebra) with just one tap.
What's new
Updated NiceCaller IPA to version 1.0.0.3.
Bug fix release.
Initial release of NiceCaller for TrollStore.
Post a comment