iKey Prime 2.5 iCloud Bypass with Signal for iPhones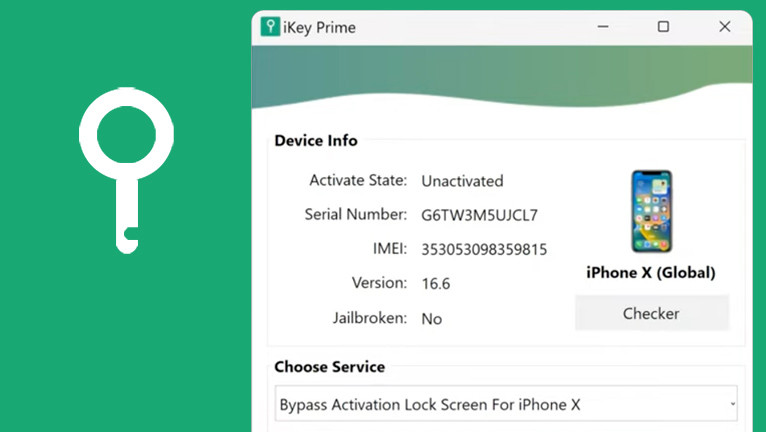 Known for crafting the widely-used WinRa1n iOS 12 to iOS 16 jailbreak tool for Windows, leveraging the power of checkra1n and palera1n, we present iKey Prime iCloud bypass for PC. This remarkable iCloud bypass tool stands as an all-encompassing one click solution, tailored for a range of all checkm8 devices from iPhone 5S up to iPhone X (MEID + GSM). iKey Prime allows you to activate all devices with SIM card signal enabled.
Download iKey Prime 2.5 for Windows:
What is iKey Prime?
iKey Prime stands as a Windows utility meticulously designed with simplicity at its core, enabling the execution of intricate iCloud bypass procedures with a mere click of your mouse. The process necessitates the prior jailbreaking of your iPhone or iPad, a step seamlessly facilitated by iKey's previous innovation, WinRa1n – an influential jailbreak tool specifically fashioned to simplify and expedite the journey. This tool is also available for Windows PC.
Fueled entirely by the iTunes API, this Windows-based iCloud Bypass tool comes equipped with signal support. iKey Prime stands as a reliable solution for circumventing activation locks, irrespective of signal availability. The tool seamlessly interfaces with various jailbreaks, including the likes of checkra1n and palera1n. Especially valuable when operating a macOS or Linux system for jailbreaking purposes, iKey Prime emerges as a versatile and indispensable asset.
iKey Prime is marketed as a solution designed to navigate past the iCloud Activation Lock Screen found on compatible iPhones and iPads operating on iOS 12 through iOS 16.6. While it's commonly stated to accomplish this feat in a single click, it's important to note that the journey entails some preliminary preparations, including jailbreaking and potentially procuring an online activation service. Despite this, the overall process remains straightforward and user-friendly.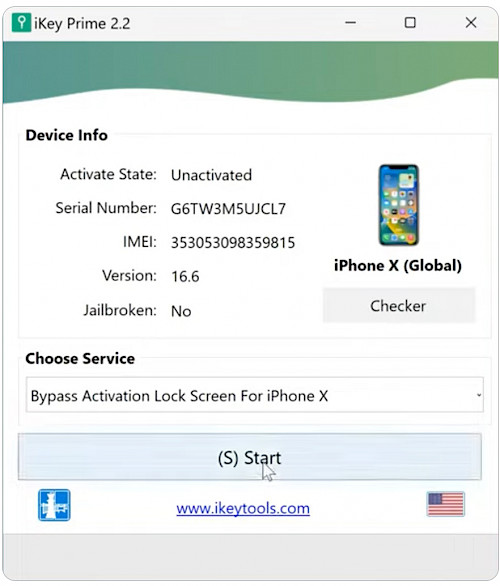 As iKey Prime necessitates a jailbreak for iDevice access, its compatibility is limited to devices utilizing the checkm8 exploit, spanning from iPhone 5S to iPhone X (both MEID and GSM versions). Notably, the software has undergone enhancements to accommodate iPads (models from 2013 to 2019),only those featuring WiFi + Cellular capabilities.
Distinguishing itself from other free iCloud bypass tools, iKey Prime offers a unique advantage. It doesn't solely provide signal-less bypass capabilities, but also extends its support to include signal-enabled scenarios, granting you access to essential features such as making calls.
Info: Naturally, iKey Prime iCloud Bypass with Signal option represents a pricier alternative, the cost varying according to the specific model of your device.
iKey Prime is accessible in 11 global languages, catering to a diverse user base. Moreover, the software extends its compatibility to encompass carrier-locked devices; however, unlocking these devices necessitates an extra UnlockChip hardware component for the bypass process.
The developer behind iKey Prime also extends a complimentary service that allows you to verify without charging your iPhone's warranty status and remaining coverage, assess whether the Find My iPhone feature is activated, ascertain whether your Apple device is linked to an iCloud account, and determine if your iPhone is locked to a specific carrier.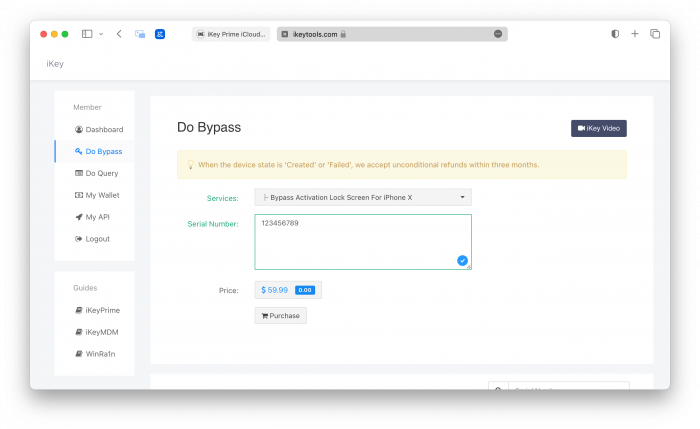 On the flip side, if you find yourself in need of activating the SIM-paid service, there exists a range of distinct tools tailored for all iOS-supported MEID/GSM checkm8 devices. Some of the most recognized options include iRemoval Pro, Checkm8, iRemove Tool, HFZ Ramdisk Universal, and Mina Ramdisk, each offering a unique approach to addressing this requirement.
Supported devices
iKey Prime iCloud Bypass empowers you to eliminate the Activation Lock Screen from iPhones and iPads. As a commercial software, it mandates the activation of your device through the acquisition of a corresponding service. iKey Prime presents a tiered pricing structure, contingent upon the device type with signal support, while a unified price is designated for iDevices lacking signal support. Below you can find a list of prices for all supported devices.
Bypass Activation Lock Screen (iOS 12 – iOS 16) with Signal:
Bypass Activation Lock Screen For iPhone X (59.99$)
Bypass Activation Lock Screen For iPhone 8 / iPhone 8 Plus (49.99$)
Bypass Activation Lock Screen For iPhone 7 / iPhone 7 Plus (39.99$)
Bypass Activation Lock Screen For iPhone 6s / iPhone 6s Plus/ iPhone SE (34.99$)
Bypass Activation Lock Screen For iPhone 6 iPhone 6 Plus (24.99$)
Bypass Activation Lock Screen For iPhone 5s (14.99$)
Bypass Activation Lock Screen For iPad – before 2017 (24.99$)
Bypass Activation Lock Screen For iPad – after 2017 (39.99$)
Bypass Activation Lock Screen (iOS 12 – iOS 16) without Signal:
Bypass Activation Lock Screen For iPhone / iPad [Cellular] (14.99$)
Bypass Activation Lock Screen For iPad (WIFI) within iOS 14.7 (19.99$)
How to use iKey Prime
iKey Prime for Windows stands as an uncomplicated tool designed to be easily navigated by users of all skill levels, devoid of any need for specialized expertise or hardware. The process is straightforward: dedicate around 20 minutes to ready your iPhone or iPad for jailbreak, register the serial number, and initiate the iKey Prime iCloud Bypass exploit – that's all it takes.
Download iKey Prime from the top of this page.
Connect your device to your PC via original USB cable.
Jailbreak your iPhone using WinRa1n or other tool.
Follow the on-screen instructions from WinRa1n jailbreak.
Enter your iPhone into DFU mode to continue jailbreak.
Complete the jailbreak process and stay connected to your PC.
Purchase the service by providing your device's serial number.


Tip: Device's serial number is displayed in main iKey Prime window.

Open iKey Prime and click Start to complete the bypass.
Below, you can find the official video tutorial:
What's new
Updated iKey Prime to version 2.5.
Improve startup speed.
Full compatibility with every minor version of iOS 12 – iOS 16.
Fixed issues with iPad/iPhone (iOS 15.7.8 – iOS 16.6).
Added support for carrier locked devices, but requires UnlockChip.
Added bypass service for iPad(WiFi) with iOS 15 and below.
Improved bypass time, now able to complete within 5 seconds.
DPI adaptation for software on 8K displays.
Overall improvements and fixed all known bugs.
Supports display in 11 languages.
Post a comment