iRemoval PRO download for Windows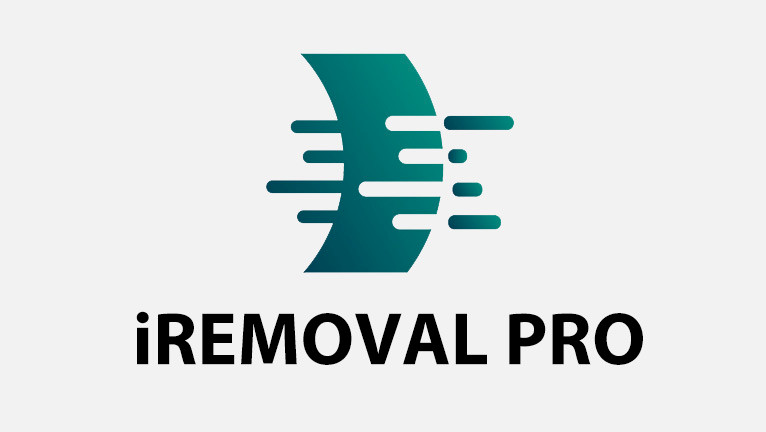 In 2023, iRemoval PRO is the most-used software to unlock Apple iDevices with more than 350k exploits running on iPhones and iPads. Use this tool to unlock the Hello screen, Activation Lock, and iPhone Locked on iOS 12, iOS 13, iOS 14, iOS 15, & iOS 16.
Download iRemoval PRO 6.6.1 for Windows
Old versions of iRemoval PRO tool may stop working, so always download the latest version of this iCloud Bypass Tool from here. iRemoval PRO v6.0 is the latest version released.
What is iRemoval PRO?
iRemoval PRO is a commercial software to unlock and remove Hello screen running on iOS 12 – iOS 16. iRemoval PRO is based on exploiting Apple servers to bypass iCloud activation lock or using the checkm8 exploit. It also comes with an iOS jailbreak based on checkra1n for Windows.
It works on iPhones from A7 to A11 chips, and you can use it to unlock Apple ID or turn off Find My iPhone without a password. Unfortunately, it's a bit complicated to understand what can be unlocked on which devices running a defined iOS version. It's best to ask the developer.
iRemoval PRO will work on checkra1n compatible devices, and it offers also some additional support for other devices. E.g., iRemoval PRO offers a Hello Screen full bypass for A12 (iPhone XR, XS, XS Max, iPad Mini 5, iPad Air 3, iPad 8) devices available only in Algeria and China, because this exploit is based on a hardware vulnerability. A13 will also be supported.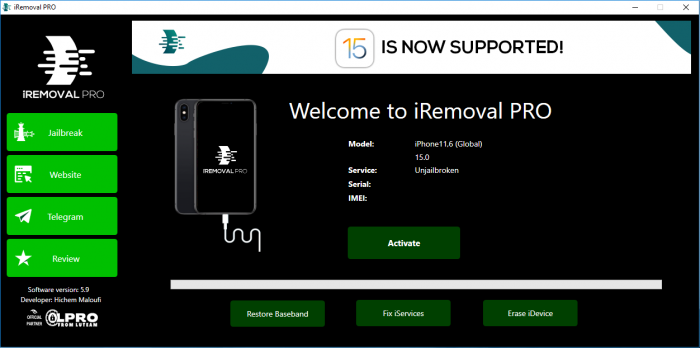 Hichem Maloufi started developing the iRemoval PRO project in March 2020 and launched the first release in June 2020. iRemoval PRO is based on two Apple server-side vulnerabilities and one iOS vulnerability which made the app able to bypass Activation Locked devices.
Activation Lock on iPhone or iPad is a feature designed to prevent anyone else from using your device after being erased if the user doesn't have your password. iRemoval PRO can bypass this limitation on older iDevices making it possible to remove the activation lock on your iPhone.
The software comes in two ranges of price for removing the activation lock. One for $9.99 that can run on iPhone 7 up to X (iOS 12 up to iOS 14.8.1) but it will work without the service signal (SIM card not working). And the second option in the price range $15 up to $60 for iPhone 5s up to X (iOS 12 up to iOS 15.7) with full activation and signal support. iRemoval PRO also offers an option to restore baseband, fix iService, and erase iDevice.
iRemoval PRO's GSM (No MEID) and CDMA (MEID) features will allow you to activate the device and use it without sim services. Working features include untethered (no SIM Pinlock / No Battery Drain), Notifications/FaceTime/iMessage, Sign in (iCloud/App Store), and Banking Apps.
The iCloud activation lock removal tool on GSM/MEID and full signal service support feature untethered (force shutdown support), SIM/Calls/Data, iPhone 5s to X MEID/GSM, iOS 12 to 16.6, and OTA Update supported! Unlocking price depends on device type ($15 – $60).
Don't buy iRemoval PRO if you are not sure that it will support your device!
It supports iPad cellular models with full signal bypass running on iOS 15.5 to 16. Supported models include iPad mini 4, iPad Air 2, iPad 5th generation, iPad 6th generation, iPad 7th generation, iPad Pro 2 10.5, iPad Pro 2 12.9, iPad Pro 1 12.9, and iPad Pro 1 9.7.
The latest release of iRemoval PRO can also turn your iOS 15 device into iRa1n mode and execute the full bypass Hello screen with a signal on supported devices.
To run the software without any issues, it's required to have an official Windows license (test mode option must be disabled). Use a genuine Apple cable (iRemoval PRO connects to the device via USB cable), and use wireless Wi-Fi / disable the firewall.
On top of that, iRemoval PRO comes with a free built-in iRa1n jailbreak that works with all A5-A11 iDevices. This Windows port of checkra1n and checkm8 exploit allows you to jailbreak iPhone 5s through iPhone X running on iOS 12 up to iOS 14. When checkra1n developers will make it possible to jailbreak iOS 15, iRemovalRa1n will also add support for the latest firmware.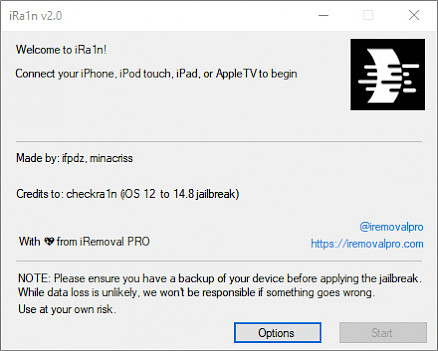 Alternatively, use the free BlackRa1n iCloud Activation Lock Bypass tool for iOS 15 – iOS 16 based on the Palera1n Jailbreak, and brought to you by @ios_euphoria. This is a tethered iCloud Bypass tool for checkm8 devices only, with support for iOS 15.0 – iOS 15.7.2. No signal.
Supported devices
All A7-A11 systems on a chip (SoC) are supported by iRemoval PRO. checkra1n compatibility reaches millions of Apple devices. Below is the actual list of compatible iPhones and iPads running iOS 12 up to iOS 16. Newer devices may be supported but require special conditions!
A7 – iPhone 5S, iPad Air, iPad Mini 2, iPad Mini 3.
A8 – Phone 6, iPhone 6 Plus, iPad Mini 4.
A8X – iPad Air 2.
A9 – iPhone 6S, iPhone 6S Plus, iPhone SE, iPad (2017) 5th Generation.
A9X – iPad Pro (12.9 in.) 1st generation, iPad Pro (9.7 in.).
A10 – iPhone 7 and iPhone 7 Plus, iPad (2018, 6th generation), iPad (2019, 7th generation) (iOS 14 not supported).
A10X – iPad Pro 10.5" (2017), iPad Pro 12.9" 2nd Gen (2017).
A11 – iPhone 8, iPhone 8 Plus, and iPhone X.
Info: iRemoval PRO v5.9.1 adds support on iOS 16 for checkm8 compatible devices: iPhone 8, iPhone 8+, and iPhone X. iPhone 7 doesn't support iOS 16.
How to bypass Activation lock on iPhone
iRemoval PRO is a paid service to bypass the Activation lock on iPhone, making it possible to use recycled iDevices. The iCloud activation bypass can be executed in a few simple steps.
Step 1. Download iRemoval PRO for Windows.
Step 2. Unpack the downloaded ZIP file.
Step 3. Open iRemovalPRO.exe to run the application.
Step 4. Connect your device to the computer via a USB cable.
Step 5. Click on the jailbreak button to run the iRa1n app.
Step 6. Click start to jailbreak your device.
Step 7. Your device will enter the Recover mode.
Step 8. Proceed with the onscreen instruction to enter DFU mode.
Step 9. Once done, the device will boot into jailbreak or iRa1n mode.
Step 10. Buy the activation for your iDevice and click on Activate.
iRa1n can only jailbreak supported devices running on iOS 12 - iOS 14, but it can also put in iRa1n mode other iDevices on iOS 15 to enable the Activation lock bypass.
What's new
Updated iRemoval PRO to version 6.6.1.
Exclusive Full Signal Bypass for iOS 13 to iOS 17 devices (iPhone and iPad Cellular).
Updated iRa1n to a faster jailbreak exploit (10 seconds for jailbreak process).
Better performance and high improvements.
Updated iRa1n to version 4.5.
Added iOS 16.4 support for iPhone 8/8+/X.
Fixed major bugs for lower iOS versions.
Fixed Windows 11 bugs.
Faster activation process.
iOS 15.7 full support with signal bypass.
iPad cellular models for full signal bypass from iOS 15.5 to 15.6.1.
iOS 15.6.1 is supported with a full signal.
Fixed iPhone SE 1st issues (stuck on Booting).
iOS 15 bypass improvements.
Final fixes for A9 (CPID: 8003).
Fixed checkra1n jailbreak detection.
Support on iOS 15.5 and 15.6 devices from iPhone 6s to iPhone X.
New iRa1n mode boot feature for iOS 15.5 and iOS 15.6.
Fixed "iTunesMobileDevice.dll" missing error.
iRemovalRa1n jailbreak for A5-A11 devices.
Sponsored links
Comments
mustafa hassan 1 year ago

marcelino 10 months ago

Vonum 8 months ago

algaa myagaa 4 months ago
Post a comment