Best iCloud Bypass tools: Free Activation Lock Removal

qbap |
Research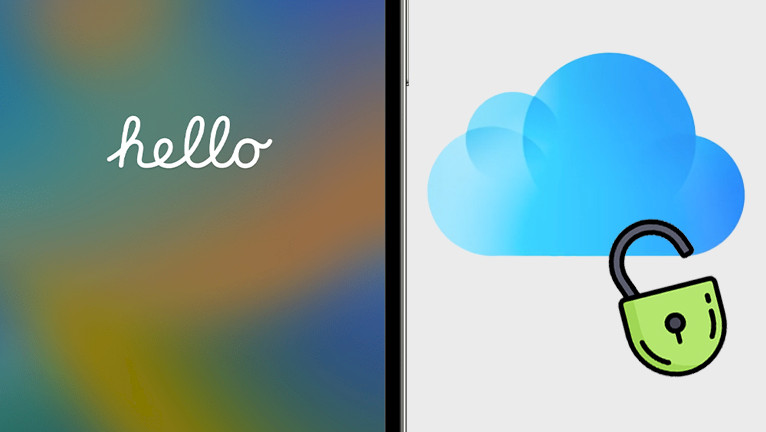 When you own a recycled iPhone or iPad it's most likely blocked with an iCloud Activation Lock not allowing you to access the device. With some amazing free iCloud Bypass tools you can easily remove Activation Lock from the iDevice, also with signal.
On the web there are a lot of iCloud removal tools and services for iPhones. However, it's important to exercise caution as many of these options may not be effective or even safe. While all services require payment upfront, there's no guarantee that they will work as advertised.
Therefore, it's always a risk to trust these iPhone activation lock removal tools and services. It's better to research and verify the legitimacy and effectiveness of any service before making a payment or providing any personal information. This article will explore some of the best apps that allow you to unlock iCloud Activation for free, without the risk of losing your money.
Warning: It is important to note that bypassing iCloud security measures is not ethical and could potentially compromise user data. Additionally, such activities may be illegal and could result in consequences for those who engage in them.
iCloud Activation Lock is a security feature designed to prevent unauthorized access to an iPhone in case it is lost or stolen. When the feature is enabled, it locks the device to the owner's iCloud account, requiring the owner's Apple ID and password to access the device.
This means that even if a thief or unauthorized person gains physical possession of the device, they will not be able to use it without the owner's iCloud login information. iCloud Bypass tools can remove Activation Lock Screen allowing you to access the Home Screen.
Bypass iCloud Activation Lock Tools
1. Blackw0rm
Blackw0rm, the first free iCloud Bypass tool for Windows, has recently been released. This new app is capable of removing the iCloud Activation Screen from all releases of iOS 12, iOS 13, and iOS 14, and is based on the checkra1n jailbreak. Once the untethered iCloud Bypass is applied to your iPhone, you can turn it off and on as needed, without worrying about losing the jailbreak or having to repeat the activation process. This makes the device more convenient and user-friendly, as it can be used independently without additional tools or equipment. However, it's important to note that the iCloud Activation Lock removal doesn't activate the device's signal.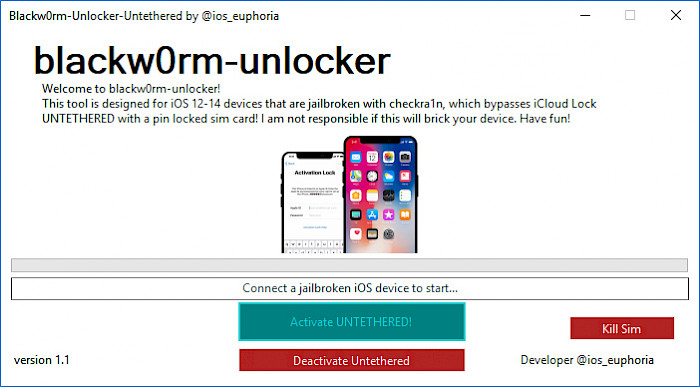 It's worth noting that newer Apple devices, such as the iPhone 14, iPhone 14 Pro, iPhone 13 Mini, iPhone 13, iPhone 13 Pro, iPhone 13 Pro Max, iPhone 12, iPhone 12 Pro, iPhone 12 Mini, and iPhone 12 Pro Max, iPhone 11 Pro, iPhone 11, iPhone 11 Pro Max, iPhone XR, iPhone XS Max, and iPhone XS, are not compatible with the checkm8 and, as a result, will not work with Blackw0rm.
2. GodsHand
GodsHand is a free iCloud activation lock removal toolkit for iOS 12 – iOS 16 devices. It offers a variety of features, including the ability to change the device's serial number, activate the Hello screen, boot the RamDisk, bypass GSM and no signal errors, unlock MDM restrictions, etc. GodsHand iCloud Bypass Toolkit supports all checkm8 compatible iPhones and iPads. Some models require a DSCD cable that allows communication between a PC and an iOS device in order to access the device's file system. Use this tool to remove Activation Lock Screen on iPhones 5 through iPhone X, and iPad Air 2 thought iPad Pro 12.9.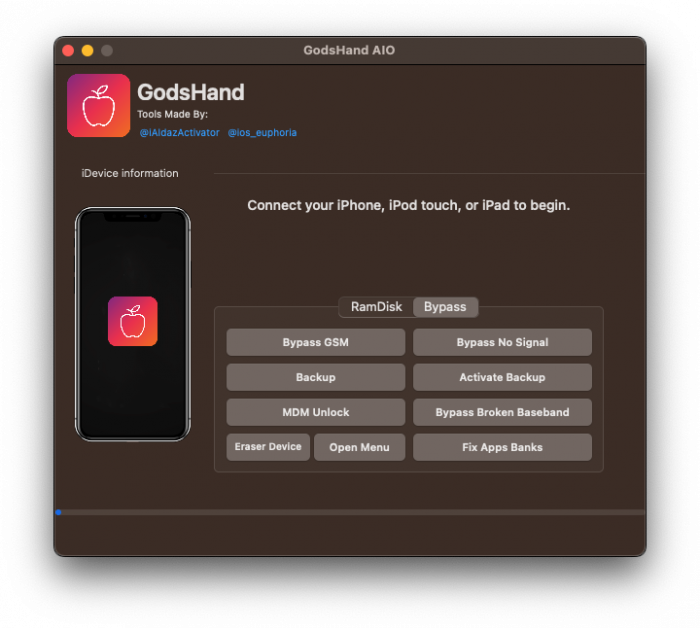 Additionally, GodsHand iCloud Bypass Toolkit not only allows you to bypass iCloud on your device, but also other offers useful features. These features include the ability to bypass broken basebands, option to erase jailbroken or stock iPhones and iPads, ability to backup activation data, and option to bypass GPS and the "no signal" feature allowing you to use a SIM card.
3. Euphoria Activator12
Euphoria Activator12 is a new iCloud bypass tool for checkra1n jailbreak compatible devices running iOS 12, iOS 13, and iOS 14. This tethered bypass allows you not only to remove the activation lock but also enable signal (3G, 4G, LTE) on supported iPhones. Euphoria Activator12 was released only for macOS. At present, there are no plans to expand the availability of Euphoria Activator12 beyond Mac computers. This tool, designed to unlock iPhones with signal activation, will remain exclusive to macOS and will not be made available for Windows or Linux systems. Euphoria Activator12 is compatible with all iPhones and iPads that support checkm8.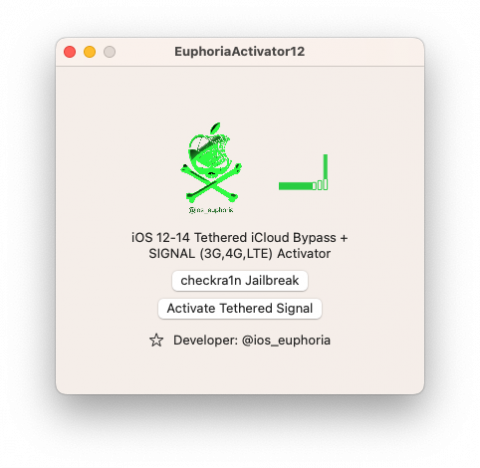 Therefor you can use it as iPhone activation lock removal tool for iPhone 6 & iPhone 6 Plus (only Disable & Passcode and Unavailable with SIM),iPhone SE (required DSCD),iPhone 6s & iPhone 6s Plus (required DSCD),iPhone 7 & iPhone 7 Plus, iPhone 8 & iPhone 8 Plus and iPhone X. GodsHand and Euphoria Activator12 are the only tools that offer signal on unlocked iPhones.
4. Goldra1n
Goldra1n is an iCloud bypass tool that enables users to remove the iCloud activation lock on A9 to A11 devices, providing access to the Home Screen and the ability to install App Store apps on iPhones and iPads. This semi-tethered software, however, does not unlock the SIM card or signal. Like other iCloud Activation Bypass tools from Euphoria, Goldra1n is based on the Palera1n core. Therefore, it can only unlock iPhone 8, iPhone 8 Plus, and iPhone X on iOS 16. A semi-tethered iCloud Bypass for iOS 16 is similar, but it allows you to boot your device into a stock iOS without requiring a computer. On iOS 15 it can iCloud Bypass on iPhone 6 to iPhone X.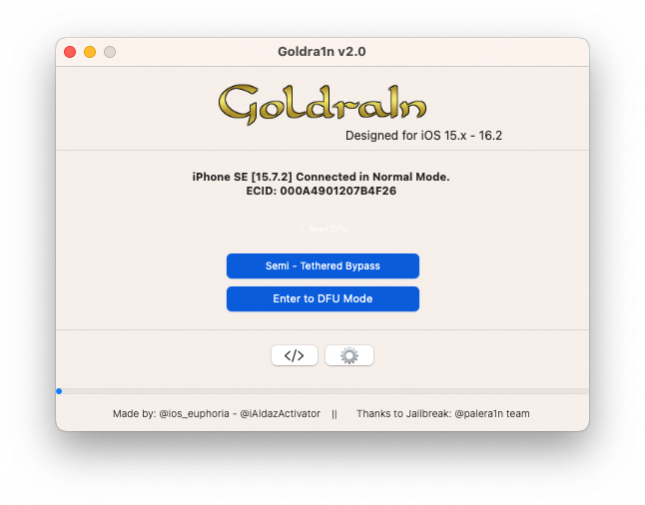 To use Goldra1n iCloud Bypass for iOS, you need to first jailbreak your iPhone with the Palera1n Jailbreak. This jailbreak is compatible with A9-A11 devices on iOS 15 to iOS 16.2 but is not included with the iCloud remover. Once the device is jailbroken and at the setup screen, removing the activation lock is a simple process with Goldra1n.
5. GreenSn0w
GreenSn0w is an activation lock bypass tool for iOS 12 to iOS 12.5.6, which is based on the checkra1n jailbreak. It allows you to unlock a recycled device by removing the required Apple ID activation and the Hello Screen. However, this iCloud Bypass Tool for iOS 12 doesn't support the signal, and the SIM card will not work. The tool comes pre-built with the checkra1n app, making it easy to jailbreak your device. GreenSn0w is a tethered iCloud Lock Bypass, so the device needs to be connected to a computer, and an iCloud Bypass tool needs to be run every time the device is rebooted or powered off. Use it to activate, without signal, your old or recycled iDevice.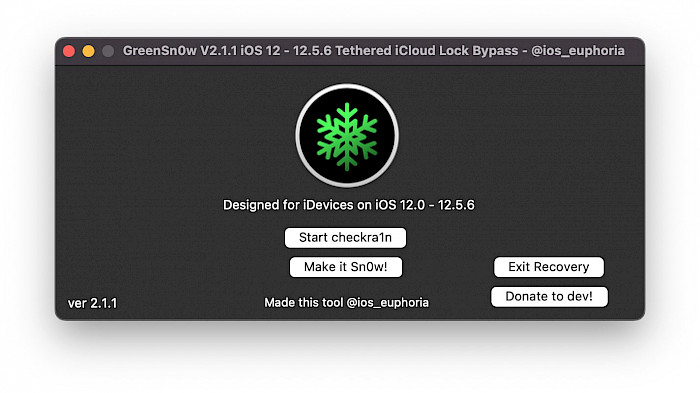 Activation Lock on iPhones or iPads is a security feature designed to prevent unauthorized access to your device if it is erased. It requires the user to enter your password before they can access your device. GreenSn0w is a tool that can bypass iCloud Activation screen on A9-A11 iDevices, making it possible to remove the activation lock on your locked iPhone or iPad.
6. BlackRa1n
BlackRa1n was the first free tool released to remove the Activation Lock screen on an iPhone and bypass iCloud. It can be used to turn off Find My iPhone without a password or even unlock an Apple ID. However, since it's a tethered iCloud bypass, you'll need to boot your iPhone or iPad with a computer after restarting it. The tool uses the Palera1n source code to jailbreak the device without installing any tweaks and build a custom IPSW to boot into your iDevice. BlackRa1n doesn't interfere with your device's baseband and only modifies the Setup files. However, since the tool doesn't support signal, you can't use a SIM card.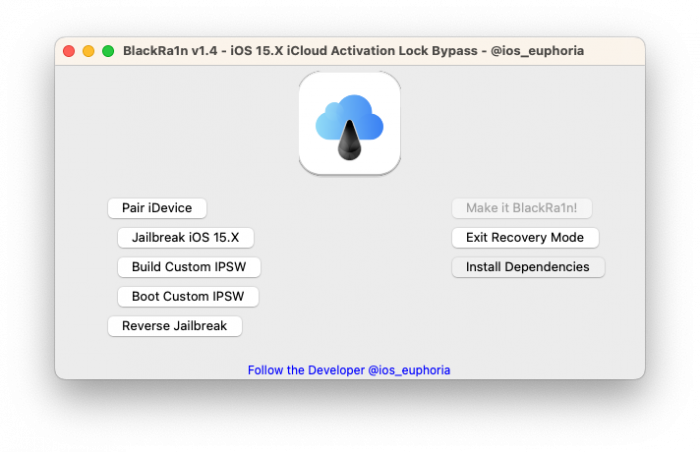 With the BlackRa1n iCloud Activation Lock Bypass tool, you can pair your device with a computer, jailbreak iOS 15, build a custom IPSW, boot the custom IPSW, reverse the jailbreak, exit recovery mode, install required dependencies, and remove the activation using BlackRa1n.
7. DarkRa1n
DarkRa1n is the successor to the BlackRa1n iCloud bypass tool, designed for macOS and Linux users. This free tethered iCloud Bypass tool works for iOS 15 and iOS 16 on A9-A11 devices without signal support. Although the SIM card will not work, you will gain access to the system. However, unlike BlackRa1n, the new DarkRa1n iCloud Bypass tool does not include the Palera1n app. Therefore, you must jailbreak the system separately before using this application. Since version 2.0, DarkRa1n offers fewer features, making the iCloud Activation Screen removal process much easier. The app provides only one button that will remove iCloud Activation Lock.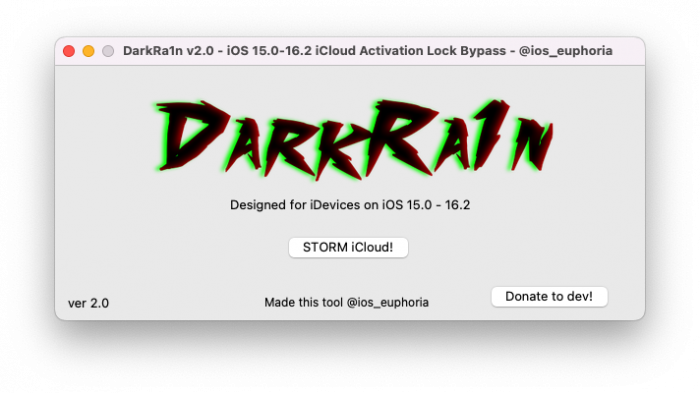 All A9-A11 systems on a chip (SoC) are supported by DarkRa1n. The bypass was tested to run and work without issues on iPhone X (GSM),iPhone 8, iPhone 7, and iPhone 6s running iOS 15.0 – iOS 16.2. Newer devices starting from iPhone XS will never be supported. Use this tool to activate and remove the iCloud Hello Screen on recycled devices, not stolen ones.
8. iPass
iPass is a iPhone Activation Lock Removal tool that can bypass iCloud and remove the Activation Lock screen from blocked iPhones and iPads with speed and efficiency. With iPass, you can quickly gain access to your locked devices without having to go through complex procedures or pay hefty fees. By automating the installation of essential components such as homebrew, sshpass, and iproxy, the bash script makes the process of using iPass seamless. After executing the script, iPass will jailbreak an iPhone or iPad and remove the MobileActivation files to bypass the Activation Lock screen, allowing users to activate their iDevice without any hassle.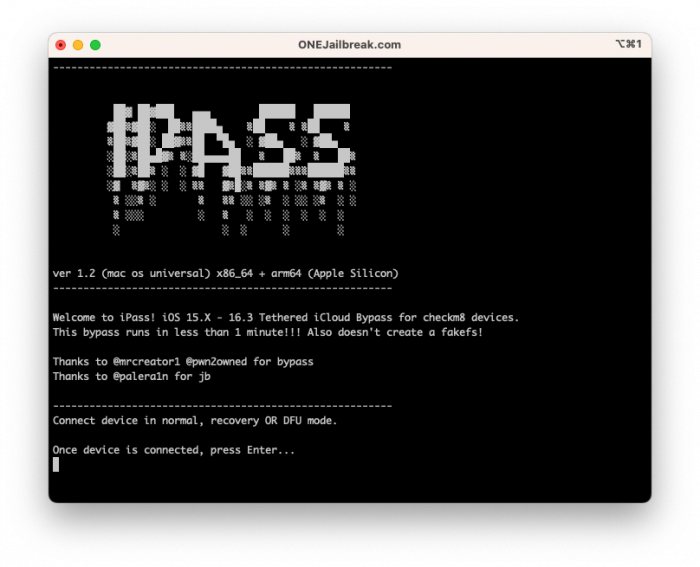 Pass is a command line tool created by Euphoria, a well-known figure in the community for developing several iCloud bypass tools for different platforms, including macOS, Linux, and Windows. All of these tools are available for free. iPass utilizes the palera1n-c jailbreak to gain access to the device and execute specific scripts, enabling the bypass iCloud Activation.
Post a comment