GreenSn0w iCloud Bypass Tool for iOS 12 – iOS 12.5.6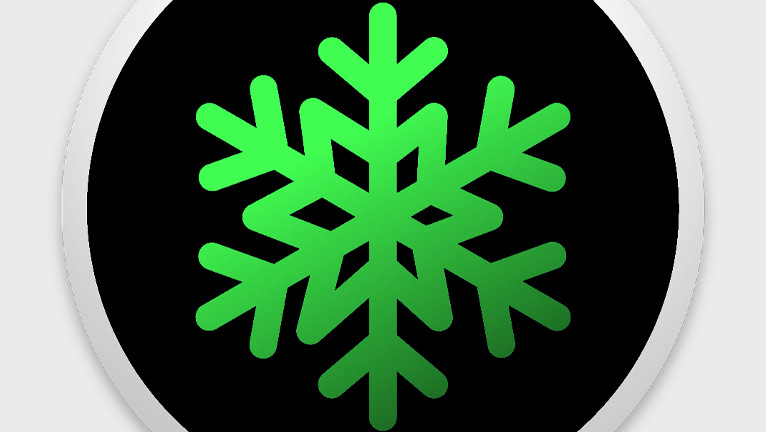 Euphoria is one of the lead developers behind a few free iCloud Bypass Tool for iOS devices. Recently he introduced GreenSn0w, the iCloud Activation Removal tool for iOS 12 – iOS 12.5.6. You can use it to activate, without signal, your old or recycled iDevice.
Download GreenSn0w
What is GreenSn0w?
GreenSn0w is a new iCloud Bypass Tool for iOS 12 – iOS 12.5.6 based on checkra1n jailbreak. It allows you to unlock a recycled device by removing the required Apple ID activation and the Hello Screen. This iCloud Bypass Tool for iOS 12 doesn't support signal, SIM card will not work.
iOS 12 was released on September 17, 2018, and was succeeded by iOS 13 on September 19, 2019. iOS 12's end of life was on November 10, 2020, which means that it no longer receives any security updates from Apple. GreenSn0w software supports all releases of iOS 12.
As all other iCloud Bypass Tools from Euphoria GreenSn0w is also developed using python. It comes pre-built with the checkra1n app, enabling easy jailbreaking of your device. Unlike other Euphoria's tools which use a different engine, GreenSn0w uses checkra1n, which results in a much smaller file size. GreenSn0w is a tethered iCloud Lock Bypass.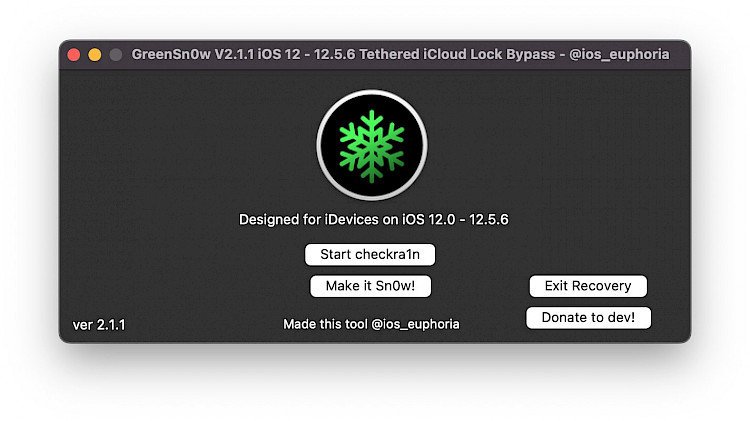 A tethered iCloud Bypass is a type of jailbreak that requires the device to be connected to a computer and to run an iCloud Bypass tool every time the device is rebooted or powered off. This is in contrast to an untethered jailbreak, which allows the device to be rebooted and still maintain the jailbreak state with all the iCloud Bypass advantages.
It is important to note that bypassing iCloud security measures is not considered ethical and may compromise user data. Additionally, such activities may be illegal and could result in consequences for those who engage in them. It's essential to consider the legal and ethical implications of jailbreaking an iOS device before proceeding.
Activation Lock on iPhones or iPads is a security feature designed to prevent unauthorized access to your device if it is erased. It requires the user to enter your password before they can access your device. GreenSn0w is a tool that can bypass this limitation on A9-A11 iDevices, making it possible to remove the activation lock on your iPhone.
If you are experiencing difficulty in removing the iCloud Activation Lock, an alternative option is to use the iRemoval PRO iCloud Bypass tool for Windows. This tool is based on the checkra1n jailbreak and is compatible with iOS 12 to iOS 16. Unlike GreenSn0w, iRemoval PRO is a paid per-device service that includes support, and supports signal.
Supported devices
Because the GreenSn0w iCloud Bypass Tool for iOS 12 – iOS 12.5.6 uses checra1n it's compatible will all iOS 12 devices starting from iPhone 5 and ending on iPhone X. All A5-A11 systems on a chip (SoC) are supported by tool and the activation screen can be bypassed.
Below you can find the actual list of GreenSn0w Bypass compatible iPhones and iPads:
A5 – iPad 2, iPhone 4S, iPad Mini (1st gen).
A5X – iPad (3rd gen).
A6 – iPhone 5, iPhone 5C.
A6X – iPad (4th generation).
A7 – iPhone 5S, iPad Air, iPad Mini 2, iPad Mini 3.
A8 – Phone 6, iPhone 6 Plus, iPad Mini 4.
A8X – iPad Air 2.
A9 – iPhone 6S, iPhone 6S Plus, iPhone SE, iPad (2017) 5th gen.
A9X – iPad Pro (12.9 in.) 1st gen, iPad Pro (9.7 in.).
A10 – iPhone 7 and iPhone 7 Plus, iPad (2018, 6th gen), iPad (2019, 7th gen).
A10X – iPad Pro 10.5" (2017), iPad Pro 12.9" 2nd Gen (2017).
A11 – iPhone 8, iPhone 8 Plus, and iPhone X.
Remove iCloud Bypass on iOS 12
GreenSn0w is a free tool that can be used to remove the iCloud lock on iOS 12 – iOS 12.5.6 devices, allowing for the use of recycled devices. To use the tool, Homebrew and python must be installed on a macOS. The process is relatively simple and can be completed in a few steps.
Info! GreenSn0w iCloud Bypass for iOS 12 requires you to jailbreak your iPhone with checkra1n Jailbreak first. This iOS 12 – iOS 12.5.6 jailbreak for A5-A11 devices is included with the iCloud remover. After the device is jailbroken and still at the setup screen continue.
To remove iCloud Bypass on iOS 12, follow these steps:
Connect a compatible iDevice to your computer.
Open GreenSn0w folder and terminal app on Mac or Linux.


cd DRAG AND DROP GreenSn0w folder here

In terminal enter the following command to install required components.


sudo chmod 755 ./* && bash ./install_deps.sh

Once it's done, Go to system Settings → Security and Privacy. Give Terminal and ssh-wrapper full disk access.
In terminal enter the following command to install required components.


python3 greensn0w.py

Connect and pair your iPhone or iPad to the computer.
Click on the "Start checkra1n" and follow-on screen instructions.
Put your iPhone into DFU mode.
Once the device is jailbroken, click on "Make it Sn0w".
The device will reboot without the iCloud Activation Lock!
Note: If something is not working try executing the following commands in the GreenSn0w folder: "sudo xattr -rd com.apple.quarantine ./" and "chmod 755 ./"
To jailbreak an iOS 12 device using checkra1n, ensure that your device is on the list of supported devices. Before proceeding with the jailbreak, it is important to disable the passcode on A10/A11 devices to avoid the need to restore the system to the latest iOS firmware.
What's new
Updated GreenSn0w to version 2.1.1.
Released iCloud Bypass Tool for iOS 12.
Included checkra1n Jailbreak for iOS 12.
Bug fix release.
Sponsored links
Post a comment