CarTube IPA for TrollStore: YouTube on CarPlay

qbap |
iOS Apps
CarTube is a game-changing app that allows you to enjoy your favorite YouTube content on the big screen of your car. If you're an avid YouTube user and love to watch videos while on the go, CarTube is the solution for CarPlay you've been looking for.
What is CarTube?
CarTube for TrollStore is a new app that allows you to use the official YouTube app on CarPlay. It supports all TrollStore compatible devices running iOS 14 through iOS 15.4.1. This app enables you to listen to and watch your favorite YouTube channels on your vehicle's screen.
CarPlay is a feature in vehicles that allows the driver to control their iPhone and its apps through the car's infotainment system. It offers hands-free navigation, phone calls, music, and messaging, as well as Siri voice control. CarPlay also provides a safer way to use iPhone in the car, reducing distractions while driving. Now you can also use YouTube with CarTube.
The downside of CarPlay is that only a limited number of third-party apps are compatible, including video playback apps like Netflix and YouTube, which are restricted for safe driving. Avangelista's CarTube IPA that can be installed with TrollStore. CarTube is a full-feature app for YouTube, that allow you to run the video app on your car's built-in display with CarPlay support.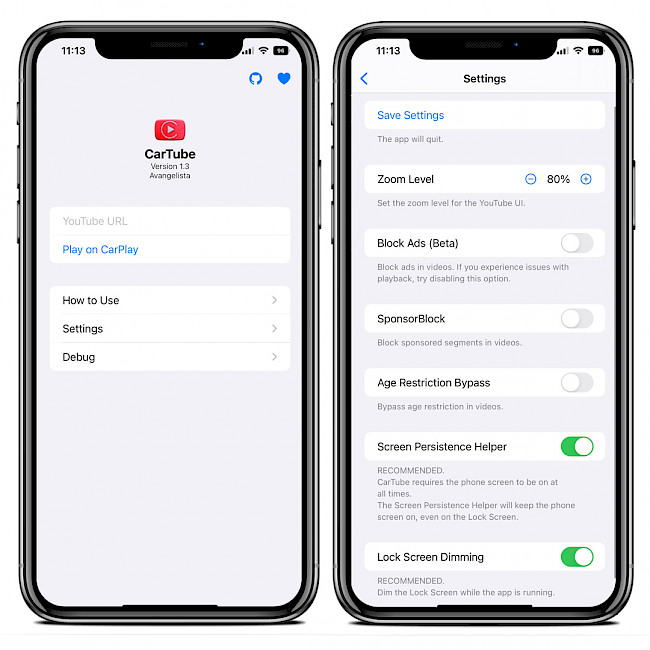 CarTube for TrollStore offers a seamless YouTube experience on CarPlay without the need for jailbreak. With CarTube, you can easily browse, search, and watch your favorite videos while on the go. The app also includes a convenient ad-blocking feature called SponsorBlock (to remove annoying ads displayed during the playback) and allows you to bypass age restrictions.
Additionally, CarTube offers seamless navigation with the ability to swipe back and forward anywhere. The "Play on CarPlay" share extension and instant paste of copied YouTube URLs make it easy to transition from the YouTube app to CarTube. Simply start watching a video on the YouTube app, get in the car, and it will pop up on CarTube.
All the features mentioned in the previous descriptions can be easily managed from the app's Settings page, where you can toggle them on or off as desired. To start using CarTube on CarPlay, simply get in your car, plug in your phone, and launch the app.
In some cases, you may need to tap your phone once to wake up the screen, but that's all the interaction required. The app will keep your phone screen on and dim the lock screen to ensure an uninterrupted experience. In case any additional steps are needed, CarTube will notify you.
If you want more control over what kind of apps can run on CarPlay, installing the CarBridge tweak is the way to go. With CarBridge, you can enhance your CarPlay experience by allowing all of your favorite apps to run on the system, including apps like YouTube, Netflix, or Plex.
Download CarTube IPA
CarTube was released as an IPA package that can be installed only using the TrollStore IPA Installer on any iPhone device. The app takes the advantage of an iOS exploit allowing it to access and modify not allowed file system files on iOS 14 – iOS 15.4.1 (and some betas).
To install CarTube IPA on your iOS device using TrollStore app, follow these steps:
Install TrollStore on firmware between iOS 14 up to iOS 15.4.1.
Download CarTube IPA 1.3 and save it on iCloud.

Share the downloaded IPA file with the TrollStore app.
TrollStore will automatically install CarTube when the file is loaded.
You can access CarTube from the Home Screen.
TrollStore compatibility: iOS 14.0 – iOS 15.4.1, iOS 15.5 beta 1 – iOS 15.5 beta 4, iOS 15.6 beta 1 – 15.6 beta 5. No other firmware releases are or will be supported. No support for iOS 15.5, no support for iOS 15.6, and no support for the latest releases of iOS 16.
What's new
Updated CarTube to version 1.3.
Much smoother experience.
Swipe left or right anywhere on the screen to go Back or Forward.
Native m.youtube.com player.
New "Play on CarPlay" share extension, works with YouTube app.
Zoom in settings works better and scales content correctly.
Added age restriction bypass.
Added ad blocker (beta).
Fixed awful scrolling.
Fixed Google signing page zoom.
Fixed the buggy keyboard bar.
Small fixes to the persistence helper, Siri no longer breaks it.
Post a comment