4ukey for PC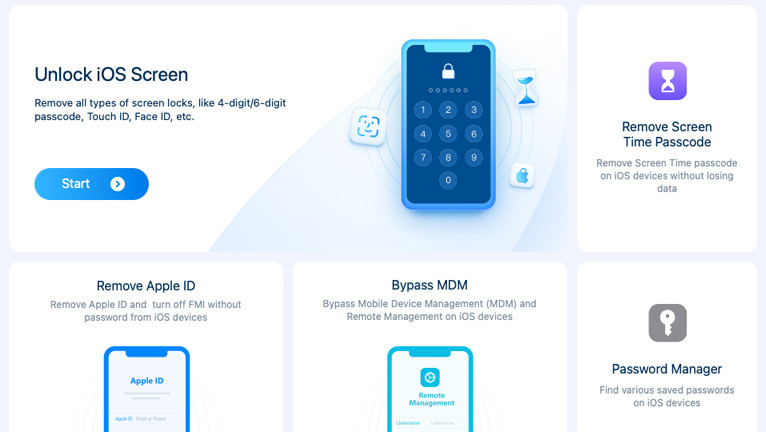 Tenorshare is renowned for its extensive range of invaluable tools designed for iOS devices and more. Each product offered by Tenorshare stands out for its exceptional user interface, unparalleled usability, and top-notch customer support. Among their impressive portfolio is 4uKey for PC (Windows and macOS), a versatile tool that enables users to Unlock iOS Screen, Bypass MDM, Remove Apple ID, eliminate Screen Time Passcode, and view saved passwords, all within a single, user-friendly application.
Download 4ukey for PC or 4ukey for Mac, latest version:
What is 4ukey for PC?
4ukey for PC is a all-in-one solution to remove all types of screen locks, like 4-digit/6-digit passcode, Touch ID, Face ID, etc., logout Apple ID and turn off FMl without password from iOS devices, Bypass Mobile Device Management (MDM), and Remove Screen Time. Tenorshare 4uKey - Screen Lock Removal is available for Windows and macOS 14 and below. There are subscription and lifetime license models starting from $39.95 – $69.95.
Tenorshare 4uKey for PC offers all the components required to Unlock Screen Lock / MDM / Screen Time on iOS Devices. This toolbox offers solutions for various iPhone issues, including forgotten passcodes, entering incorrect passcodes leading to iPhone unavailability, broken screens preventing unlocking, disabled iPhones, and turning off 'Find My iPhone' without requiring a password. 4uKey is compatible with the latest iOS 17 or iPadOS 17.
Regardless of whether it's a 4-digit or 6-digit passcode, a custom numeric code, an alphanumeric passcode, Touch ID, or Face ID, Tenorshare 4uKey iPhone Passcode Removal can swiftly eliminate it within minutes. However, it's important to note that the Tenorshare 4uKey software for both PC and Mac versions doesn't possess the capability to unlock iPhone or iPad without data loss. You may try different solutions listed in our iCloud Bypass section.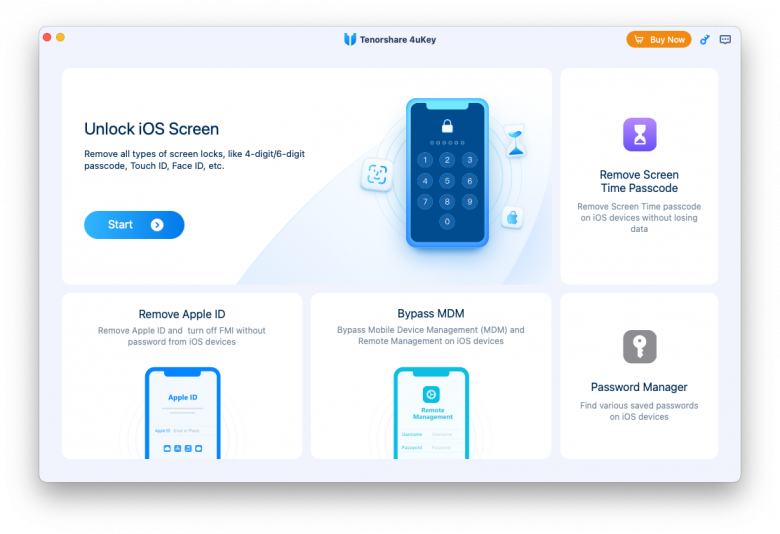 Tenorshare 4uKey for PC
4uKey for PC mirrors the features available in the macOS version, ensuring a consistent experience. Additionally, it offers a valuable feature to fix iTunes drivers on Windows PCs, resolving common problems when connecting your iPhone or iPad to your computer.
The Windows version of 4uKey for PC is available at a similar price range as its macOS counterpart. Compatible with Windows 7, Windows 8, Windows 8.1, Windows 10, and Windows 11, the download installer for 4uKey for PC seamlessly downloads all necessary files throughout the installation process. Internet connection is required to download 4uKey for PC.

4uKey for iPhone
4uKey for iPhone empowers you to factory reset your iPhone, eliminating the need for iTunes or passcode. With just one click, 4ukey for PC can also bypasses MDM lock without requiring knowledge of the username or password, enabling you to remove MDM profiles from corporate locked iOS devices swiftly and efficiently. This feature works on all devices without a jailbreak.
Have you set up a screen time passcode for app time limits on your iPhone, iPad, or iPod Touch, but find yourself unable to recall it? Worried about having to erase your device to remove the passcode? Tenorshare 4uKey for PC is the solution to your problem, allowing you to Remove Screen Time Passcode. It can also remove Apple ID without a password on iPhone.
In contrast to iCloud Bypass tools relying on checkra1n jailbreak, 4uKey for PC effectively operates by erasing the device and upgrading it to the latest iOS firmware, ensuring compatibility with most features. Additionally, the device cannot be locked by the owner.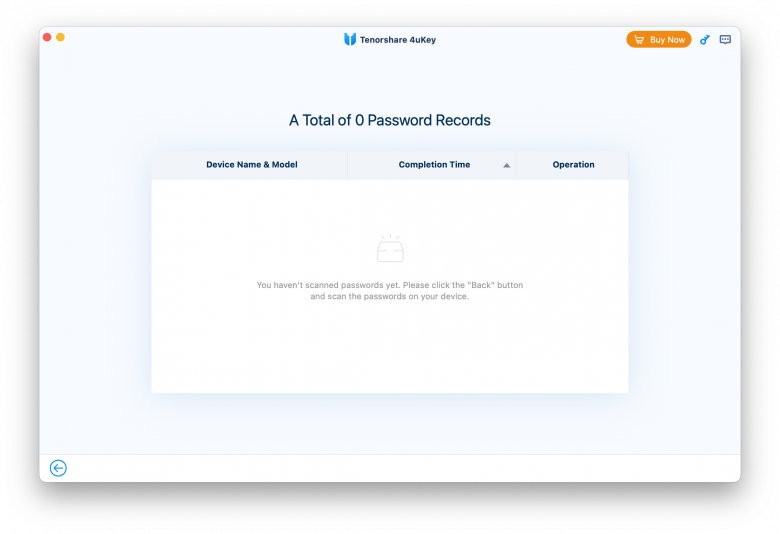 Remove Apple ID without Password
4ukey for PC supports all iOS versions, regardless of whether Find My iPhone is on or off, and it functions on all activated iPhones. Do not factory reset iPhone after removal, or you need to activate this device with the original one. At this time, you won't be able to remove the account through the software again. However, if Find My iPhone is enabled, please consider the following:
For devices running iOS 10.2 and below, removal will result in data loss.
Devices running iOS 10.2 to 11.3 can have the password removed without data loss.
To remove the password on devices running iOS 11.4 or later, Two-Factor Authentication and screen permissions are required. The process will cause data loss.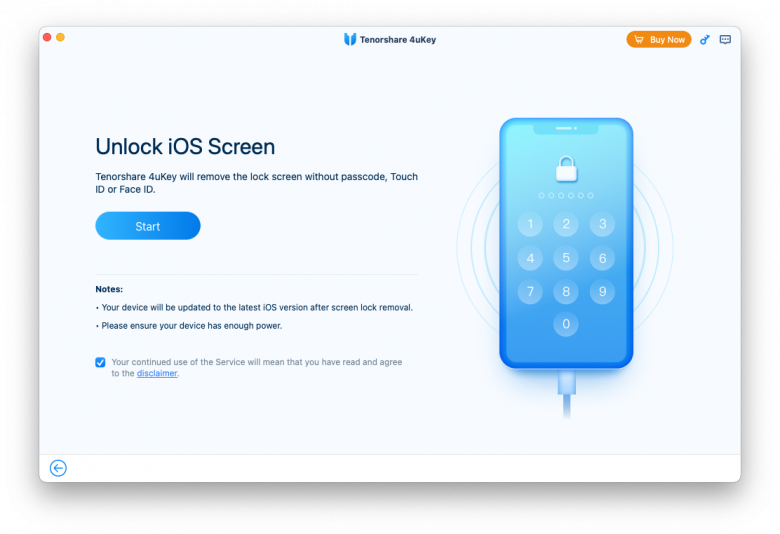 Note: Regarding the legitimacy of Tenorshare 4uKey for PC, it is designed to assist users in removing forgotten passwords from their own devices. Any unauthorized use for illegal passcode removal or business purposes is strictly prohibited. Users are required to comply with applicable laws, and legal responsibility lies with the user.
Tenorshare 4ukey features
Remove Passcodes and Biometric Security: Tenorshare's tool can remove 4-digit/6-digit passcodes, Touch ID, and Face ID from iPhone, iPad, and iPod Touch, ensuring effortless access to your device.

Swift Screen Time Passcode Removal: Quickly eliminate Screen Time passcodes within seconds, granting you full control over your device usage.

No More iTunes or iCloud Hassles: Unlock disabled iPhone, iPad, or iPod Touch without the need for iTunes or iCloud, simplifying the process and saving you time.

MDM Screen Bypass and Profile Removal: Easily bypass MDM (Mobile Device Management) screens and remove MDM profiles, granting you freedom from restrictive device management policies.

Access Saved Passwords with Ease: Scan and view saved passwords, including Wi-Fi passwords, on iOS devices, providing convenient access to your network credentials.

Stay Updated: Tenorshare's solutions are compatible with the latest iOS 17, iPadOS 17, and iPhone 15 models, ensuring you can rely on their effectiveness with the newest devices and operating systems.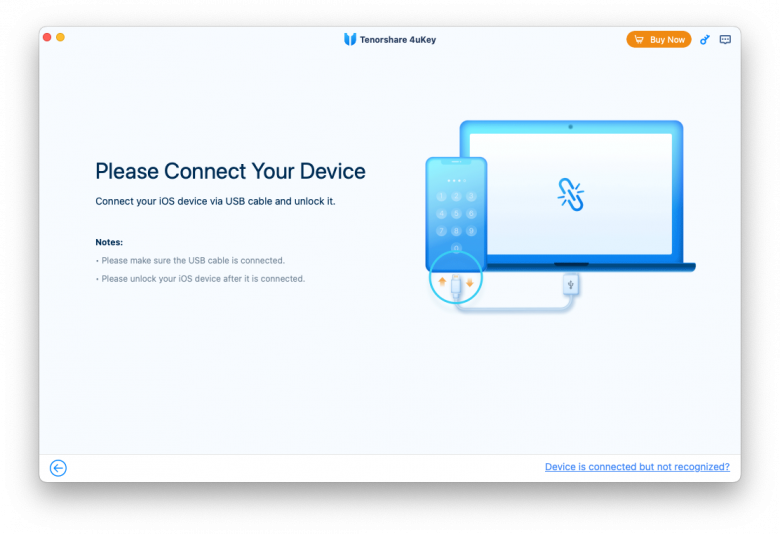 4ukey download for PC
Tenorshare 4uKey for PC download is accessible for both Windows and macOS users, ensuring a seamless experience across platforms. With identical user interfaces and features in both versions, transitioning between Windows and macOS is effortless. The PC version supports Windows 7 through Windows 11, while the Mac version is compatible with macOS 14 and earlier.
Download links for 4ukey for PC and 4ukey for macOS are available at the top of this page. Installation of Tenorshare 4uKey on your computer or Mac requires an internet connection.
What's new in 4ukey updates
Updated 4ukey for PC to version 3.3.3.
New creative interface design, visual, and animation revision to make it more attractive and user-friendly.
New feature to remove screen time passcode, removing screen time limits without losing data (support iOS 12 and above).
New iPad and iPod tutorial to enter recovery and DFU mode.
Fix history bugs and improve interactive experience.
Custom PF-IT channel PID: 2083, PFNET-JP channel: 2897.
Visual & interactive optimization and revision.
Added the function of removing the password for screen usage time.
Added built-in iTunes library.
Sponsored links
Post a comment