Free MDM Bypass tools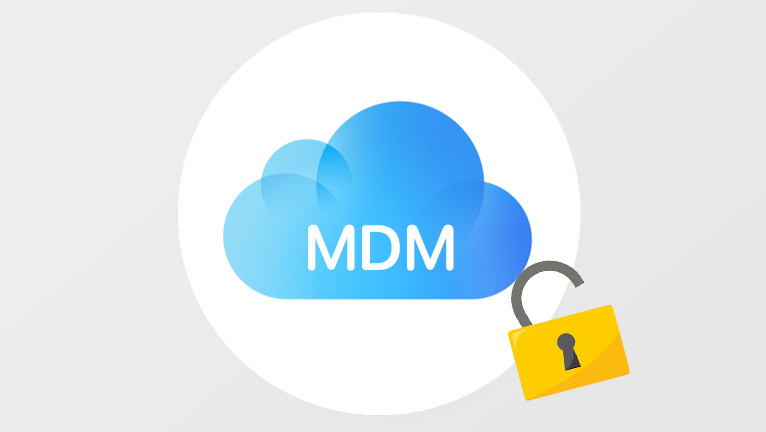 If you're using a corporate iPhone, there's a high probability that the device is in supervised mode with an MDM profile installed. MDM, or Mobile Device Management, is a feature in iOS that empowers IT administrators to remotely manage and control iOS devices. MDM Bypass tools can remove this profile from your device without requiring any authentication to disable supervised mode, offering a seamless solution for users.
An MDM profile is a configuration file installed on an iOS device that enables organizations to enforce security policies, distribute apps, and configure settings across multiple devices. MDM profiles are commonly used in businesses, educational institutions, and other organizations to ensure the security and proper functionality of iOS devices used by employees or students.
These profiles can control various aspects of the device, such as restricting certain apps or features, configuring email accounts, and enforcing passcode policies, among other things. Users typically receive MDM profiles from their organization's IT department or administrators.
In the market, there are several paid MDM Bypass tools for iOS, all claiming to offer similar features and options. Rather than wasting your money, consider trying one of the tools mentioned in this article. All tools use one of two methods to remove the MDM profile.
Best MDM Bypass tools for free
MDM Bypass tools for iOS empower users to remove supervised mode and the Mobile Device Management profile from their devices, enabling them to fully unlock the potential of their iOS devices. All the mentioned tools do not require a jailbreak to bypass MDM.
However, some of them are only compatible with checkm8 devices running on A9 – A11 SoC. Other MDM Bypass tools offer support for all devices, including the latest ones released from iPhone XS all the way up to iPhone 14 series. There are paid and free MDM solutions.
Supported devices
| | |
| --- | --- |
| SoC | Device |
| A6 | iPhone 5, iPhone 5C |
| A7 | iPhone 5S, iPad Air, iPad Mini 2, iPad Mini 3 |
| A8 | iPhone 6, iPhone 6 Plus, iPad Mini 4 |
| A9 | iPhone 6S, iPhone 6S Plus, iPhone SE |
| A10 | iPhone 7 and iPhone 7 Plus |
| A11 | iPhone 8, iPhone 8 Plus, and iPhone X |
| A12 | iPhone XS, iPhone XS Max, iPhone XR |
| A13 | iPhone 11, iPhone 11 Pro, iPhone 11 Pro Max |
| A14 | iPhone 12, iPhone 12 Mini, iPhone 12 Pro, iPhone 12 Pro Max |
| A15 | iPhone 13 and 13 Mini, iPhone 13 Pro and 13 Pro Max, iPhone 14, iPhone 14 Plus |
| A16 | iPhone 14 Pro and iPhone 14 Pro Max |
Broque Ramdisk
Broque Ramdisk is a comprehensive iCloud Bypass toolkit for PC that offers a free all-in-one solution, including an MDM Bypass feature for iOS devices ranging from version 12 to iOS 16. With this user-friendly tool, you can effortlessly remove Apple IDs and bypass Mobile Device Management (MDM) by eliminating the installed profile on your device. The best part? No jailbreak is necessary to complete the process, making it a hassle-free solution for iOS users.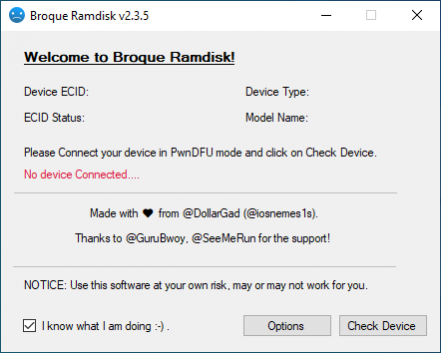 To bypass MDM (Mobile Device Management) using Broque Ramdisk, you need to connect your locked iDevice to a computer via USB and select the appropriate option from the application settings. The bypass process is straightforward and compatible with iOS 12 – iOS 16.
Hacktivator Unlock
Hacktivator Unlock, also known as Hact1vator, is an alternative MDM Bypass tool for iOS users. This tool enables users to execute different scripts, bypass iCloud, and remove MDM profiles from their devices by disabling supervised mode. Notably, this method does not require a jailbreak, but it is limited to checkra1n compatible devices, meaning it supports devices from iPhone 6 to iPhone X. Devices such as iPhone XS and newer models, are not supported.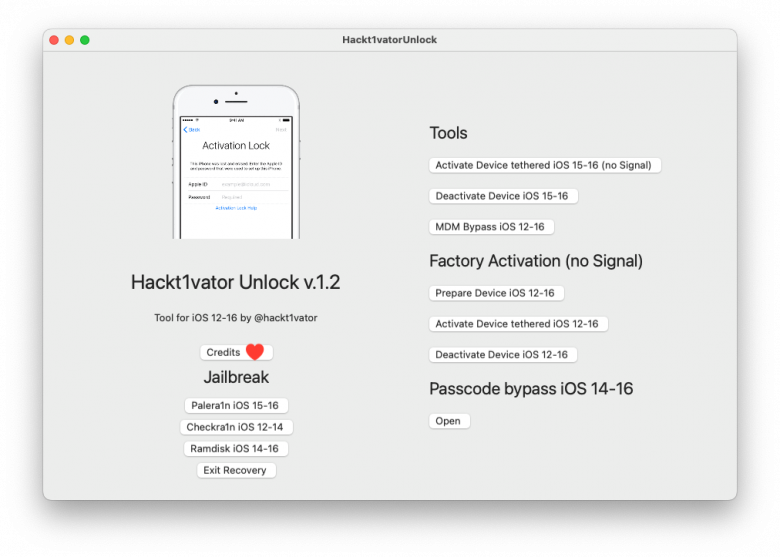 This free MDM Bypass tool for Windows and macOS supports iOS 12 and all subsequent releases up to iOS 16. Leveraging ramdisk technology, it eliminates the need for a full jailbreak, allowing users to remove MDM profiles without requiring an authentication password.
#007 Ramdisk Tool
#007 Ramdisk Tool is an all-in-one iCloud bypass solution for iOS 12 – iOS 16 with support for removing MDM profile and disabling supervised mode on all checkm8 supported devices. This toolkit excels in removing MDM profiles and disabling supervised mode. Its versatility allows users to perform a range of tasks, from jailbreaking and device activation to deactivation. Additionally, it executes MDM Bypass seamlessly and can even bypass passcodes on iOS 14, iOS 15, and iOS 16, making it a powerful and comprehensive tool for iOS users.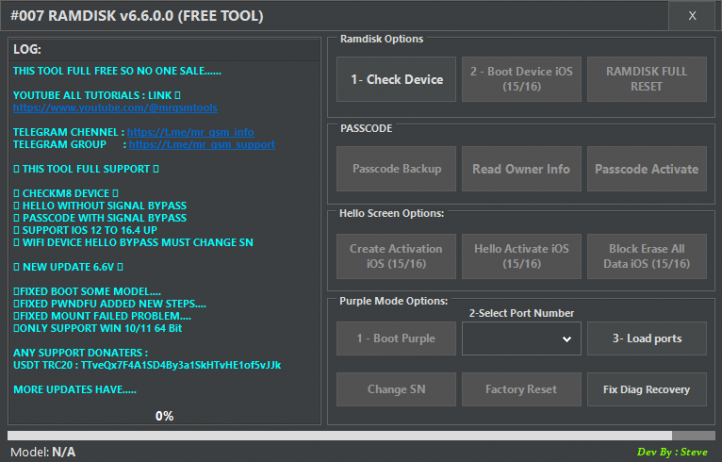 This tool can execute all necessary scripts to liberate your iPhone on Windows PC, offering compatibility with both Windows 10 and Windows 11. Please note that it does not support Linux and macOS computers. 007 Ramdisk Tool is absolutely free of any charges for all features.
Hidden iCloud
Hidden iCloud is a unique tool that enables users to disable supervised mode and remove the MDM profile from devices running iOS 15 – iOS 16.5, utilizing the KFD and MDC exploits. What sets it apart from other free tools mentioned earlier is its compatibility with all devices, including iPhone XS and newer models. Hidden iCloud can be installed without the need of a computer.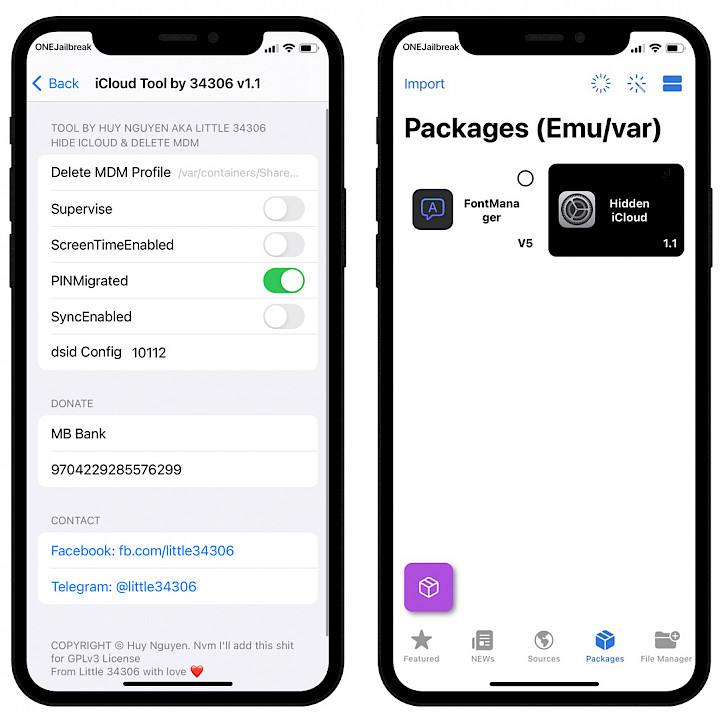 Furthermore, Hidden iCloud tweak, by Little34306, can also remove the MDM profile. The spectrum of MDM capabilities is wide-ranging: from the seamless update of software and device settings to the imposition of restrictions, vigilantly monitoring adherence to organizational policies, setting a time limit for device usage, and even executing remote wiping or locking of devices. Hidden iCloud tweak allows you to bypass those restrictions.
SkyNet MDM Bypass
SkyNet MDM Bypass is a Windows-compatible MDM Bypass tool designed for iOS 16 – iOS 17. Unlike other solutions, it operates independently of the checkm8 exploit, ensuring compatibility across all devices. This free tool extends support to newer devices, ranging from iPhone XR to iPhone 14 Pro Max. It supports all devices, including the latest iOS 17 firmware.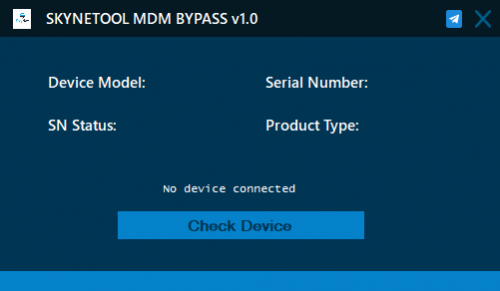 This tool extends its support to iPhones operating on iOS 9 – iOS 17, including the most recent updates such as iOS 15.7.8 and iOS 16.6. Remarkably, SkyNet MDM Bypass has been introduced as a complimentary software, open to all individuals seeking to bypass the MDM Lock.
HFZ Activator MDM
HFZ Activator MDM is an easy-to-use tool to bypass the MDM (mobile device management) on both iPhones and iPads. It supports all devices compatible with iOS 9 all the way up to the newest iOS 17. Unlike other MDM Bypass tools, HFZ Activator MDM is not using checkm8 exploit, allowing the tool to work with iPhone 5 up to iPhone 14 Pro Max range.
There are a lot of MDM Bypass tools for iOS available for purchase, but HFZ Activator MDM stands out with great support and frequent updates for latest iOS releases. HFZ Activator MDM Bypass is available for download only for macOS users. Windows computers are not supported.
Sponsored links
Post a comment