iPass: iPhone Activation Lock Removal tool on iOS 15 - 16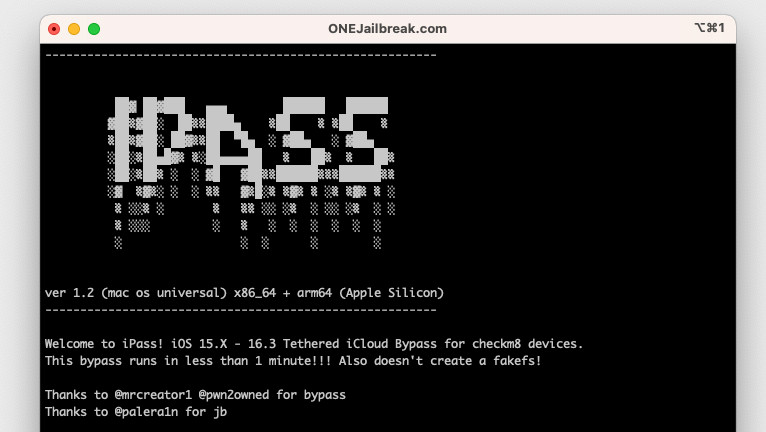 In recent times, an increasing number of tools for bypassing and activating iCloud have been released, and iPass is the latest project launched by Euphoria. This tool allows users to remove the Activation Lock screen on iOS 15 and iOS 16 for free.
Download iPass iCloud Bypass for macOS
What's iPass?
iPass (iPass15) for macOS and Linux that can bypass iCloud and remove the Activation Lock screen from blocked iDevices with speed and efficiency. With iPass, you can quickly gain access to locked devices without having to go through complex procedures or pay hefty fees.
By automating the installation of essential components such as homebrew, sshpass, and iproxy, the bash script makes the process of using iPass seamless. After executing the script, iPass will jailbreak an iPhone or iPad and remove the MobileActivation files to bypass the Activation Lock screen, allowing users to activate their iDevice without any hassle.
iPass is a command line tool created by Euphoria, a well-known figure in the community for developing several iCloud bypass tools for different platforms, including macOS, Linux, and Windows. All of these tools are available for free. iPass utilizes the palera1n-c jailbreak to gain access to the device and execute specific scripts, enabling the bypass iCloud Activation.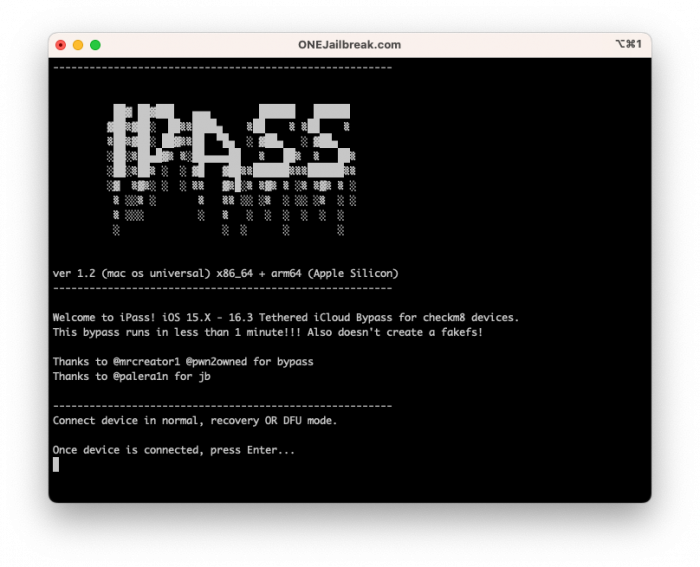 Similar to other iCloud Bypass tools, iPass is not compatible with devices newer than the iPhone X. However, if you have a locked iPhone 5, up to iPhone 8, or iPhone X, iPass can be used to bypass the Activation Lock screen and gain access to the Home Screen. It is worth noting that the tool does not support SIM bypass, and as a result, there will be no service available.
iPass is designed for checkm8 devices on iOS 15 – iOS 16.3. This tethered iCloud Bypass runs in less than 1 minute, and it doesn't create a fakefs. The Activation Lock Removal process is almost automated allowing you to connect the device in normal, recovery or DFU mode.
Warning: It is important to note that bypassing iCloud security measures is not ethical and could potentially compromise user data. Additionally, such activities may be illegal and could result in consequences for those who engage in them.
Once Palera1n-c is executed, follow the on-screen instructions to jailbreak your device. The process is simple and straightforward, and if you have used a free iCloud bypass tool before, you should be familiar with the process. iPass is a free project and does not come with a guaranteed success rate or support. As with any software tool, there is a risk of failure, and users should proceed with caution and at their own risk.
If you are having trouble removing the iCloud activation lock, you might consider using the iRemoval PRO iCloud bypass tool for Windows. It's based on the checkra1n jailbreak and is compatible with iOS 12 through iOS 15. Unlike iPass, it offers full signal support on iOS 16.
Supported devices
iPass supports all A11 systems on a chip (SoC), and the following list of iPhones are compatible with the iCloud bypass tool. The bypass has been tested and proven to work without any issues on iOS 16. iPass is currently available for macOS only, and there is no Windows version available.
for iOS 16.0 – iOS 16.3
A11 – iPhone 8, iPhone 8 Plus, and iPhone X.
for iOS 15.0 – iOS 15.7.2
A9 – iPhone 6S, iPhone 6S Plus, iPhone SE, iPad (2017) 5th Generation.
A9X – iPad Pro (12.9 in.) 1st generation, iPad Pro (9.7 in.).
A10 – iPhone 7 and iPhone 7 Plus, iPad (2018, 6th generation), iPad (2019, 7th gen).
A10X – iPad Pro 10.5" (2017), iPad Pro 12.9" 2nd Gen (2017).
A11 – iPhone 8, iPhone 8 Plus, and iPhone X.
What's new
Updated iPass to version 1.2.
Added iPass for Linux.
Touchless mode.
Increased speed. Bypass in less than 1 min.
Added support for M1 Macs! (Apple Silicon).
Added fixes for a smoother process.
Added pair with iDevice feature.
Sponsored links
Post a comment