SquidGesture a gesture tweak with actions for iOS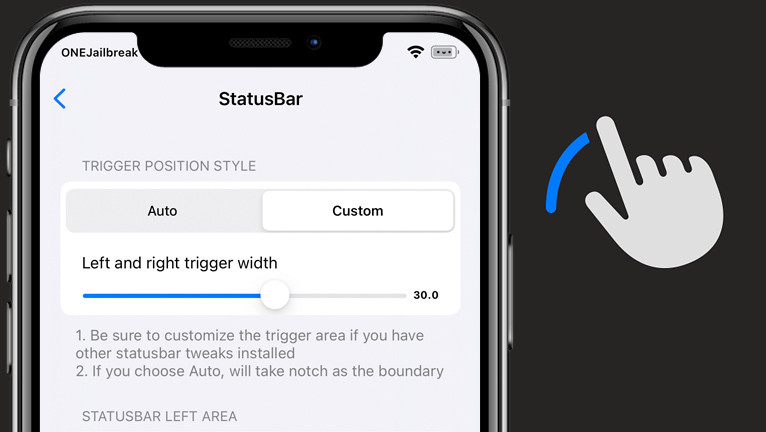 Activator, a beloved must-have tweak that delighted iOS 3 to iOS 13 users, allowing them to activate numerous functions with gestures. However, as time passed, Activator was abandoned and ceased to receive updates for newer jailbreaks. If you find yourself missing the versatility it once provided, SquidGesture is here to bridge the gap. This tweak is reffed as Activator Lite, offering less features, but works on iOS 14 – iOS 16.
Add SquidGesture Repo to your package manager to install the tweak:
What is SquidGesture?
SquidGesture is a jailbreak tweak that unlocks a world of possibilities by harnessing the power of intuitive gestures from your iPhone's Status Bar and bottom edge. With SquidGesture, performing various actions becomes effortless. This tweak is compatible with iOS 14, iOS 15, and iOS 16, extending its support to popular rootless jailbreaks like Dopamine and Palera1n.
Upon successful installation of the SquidGesture tweak, a dedicated preference pane will seamlessly integrate into your Settings app. This user-friendly interface allows you to harness the full potential of SquidGesture, tailoring it to your unique preferences and needs.
Within the preference pane, you gain full control over the activation gestures, enabling you to customize the interactions to your liking. Whether it's the Status Bar or the bottom edge, SquidGesture offers two distinct trigger methods, each unlocking a world of possibilities.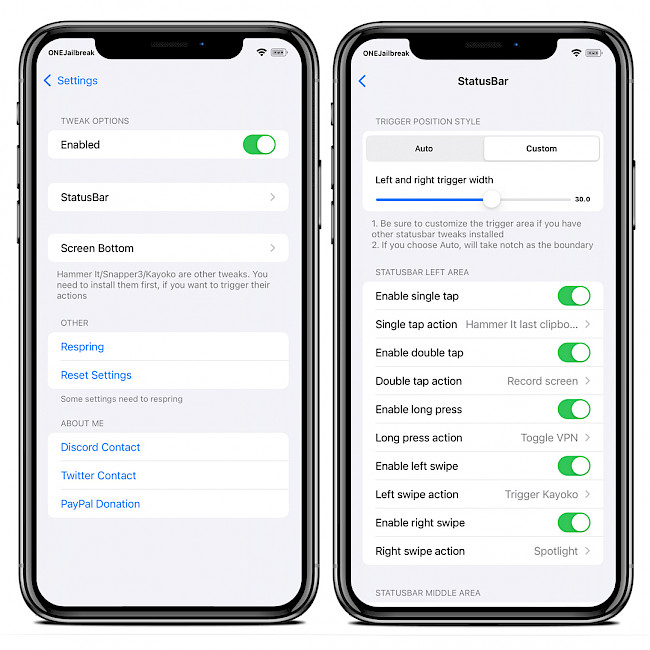 With SquidGesture tweak for iOS 14 – iOS 16, the bottom edge gesture takes on a whole new level of versatility. By varying the swipe distance, you can now unlock a range of distinct actions, making your device's interactions more dynamic and efficient than ever before. Whether it's a short swipe or a long, sweeping motion, each trigger will unleash a different action.
You have even more control over your device with a selection of intuitive Status Bar gestures offered by SquidGesture. Embrace the simplicity of single-click actions, or double-click for even more functionality. For added convenience, long-press the status bar to access additional actions. Different actions can be executed from left, right, and middle area of the Status Bar.
SquidGesture offers a wide array of available gestures to enhance your iPhone experience using the Status Bar. On the left side, you can perform a single-tap, double-tap, tap-and-hold, leftward swipe, or rightward swipe. Similarly, in the middle, there are single-tap, double-tap, tap-and-hold, leftward swipe, and rightward swipe actions.
On the right side, you can execute a single-tap, double-tap, tap-and-hold, leftward swipe, or rightward swipe. These versatile gestures enable you to effortlessly interact with your device and execute various actions based on your preferences and needs.
SquidGesture provides an extensive range of gesture options designed for the bottom of the screen. You have the flexibility to utilize the Bottom Left Gesture, Bottom Left Extra Gesture, Bottom Right Gesture, and Bottom Right Extra Gesture.
Additionally, you can easily customize your experience by adjusting the left side gesture area using a slider, fine-tune the minimum gesture area height through another slider, and further tweak the minimum and maximum extra gesture area height with separate sliders.
SquidGesture's seamless integration with popular jailbreak tweaks such as HammerIt and Snapper 3 enhances its appeal and functionality, making it a standout option among users. Moreover, what sets SquidGesture apart is its focused approach on the Status Bar and the bottom of the display, akin to a lite version of the legendary Activator tweak for iOS.
In the latest release, the developer brought some improvements to the table. SquidGesture introduced a new action, Shortcuts, which has been thoroughly tested and optimized for both iOS 14 and iOS 15. This addition allows you to perform more tasks with gestures.
Accessibility has been enhanced with support for bottom swipe up gestures on the lock screen and notification interface. This means that your device is even easier to navigate and use. For those who enjoy using the gesture-controlled flashlight, SquidGesture added the ability to turn it off directly from the Control Center, giving you more control over your device's features.
SquidGesture included some customization options. You can now choose whether to disable gestures when your device is in landscape mode. Additionally, you can fine-tune the sensitivity of bottom gestures specifically for landscape screens.
The latest SquidGesture tweak update includes an enhanced "Extra Plus Gesture" for the bottom edge, customizable trigger widths for portrait and landscape modes, a lock screen gesture disable setting, default-enabled action hint messages, and a bug fix for setting shortcuts on the right side of the bottom edge.
Add Repository
SquidGesture was released a free package available for download from the Havoc Store. Add SquidGesture Repo to your package manager and install the tweak to enable new gestures for the Status Bar and the bottom area of your iPhone screen. SquidGesture is available for non-rootless and rootless jailbreaks. Please note that the tweak is still under development.
To install SquidGesture tweak on iOS using Sileo, follow those steps:
Open the Sileo app from the Home Screen.
Tap on the Sources tab, then select Edit.
Add the following repositories URLs:


https://havoc.app

Search for the SquidGesture in the newly added repository.
Install the tweak and respiring your device to save changes.
Configure SquidGesture from the preference pane in the Settings app.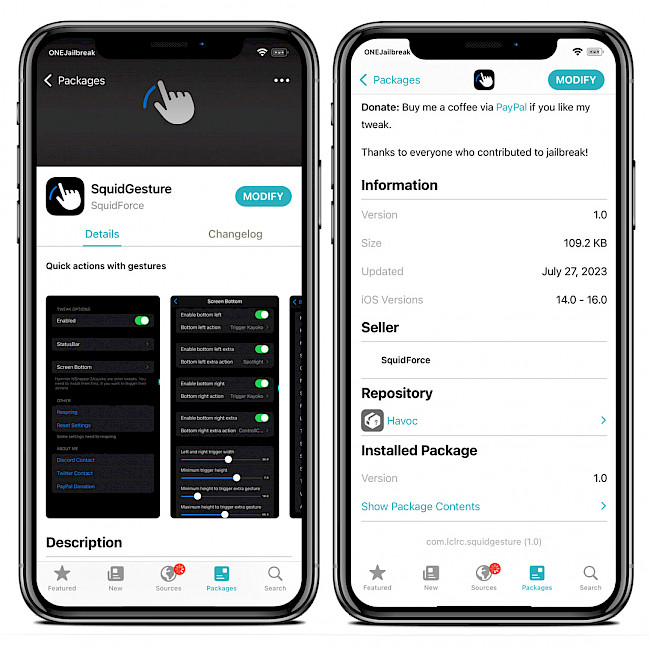 For added convenience, you can quickly add the repository to your preferred package managers (Cydia, Sileo, Installer, Zebra) by using the convenient quick links provided at the top of this page. With just one tap, you can easily add the repo and download SquidGesture.
What's new
Updated SquidGesture tweak to version 1.2.4.
New actions for Snapper3.
Customize the left and right bottom edge trigger width separately.
Changed vibration feedback to sound effect in iPad.
Added Arabic localization.
Fix crashed when setting in TweakSettings.
Add custom tapic feedback.
Add Dock gestures (support floating dock too).
New action: Play/Pause.
New action: Previous track.
New action: Next track.
New action: Reachability.
New action: Toggle rotation lock.
New action: Trigger CopyLog.
New action: Trigger Snapper2 history screenshots.
New action: Open specific application.
New action: Toggle flashlight.
Post a comment