Run Sideloadly application on your PC or Mac.
Connect your iPhone or iPad to the computer via USB.
Load the IPA file into the app to begin the installation process.
Enter your Apple ID to sign the Mini vMac IPA file.
Click the "Start" button to begin sideloading the IPA file onto your device.
When prompted, enter the password for your Apple ID.
Open the Settings app from the Home Screen.
Navigate to "General" → "VPN & Device Management".
Click on the developer app associated with your email.
Tap "Trust" to allow the app to run.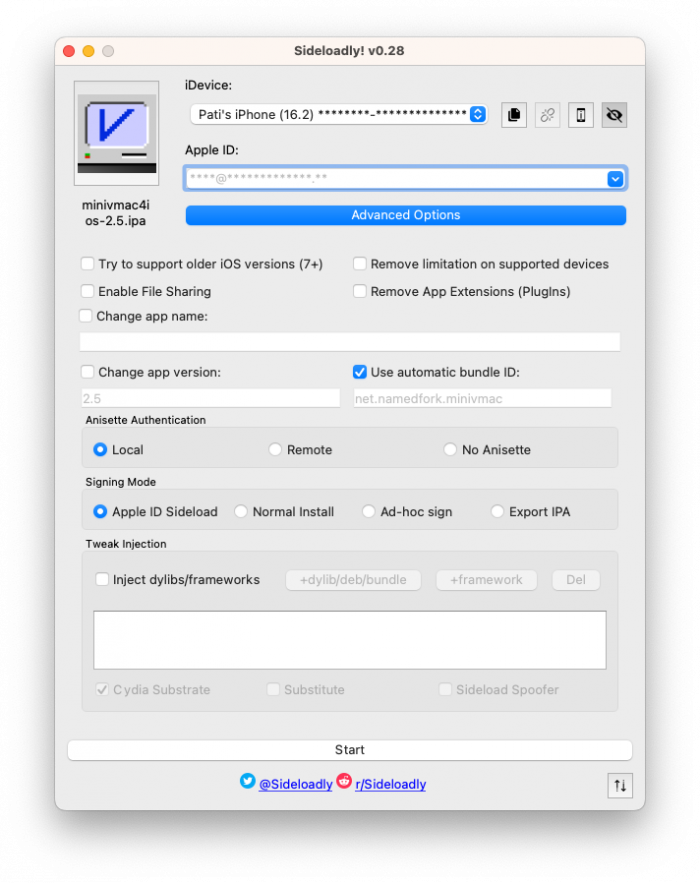 Configuration
In order to use Mini vMac for iOS, you will need to downlaod a vMac.ROM, vMacII.ROM, or vMac128K.ROM file to emulate the Mac Plus, Mac II, or Mac 128K, respectively. Although it is illegal to use these ROM files, they can be easily found online. Here's how to get started:
Download the appropriate vMac.ROM or vMacII.ROM file from GitHub.
Import the ROM file into the Mini vMac app by tapping on the "Share" button and selecting "Open in Mini vMac".
To run MacDraw, MacPaint, SinCity, DarkCaste, or any other software, you will need to download disk images with a .dsk or .img extension that contain the apps.
Download disk images containing the Mac software you wish to run.
Import the disk images into Mini vMac by tapping on the "Insert Disk" menu.
The software can then be run from the "Insert Disk" menu.
What's new
Updated Mini vMac for iOS to version 2.5.
Update to Mini vMac 37.03 beta.
Fixed crash when deleting disk images on iPad.
Adds recently used disks to quick action's menu.
Removed custom presentation modes for disk and settings screens.
Added support to run Winter Games.
Change emulated machine without restarting the app.
Use contextual menu on iOS 13 and later.
Remember selected speed value more often.
Fix machine icons being miscached on iOS 14.
Post a comment