LastLook always-on display tweak with OLED support

qbap |
Cydia Tweaks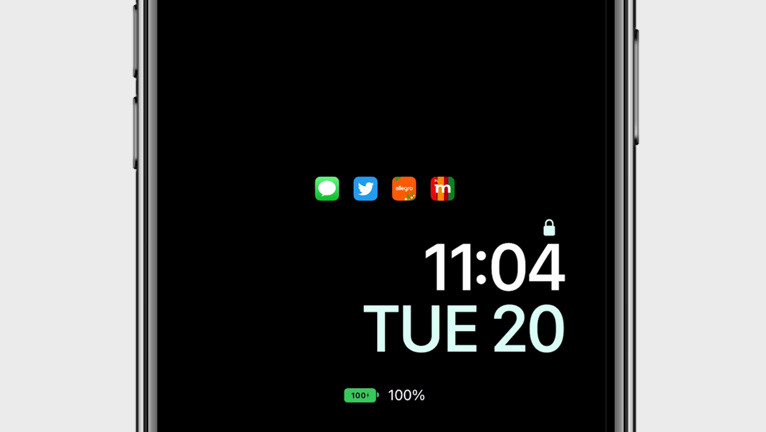 There are a few tweaks that create a desire to immediately install jailbreak on your iPhone or iPad and LastLook by AnthoPak is one of them. It's an always-on display (AOD) tweak with ambient mode with notifications that you will love.
Add LastLook Repo to your package manager.
What is LastLook?
LastLook is a wonderfully designed always-on display tweak that is compatible with most popular Lock Screen tweaks for iOS. The latest version of LastLook was updated with support for Palera1n Jailbreak and rootless XinaA15 Jailbreak. It works now on iOS 12.0 – iOS 15.7.
After installation, LastLook tweak adds a dedicated preference pane to the Settings app from where you can configure all option to your liking. AnthoPak included a lot of configuration options and modes. Pick elements you want to keep on screen when you lock your iPhone.
Be aware, that the LastLook tweak does consume energy, since the screen in on and the hardware isn't made to lower energy consumption while in AOD. But several technics are applied to lower consumption and the tweak was built with low battery usage in mind.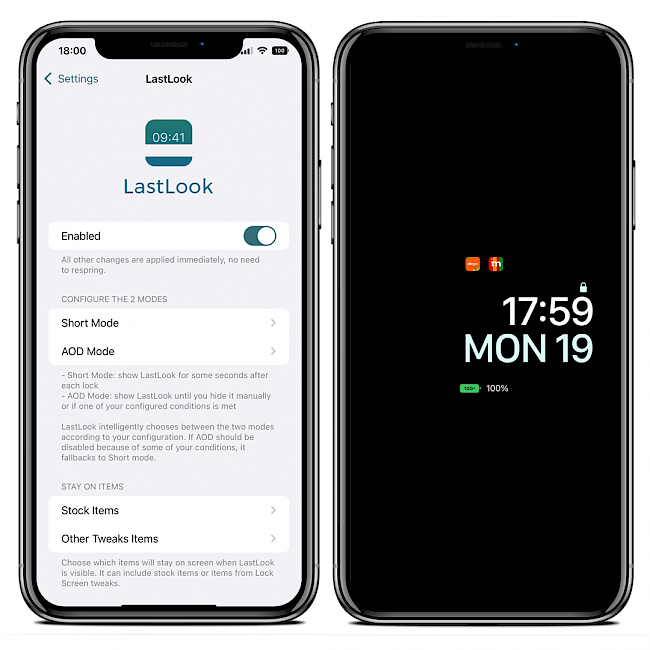 When LastLook notifications are visible on the Lock Screen, your iPhone will still be in a locked state, therefore you'll be able to use Raise to Wake or Tap to Wake to resume the screen. When you will open the tweak's preference pane you will find a lot of options to configure.
The new Lock Screen notifications can be displayed in two modes Short, and AOD. Short mode shows LastLook for some seconds after each lock, and AOD shows LastLook until you hide it manually or if one of your configured conditions is met to save the battery usage.
There is also Ambient mode where LastLook transitions to this mode after a few seconds, automatically centering your essential content with clean animation that feels stock. Set custom positioning, scale factor, or configurable delay before switching to Ambient mode.
AnthoPak delivered all kinds of options to save the battery usage when the tweak is active. Customize the backlight level to lower the battery usage, set condition when AOD mode should be disabled such as min battery level, or display the LastLook only when charging.
LastLook is compatible with other Lock Screen tweak such as Xen HTML, LockPlus Pro, Jellyfish, Complications, Veza, Axon / Grupi, Lune, Notchless, Aperio, Libellum, Lyrication, and Tako. What's more, the tweak can also update Complications widgets in real-time in ADO mode.
LastLook main feature is to display the time and notifications that are also configurable. Set app icons indicators, configure colored pulsing Dots indicators, filter indicators to unread notifications only, only show indicators in Ambient Mode, or set custom positioning, and size.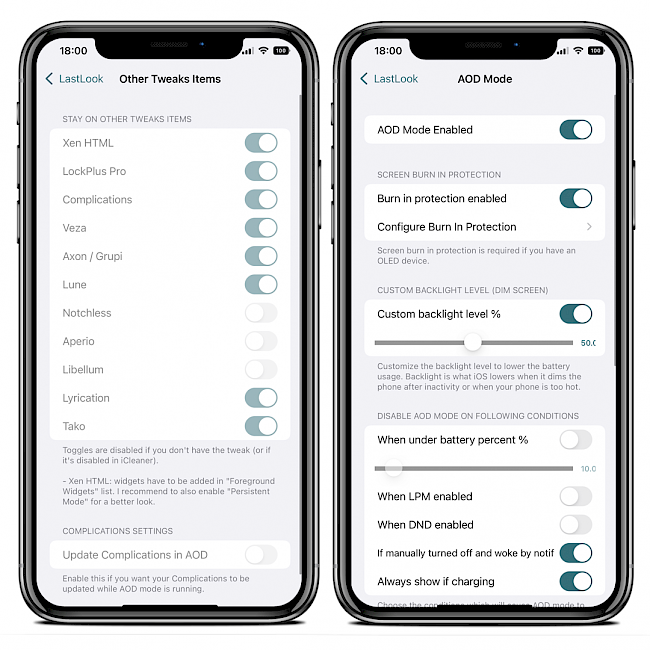 On top of that, you can select elements you want to keep on screen when you lock your iPhone and LastLook is active. Toggle on or off elements like hour and date (compatible with Kalm, JellyFish etc.),unread and old notifications, media player, status bar, and other tweaks.
This always-on display tweak can also display the battery indicator with percentage and state (charging, normal),enable inactivity detection to stop AOD after some time, configurable screen burn in protection, and offers UI Adjustments to always see your content on a true black screen.
Use several configurable touch gestures to interact with LastLook, and control your music. Swipe and Tap gestures to perform a list of actions (sleep/wake screen or control music). Turn screen off special gestures (phone face down, phone in pocket, wave your hand above proximity sensor). Swipe Up from extreme bottom Gesture to Wake and auto request Face ID unlock for a super quick phone unlocking. Haptic Feedback is also supported.
I prefer a clean Lock Screen interface, but with installed tweaks, LastLook can use the always-on display feature to display quick action toggles, shortcuts, lyrics from songs, music control widgets, old notifications, etc. Display tweaks on stock Lock Screen and disable them in AOD.
No matter if you like to show on the always-on display only the clock and date, or add to it the battery level indicator, or include simple app icon notifications, LastLook tweak will deliver.
LastLook is one of my favorite tweaks released for jailbreaks so far, and it's in the top 5 tweaks I install just after jailbreaking my device. Now when it works with XinaA15 Jailbreak for iOS 15 – iOS 15.1.1 it's installed on my every day iPhone. Palera1n Jailbreak is also supported.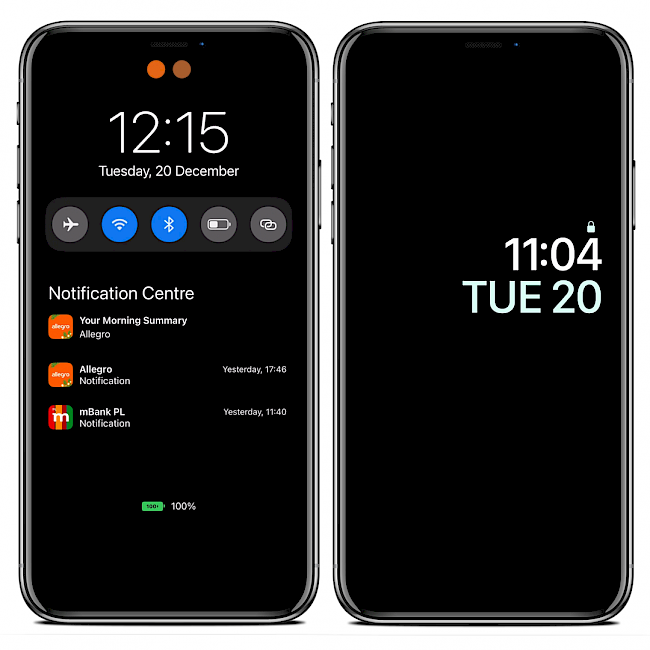 Add Repository
LastLook tweak was released as a paid package that can be purchased for $2.49 from Chariz Store. Add the LastLook Repository to your list of Cydia Sources and install the tweak to enable the always-on display notifications for iPhone. The latest version works on iOS 12 – iOS 15.
Run Sileo app from your Home Screen.
Tap Sources → Edit → Add the https://repo.chariz.com Repository URL.
Sileo will automatically refresh packages available in the repo.
Search for LastLook tweak and install the package.
Restart the Springboard to save changes.
Configure the tweak from the preference pane in the Settings app.
Alternatively, please use the quick links available at the top of this page to add the repository to your favorite package manager (Cydia, Sileo, Installer, Zebra) with just one tap.
Note: To purchase the tweak you must use a modern package manager like Sileo, Saily, Zebra, or Installer. Cydia is outdated, and it doesn't offer an option to buy tweaks.
What's new
Updated LastLook to version 3.6.2.
Checkl0ck tweak support.
Refreshed tweak icon.
Added support for iOS 15 on Palera1n and XinaA15.
Now with always-on display (AOD) feature.
Fix arm64e slice for iOS 13 devices.
Some optimizations and minor improvements.
Bug fixes.
Post a comment