YouTube Reborn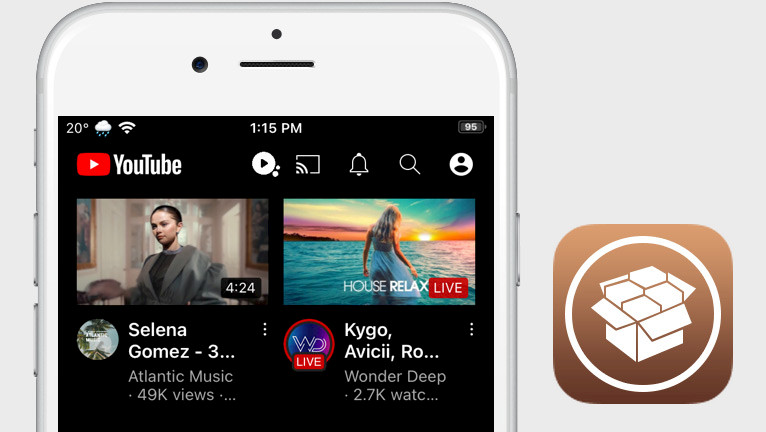 Numerous enhancements have been created to augment the functionality of the YouTube app on jailbroken devices. Among the most exceptional of these modifications is YouTube Reborn, developed by Lillie. This tweak introduces a plethora of new customization options and features to the default YouTube app for iOS.
Install YouTube Reborn IPA
What is YouTube Reborn?
YouTube Reborn is a jailbreak tweak that can be downloaded for free, which adds an array of useful configuration options to the YouTube app on iOS. This tweak empowers users with the ability to remove all ads from videos, activate background playback or iPad Style on iPhone, modify app menu, and even enable picture-in-picture mode on iOS 15. The most recent of the tweak release brings rootless support for jailbreaks like Dopamine and Palera1n.
After being installed, the YouTube Reborn tweak seamlessly integrates into the App Store version of YouTube and adds a new icon to the top navigation bar of the app, positioned next to the cast icon. By clicking on this newly added icon, you can easily access a range of new options. YouTube Reborn for iOS can enable YouTube Premium features for free.
YouTube Reborn offers a wealth of options to choose from, so the developer has thoughtfully organized them into several distinct sections. These sections include Video Options, Overlay Options, Tab Bar Options, Color Options, Picture in Picture Options, Shorts Options, SponsoredBlock Options, Other Options, and Reborn Settings.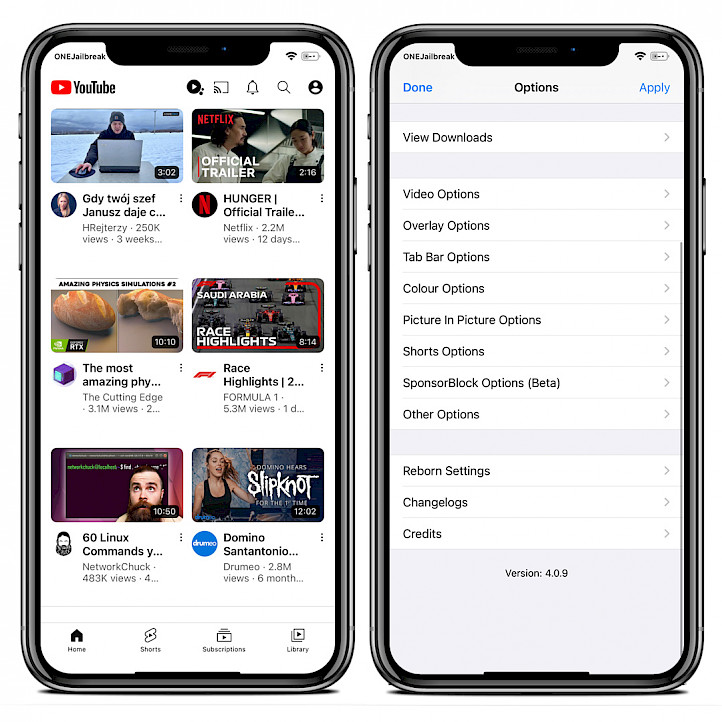 YouTube Reborn tweak
YouTube Reborn offers a broad range of customization options that enable you to enhance your YouTube experience in numerous ways. With this tweak, you can disable ads, enable background playback, allow HD on cellular data, autoplay in full-screen, disable video end screen popups, disable video info card and video autoplay, disable double-tap to skip, hide channel watermark, hide player bar heatwave, and enable extra speed options.
In addition to the numerous customization options mentioned earlier, YouTube Reborn also provides users with the ability to make several other modifications to the app's interface. For example, this tweak can enable iPad Style list view on iPhones, hide the cast button, notification button, and search button, disable YouTube Kids and hints, and even hide the YouTube logo.
On top of that, you also have control over SponsorBlock options. Disable or the auto skip music off-topic, preview, outro, intro, interaction, self-promo, and sponsor screens. YouTube Reborn tweak also offers an option to change the YouTube app background color, select the startup page, and hide selected Tabs such as Shorts, Explore, Library, or Subscriptions.
The Overlay Options section of YouTube Reborn tweak offers various customization options that allow users to adjust how videos are displayed on their devices. For example, you can choose to show the status bar in overlay, hide the previous and next buttons, hide the autoplay switch in overlay, disable related videos, hide the quick actions and subtitles button, among other things.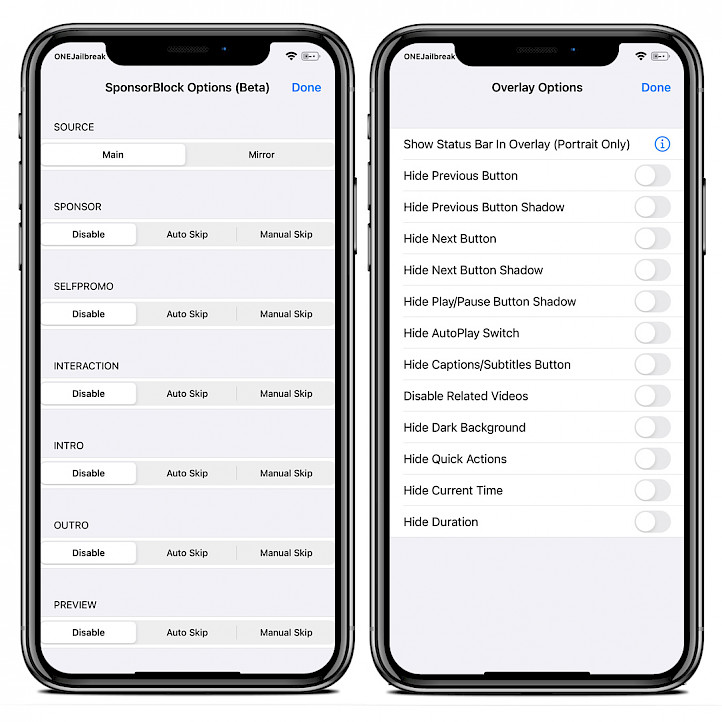 YouTube Reborn also includes several configuration options specifically tailored to the Shorts section of the stock YouTube app for iOS. With this tweak, you can easily hide like and dislike buttons, comments, share buttons, and more actions from YouTube Shorts.
The Picture in Picture mode provided by YouTube Reborn tweak supports only iOS 15 devices. If you like to run YouTube PiP on a previous system such as iOS 13 or iOS 14 you can install tweaks like 14PiP, YouPiP, or uYou. YouTube Reborn tweak is a great alternative for paid Cercube.
Lillieh, the creator of this tweak, regularly releases updates to ensure that the tweak is fully compatible with the latest versions of the stock YouTube app, while also adding new features to enhance the user experience. Currently, the tweak is designed to work with YouTube v17+ (v16- is not fully supported), and it can be used on any device running iOS 14 through iOS 15.
To ensure complete transparency, Lillieh has also released YouTube Reborn as an open-source project under an MIT license, making the tweak's source code available to anyone who wants to review it. YouTube Reborn source code was written in C and Objective-C.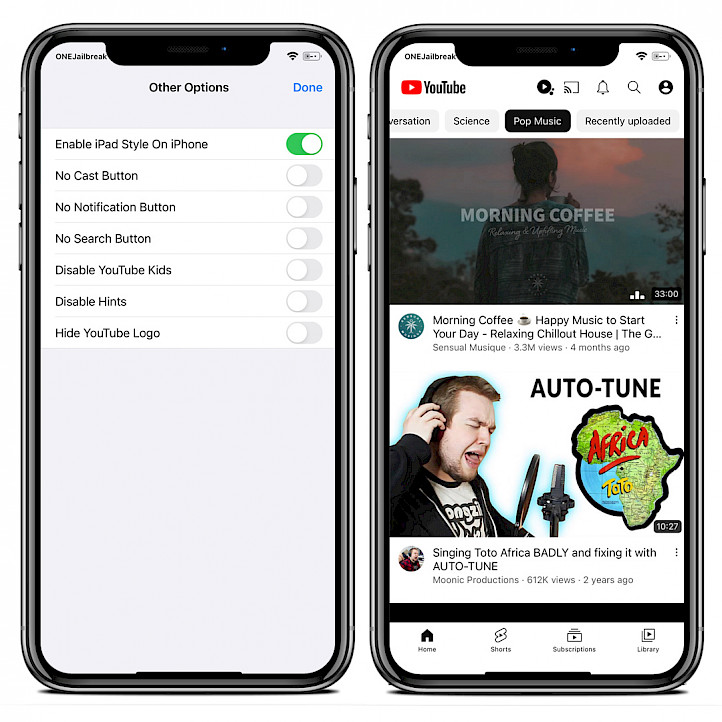 YouTube Reborn IPA
YouTube Reborn was created with jailbroken devices in mind, but you can build it yourself into the YouTube app using Sideloadly by taking the deb and using the inject deb option in Sideloadly. This way, you can install YouTube Reborn IPA on devices without a jailbreak.
Add YouTube Reborn Repo
YouTube Reborn was released as a free tweak through the private Lillieh Repository. However, since the repository is no longer available, you can now install YouTube Reborn package manually. Once installed, this tweak provides you with access to a range of customization options, including the ability to enable YouTube Premium for free on iOS 14 – iOS 15.
To install YouTube Reborn tweak on your device with Sileo, follow the steps:
Open Sileo app from the Home Screen.
Tap on the Sources tab, then select Edit button.
Add the following repository URL: https://havoc.app
Download YouTube Reborn tweak for your device.

Share the downloaded DEB file with Sileo app.
Tap on "GET" and install YouTube Reborn package.
Access the YouTube Reborn settings from the YouTube app.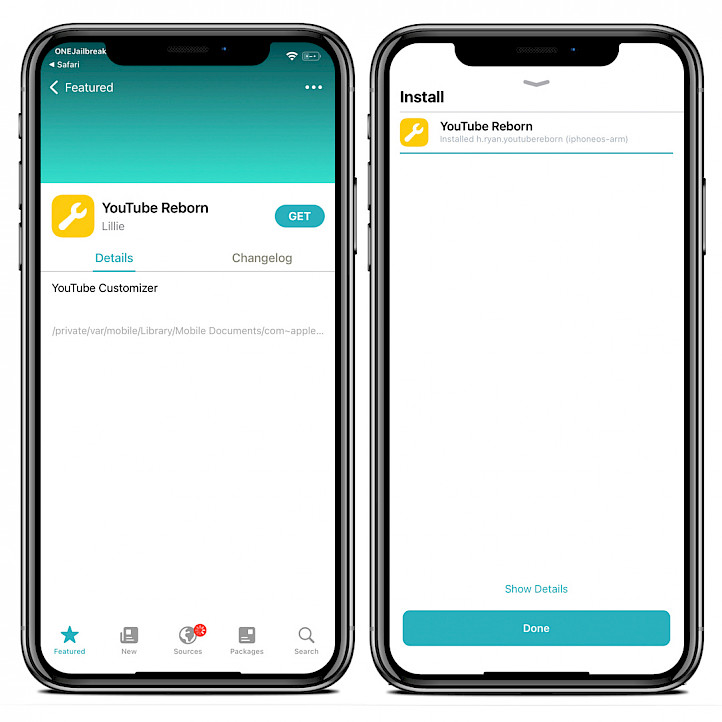 What's new
Updated YouTube Reborn to version 4.2.3.
Added rootless support.
Added support for XinaA15 Jailbreak.
Enhancements for the YouTube PiP mode.
Fixed a glitch where YouTube shorts would deactivate the picture-in-picture enabler.
Enables YouTube's new native PiP mode for all users on iOS 15+.
Merged "Enhancer for YouTube Premium" into YouTube Reborn.
Reorganized the YouTube Reborn Root Options.
Added YouTube Reborn Other Options category.
Added shots video downloading.
Added shorts audio downloading.
Other minor improvements.
Sponsored links
Post a comment