YouTube Reborn tweak adds new features to YouTube app

qbap |
Cydia Tweaks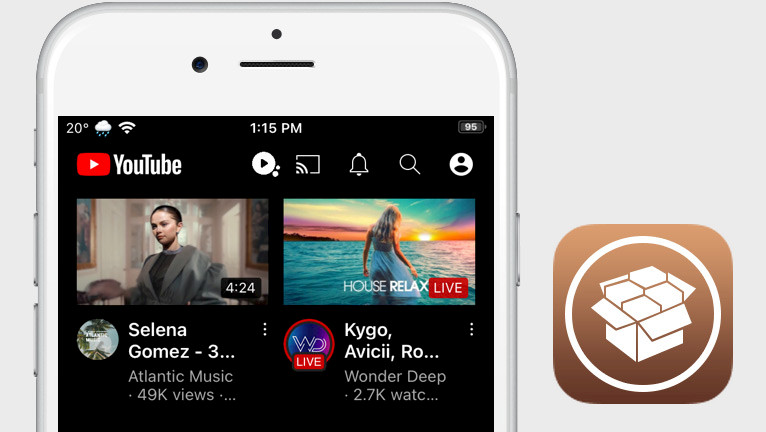 Many tweaks have been developed for the YouTube app running on jailbroken devices. One of the best tweaks released so far is YouTube Reborn from Lillie. It adds new customization options and features to the stock YouTube app.
Add YouTube Reborn Repo to your package manager.
What is YouTube Reborn?
YouTube Reborn is a free jailbreak tweak for the iOS YouTube app that adds new configuration options to the stock video platform. With this tweak, you can easily disable all ads, enable background playback, or activate picture in picture mode on iOS 15.
Once installed, the tweak integrates into the YouTube downloaded from the App Store and adds a new icon to the top navigation bar of the app next to the cast icon. When you click on the new icon you will access all available options provided by YouTube Reborn tweak.
There are a lot of options to choose from therefore the developer created sections such as Video Options, Overlay Options, Tab Bar Options, Color Options, Picture in Picture Options, Shorts Options, SposnoredBlock Options, and Other Options.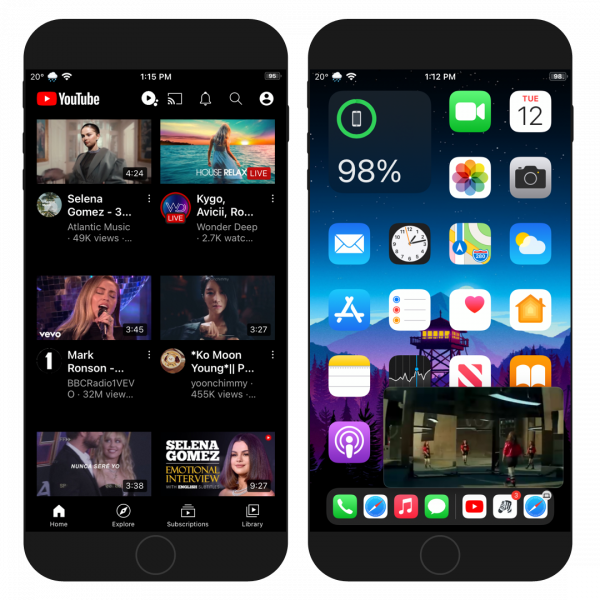 When you change something that you didn't want, no worries. YouTube Reborn provides also an option to quickly reset all settings to default values. Jailbreak required.
With YouTube Reborn you can disable ads, enable background playback, allow HD on cellular data, autoplay in fullscreen, disable video end screen popups, disable video info card and video autoplay, disable double tap to skip, hide channel watermark, hide player bar heatwave, and enable extra speed options. All mentioned options are available from the Video Options section.
YouTube Reborn tweak can also enable iPad Style list view on iPhones, hide cast button, notification button, disable YouTube kids and hints, and also hide the YouTube logo.
On top of that, you have also control over SponsorBlock options. Disable or the auto skip music offtopic, preview, outro, intro, interaction, self-promo, and sponsor screens. YouTube Reborn tweak offers also an option to change the YouTube app background color, select the startup page, and hide selected Tabs such as Shorts, Explore, Library, or Subscriptions.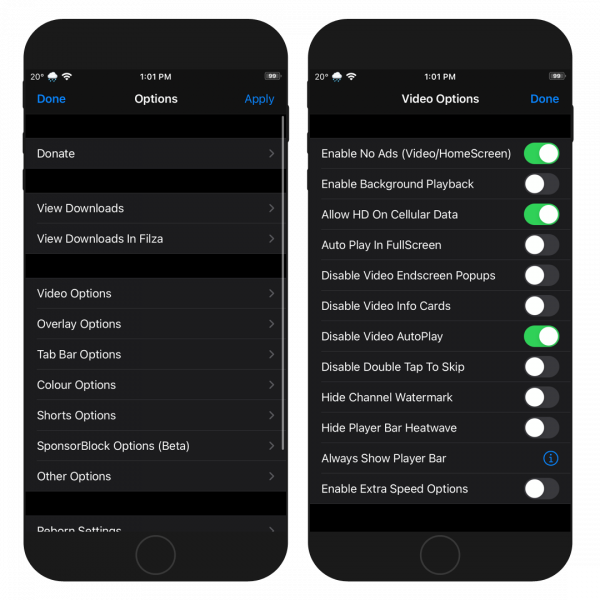 In the YouTube Reborns Overlay Options section, you can enable to show the status bar in overlay, hide the previous and next buttons, hide auto play switch in overlay, disable related videos, and hide the quick actions and subtitles button.
YouTube Reborn tweak is packed also with configuration options for the Shorts Section. Hide Like, dislike, comments, share, and more action buttons from YouTube Shorts.
The Picture in Picture mode provided by YouTube Reborn tweak supports only iOS 15 devices. If you like to run YouTube PiP on a previous system such as iOS 13 or iOS 14 you can install tweaks like 14PiP, YouPiP, or uYou. YouTube Reborn tweak is a great alternative for paid Cercube.
Lillieh, the developer behind the tweak, makes sure to frequently update YouTube Reborn tweak and not only add support for the latest releases of the YouTube stock app but also include new features. It is designed for YouTube v17+ (v16- is not fully supported) and works on iOS 12 - 15.
YouTube Reborn was created for jailbroken devices in mind, but you can build it yourself into the YouTube app using Sideloadly by taking the deb and using the inject deb option in Sideloadly. This way you can use the tweak also on non jailbreak devices.
Repository
YouTube Reborn was released as a free tweak through the private Lillieh Repository. To install it on your dive simply add the official YouTube Reborn to Cydia and download the tweak. YouTube Reborn will integrate into the official YouTube app downloaded from the App Store.
Tap on the Cydia app icon from the Home Screen.
Switch to the Sources tab and tap Edit → Add.
Add the https://repo.lillieh.gay repository URL.
Cydia will automatically refresh packages available in the repo.
Search for YouTube Reborn tweak and install the package.
Restart the Springboard to complete the installation.
Access YouTube Reborn tweaks preferences from the YouTube app.
Alternatively, please use the quick links available at top of this page to add the repository to your favorite package manager (Cydia, Sileo, Installer, Zebra) with just one tap.
What's new
Enhancements for the YouTube PiP mode.
Fixed a glitch where YouTube shorts would deactivate the picture-in-picture enabler.
Enables YouTube's new native PiP mode for all users on iOS 15+.
Merged "Enhancer for YouTube Premium" into YouTube Reborn.
Reorganized the YouTube Reborn Root Options.
Added YouTube Reborn Other Options category.
Added shots video downloading.
Added shorts audio downloading.
Other minor improvements.
Post a comment