Yattee YouTube client for iOS

qbap |
iOS Apps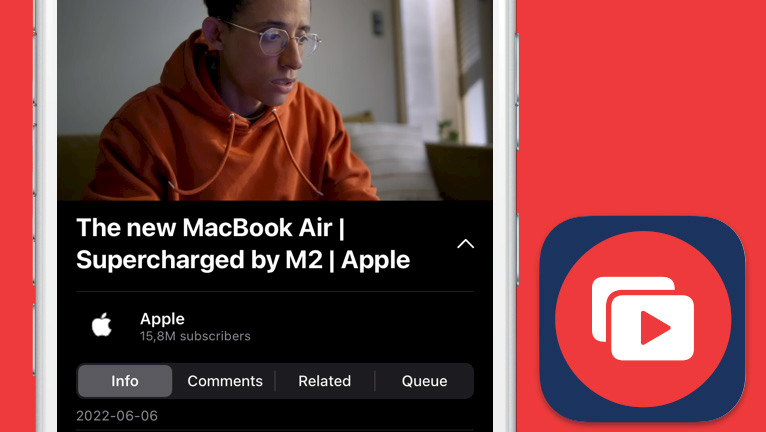 Yattee is a free iOS app that offers privacy on the YouTube platform and protects users from Google's surveillance. Subscribe to channels and create playlists without the need for a YouTube account, and watch videos without the distraction of ads on your iPhone.
Install Yattee IPA on your iPhone:
What is Yattee?
Yattee is a privacy-focused alternative to the YouTube app for iOS. Built on Piped, it enhances your privacy by allowing to watch your favorite videos without the need for a YouTube account or the concern of prying eyes. Enjoy a private and anonymous YouTube experience.
YouTube's privacy policy is known for being highly invasive, utilizing user data in unethical ways. The platform collects a wide range of information, including personal preferences, music tastes, content viewed, and even political opinions. Yattee app offers a solution to this issue by providing a privacy-friendly alternative to the YouTube app for iOS 14 – iOS 16.
Once Yattee IPA is sideloaded on your iPhone, the app delivers a lot of privacy features. It can disable connections to Google servers, remove all tracking scripts and ads, and it is integrated with SponsorBlock. You can choose various categories to skip from the app Settings page.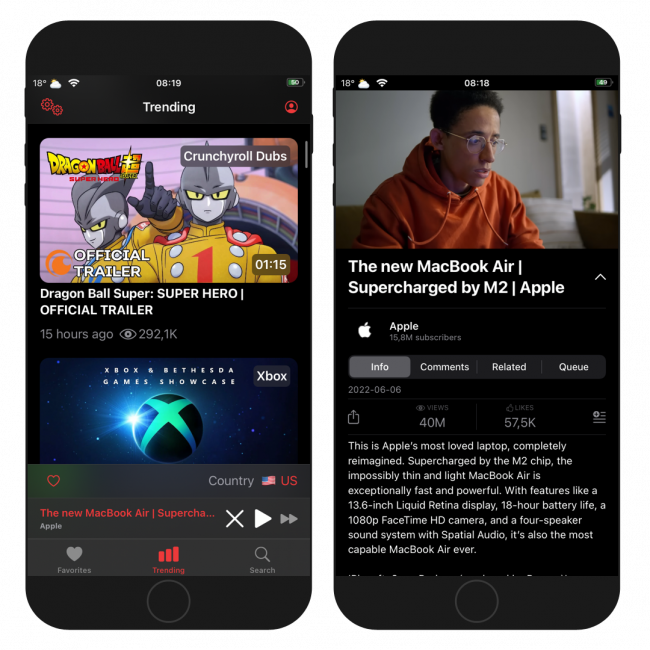 Yattee is a versatile app that can be installed on both jailbroken and non-jailbroken devices running iOS 14 or higher. It offers a choice of Light and Dark themes, multi-region load-balancing, and utilizes the NewPipeExtractor to extract information, instead of official YouTube APIs. This ensures that users' data is protected while also providing a seamless viewing experience with features such as full-screen playback, Picture in Picture, and AirPlay support.
You can browse and use accounts from one app and play videos with another (use Invidious account for subscriptions and use Piped for playback). Yattee allows you to view trending videos from chosen countries and offers support for multiple instances and accounts.
Yattee app offers several exciting features, such as support for high-resolution 4K video, infinite scrolling, and integration with LBRY for seamless streaming. Additionally, users can choose to play just the audio, save their preferences locally, and create playlists. The app also supports embedded videos, making it even more versatile. Best of all, Yattee is designed to be lightweight and efficient, both on the server and the client side. New releases are published frequently.
Yattee offers a comprehensive settings page that allows users to add new instances of Piped or Invidious accounts. The app comes with a built-in Piped instance, providing users with the option to choose from multiple sources. Additionally, various configuration options are available in different categories such as Browsing, Player, History, and SponsorBlock.
Invidious instance can import subscriptions from YouTube, NewPipe, and Freetube. Import watch history from NewPipe. Export subscriptions to NewPipe and Freetube, and import and export Invidious user data. It does not use official YouTube APIs.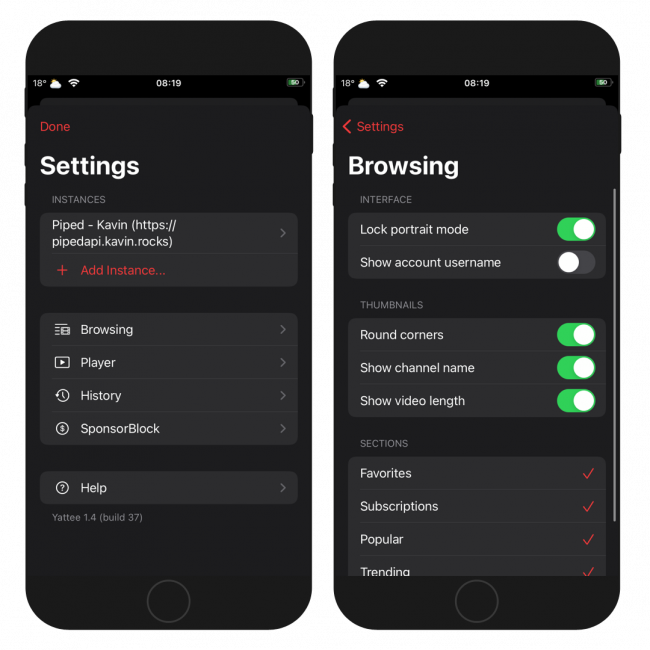 Change the browsing app interface and enable lock partial mode, show account name, display round corners, show channel name, and video length in thumbnails, or disable sections that you're not interested in such as favorites, subscriptions, popular, trending, and playlists.
What's more, select the source for YouTube comments or disable them when not needed, return YouTube dislikes, configure when Picture in Picture should be enabled, save the history of searches, mark watched videos with badges, and show the progress of watching on thumbnails.
SponsorBlock also has its own preference page. Define SponsorBlock API URL, and select what kind of sponsor segments in YouTube videos should be skipped. Those include sponsor, self-promotion, intro, outro, interaction, and off-topic music videos. Users submit when a sponsor happens from the extension, and the extension automatically skips sponsors it knows about.
If you prefer YouTube as it is there is a free tweak that adds some useful features to the app such as removing ads and enables background playback or PiP. uYou tweak works with jailbroken devices, but the developer provided also a uYou IPA file for non-jailbreak devices.
Yattee, an open-source iOS app built for learning and research, was released under the AGPL-3.0 license on GitHub. Developed primarily in Swift for optimal performance, the app features a native user interface built with SwiftUI and customization settings. Additionally, Yattee is also available as a native app for tvOS and macOS, with all projects open-sourced for public viewing.
Download Yattee IPA
Yattee IPA can be sideloaded onto your iPhone using an IPA installer like Sideloadly (available for Windows and macOS) or SideStore the on-device IPA signing tool for iOS 14 – iOS 16. Both methods allow you to install Yattee IPA on your non-jailbreak or jailbroken devices.
Note: If you don't have a developer certificate, you can use your free Apple account to sign and install Yattee IPA and use it for up to 7 days before it needs to be re-signed.
To install Yattee IPA on your iOS device using Sideloadly app, follow these steps:
Download the Yattee IPA from the link below.

Run Sideloadly application on your PC or Mac.
Connect your iPhone or iPad to the computer via USB.
Load the IPA file into the app to begin the installation process.
Enter your Apple ID to sign the Yattee IPA file.
Click the "Start" button to begin sideloading the IPA file onto your device.
When prompted, enter the password for your Apple ID.
Open the Settings app from the Home Screen.
Navigate to "General" → "VPN & Device Management".
Click on the developer app associated with your email.
Tap "Trust" to allow the app to run.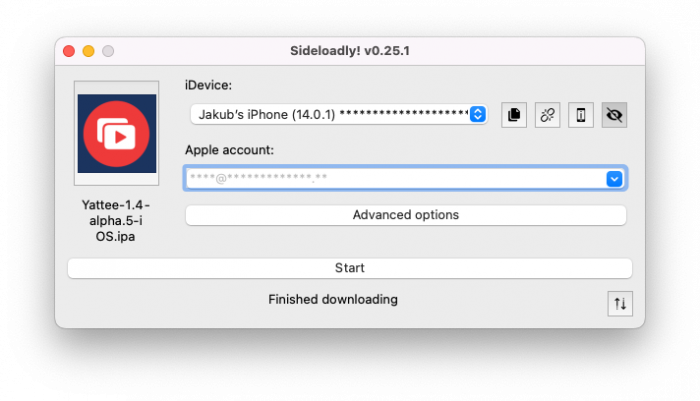 What's new
Updated Yattee to version 1.4.3.
Added slide gesture for hiding player (iOS).
Added buttons in player controls.
Restart the current video.
Added option to the video context menu to start playing in PiP (iOS).
Added a button to browser controls to close current video.
Changed tab navigation to use overlays instead of sheets for channels (iOS).
Fixed orientation changes handling (iOS).
Fixed action of the closing video.
Removed most of the defaults Favorites list.
Minor controls UI improvements.
Other minor fixes and improvements.
Added support for user playlists with Piped accounts.
Channel subscriber count is retrieved without additional query with Piped.
Other minor fixes and changes.
Post a comment