Watermelon

qbap |
Cydia Tweaks
On jailbroken devices, you can install an amazing tweak like Watermelon to add and control useful widgets from the Home Screen. The look of the widgets is inspired by WatchOS widgets available for iOS 13. Watermelon tweak is fully customizable.
Add Watermelon Repo to your package manager.
Whats Watermelon?
Watermelon is a jailbreak tweak that adds useful WatchOS-inspired widgets to your iPhone's Lock Screen. The tweak supports not only iPhones, but also iPads, and iPod touches running iOS 12.0 to 14.5. It works will all modern jailbreaks like unc0ver, checkra1n, or Taurine.
Once installed, Watermelon tweak adds a dedicated preference pane to the Setting app from where you can enable the tweak and configure all options to your liking. Watermelon places round widgets below the clock on the lock screen and it supports 20 widgets.
On top of that, you can also replace the Quick Actions available on the Lock Screen with complications or enable the second layer of widgets. Watermelon tweak comes with some useful options to configure not only the widgets but also how they will look on the Lock Screen.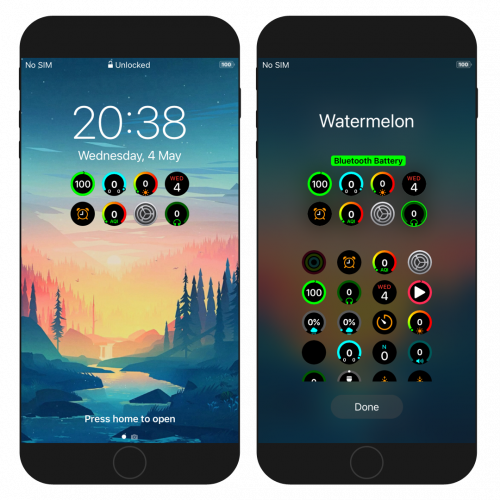 To select the widget in a particular location simply long press on the widget from the Lock Screen. An editor will appear allowing you to change active widgets. Select widgets as desired, and tap an active widget to focus it. Watermelon tweak comes with 20 built-in widgets.
These include such complications as Activity, Alarm, Air Quality Index, App Shortcut, Battery, Bluetooth Battery, Date, Music, Rain, Humidity, Timer, UV Index, Weather Conditions, Weather Temperature, Wind, Volume, Watch Battery, Torch Shortcut, Sunrise, and Sunset.
What's more, App Shortcut can be selected from tweaks preferences, Bluetooth Battery widget supports also Headphones, AirPods, etc., Music widget shows actual progress and can play/pause music, and Volume widget displays a current audio route.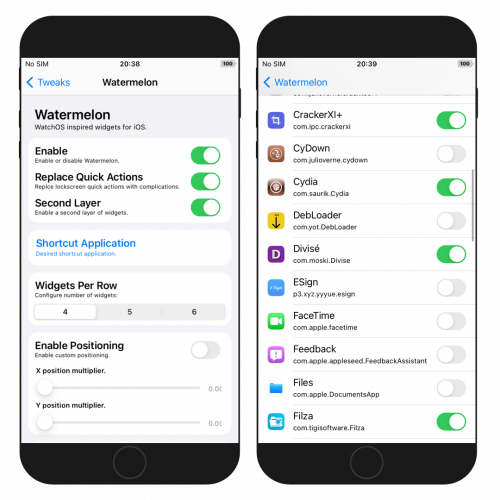 Watermelon comes with two widget styles: Light and Dark selectable from Settings. There is even an option to set the widget alpha and define the widget size and background color. To apply changes the developer included a respring button on the configuration pane.
@LaughingQuoll did an excellent job designing the tweak. From Watermelon preferences, you can also configure the number of widgets displayed in the row (from 4 to 6),and customize complications positioning by easily editing the position of the widget to achieve the perfect look.
Watermelon is a paid tweak available for $1.49 from Chariz Repo. Another paid tweak offering similar features is Complications. It is a bit more expensive ($1.99) offering over 30 widgets with animations. If you like to place rounded widgets below the clock booth tweaks will do the job.
Complications support all jailbreaks running from iOS 12 and never, but Watermelon works only with iOS 13 and iOS 14. Be aware of this information before you decide to purchase.
Repository
Chariz Repository contains the latest version of the popular Apple Watch widgets tweak developed for your iPhone's lock screen. To install Watermelon tweak on your iPhone it's required to add the official Cydia Repo to your package manager.
Open the Cydia app and tap on the Sources tab.
Tap on Edit → Add buttons and enterhttps://repo.chariz.com/ Repo URL.
Install Watermelon tweak from the newly added repository.
To save changes respiring your iPhone.
Configure the Watermelon tweak from the Settings app.
Alternatively, please use the quick links available at the top of this page to add the repository to your favorite package manager (Cydia, Sileo, Installer, Zebra) with just one tap.
What's new
Fixed safe mode crash on iOS 14.
Added iOS 14 support.
Bug fixes and improvements.
Fixed AQI widget.
Post a comment