uYou IPA tweak for YouTube

qbap |
iOS Apps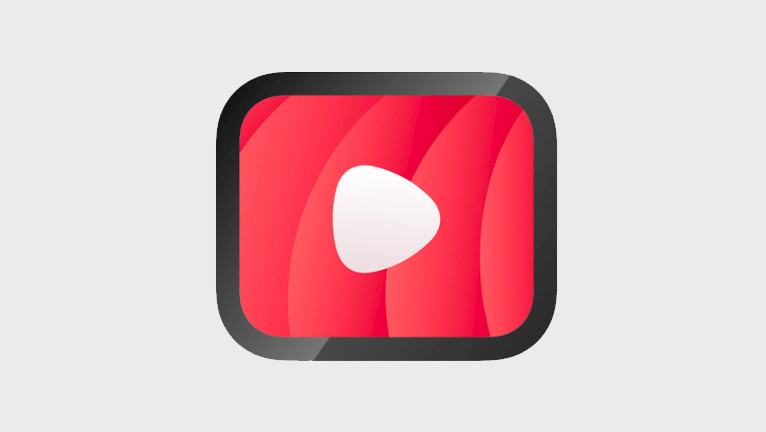 The are many tweaks to disable ads in the YouTube app and add some useful features like Picture-in-Picture, background playback, and uYou tweak offers this and more for both jailbroken and non-jailbreak devices running iOS 13, iOS 14, and iOS 15.
Download uYou IPA
What is uYou?
uYou is a tweak for the official App Store YouTube app that adds a lot of useful features to the popular video player. This tweak was designed for jailbroken devices, but the developer provided also a uYou IPA file that can be sideloaded on non-jailbreak devices.
Once installed, uYou tweak integrates with the stock YouTube app and adds a new icon button at the dock navigation bar. From here, you can easily configure all tweak settings and download YouTube video and audio files for offline access for free. Support YouTube v.16.30.2 and above.
uYou tweak is packed with a lot of useful features. It allows you to remove YouTube Ads, enable background playback for YouTube videos, download Videos/Audio/Shorts for offline playback (4K video is also supported),and play videos in PiP (Picture In Picture).
On top of that, the tweak supports all YouTube formats (MP4 + WebM),all qualities (from 144p to 4K),and all frames (30fps, 50fps, and 60fps). You can play saved media in a custom player with background playback support, and enable a mini-player for easier navigation.
uYou tweak is packed with scrubbing/controls from Control Center, the option to share/export saved videos to Camera Roll or to any other app, and support for playback speed controls and gestures controls on Video (Swipe Left/Right to increase/decrease Volume/Brightness/Seek).
To download a YouTube video through uYou tweak, you can copy the link to the uYou settings tab and tap on the + button, or use the three dots icon displayed next to the title of the video. Once tapped on uYou option, the tweak will display for download all available resolutions of the video.
uYou tweak also allows you to customize the YouTube app. From tweak settings, you can configure the default download quality, PiP quality, playlist quality (e.g. Audio Only),YouTube video quality on Wi-Fi, YT video quality on Cellular, and choose the download folder location.
Other YT customizations include the option to select the default startup page, define uYou gestures controls to open PiP mode, enter full screen, cast video, enable playback controls, etc. There is also an option to manage the visibility of all buttons displayed under the video player.
From here you can hide the share button, report button, save button, dislike button, download button, live chat button, and others. uYou tweak can help you to also hide other elements of the YouTube app interface available through the navigation bar, tabs, and recording tabs.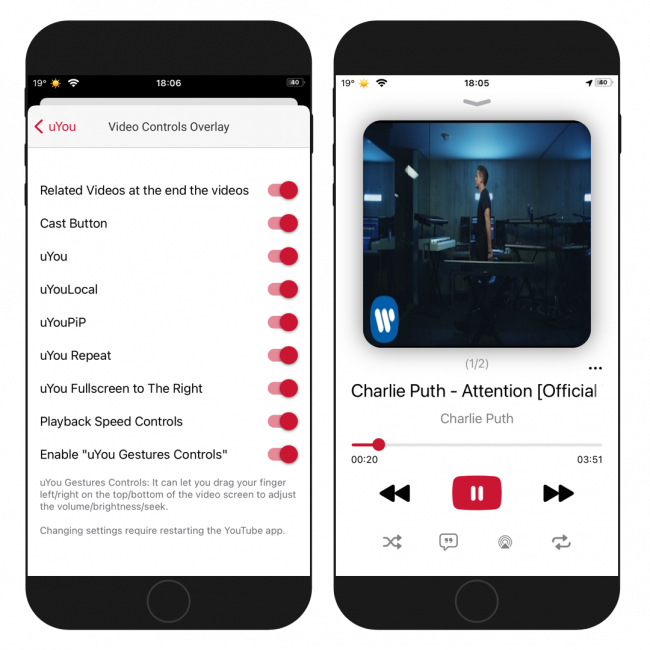 In the "Other Settings" section the developer included some useful toggles to remove YouTube ads, enable background playback, disable age restrictions, activate iPad layout, disable video autoplay, disable auto caption, disable video pause, remove the shorts section from YT Home.
From the settings pane, @MiRO92 included also quick actions to open the YouTube video download folder in Filza, and clear all active downloads and downloaded files. uYou can automatically check for tweak updates, so you will always run the latest version of the tweak.
There are also options to configure the sensitivity and speed of activating gesture controls. What's more, the uYou tweak supports migration from other jailbreak tweaks like Cercube and DLEasy to move all of your downloads into uYou with a tap of a button.
uYou tweak can be installed on any modern jailbreak through the private repository, but you can also install the YouTube app with preinstalled uYou tweak on any non-jailbroken device through Sideloadly or AltStore. There is also available a modified version of the tweak called uYou+ with additional features like iSponsorBlock and mainly made for non-jailbroken users.
When you need more privacy watching YouTube videos, there is an app like Yattee for iOS based on Piped or Invidious. Watch your favorite videos and stay anonymous without prying eyes watching. Yattee does not use official YouTube APIs, and it blocks all tracking data.
uYou tweak was never released as an open-source project, but if you are interested in the development of this kind of tweak there is available the uYouPlus project through the GitHub Repository. Find on the repo the source code of some tweaks that are integrated into the uYou.
Download uYou IPA
uYou IPA can be downloaded and installed on any device running iOS 13 and newer. To sideload the IPA file on your iPhone, it's required to use a tool like Sideloadly that requires a computer. If you run a jailbroken device, install the IPA with Reprovision Reborn directly on the device.
Step 1. Download uYou IPA (link on top of this page).
Step 2. Open Sideloadly application.
Step 3. Connect your iPhone / iPad to the computer via USB.
Step 4. Click on the IPA icon to select the app to install.
Step 5. Enter your Apple ID to sign uYou IPA file.
Step 6. Click the Start button to install the IPA file on your device.
Step 7. Provide the password for your Apple ID.
Alternatively, please use the quick link available at the top of this page. Install via Sideloadly button will automatically download and install the latest IPA with just one click.
Sideloadly software must be installed on your Windows or macOS.
Untrusted Developer
After the file is verified and installed on your iPhone or iPad, it's required to allow using apps from a developer account connected with your Apple ID. To allow the app to run go to Settings.
Step 1. Open Settings app from the home screen.
Step 2. Navigate to General → VPN & Device Management.
Step 3. Click on the developer app with your e-mail.
Step 4. Tap on Trust to allow the application to run.
Add Repository
uYou tweak can be installed through the private miro92 Repository. Add uYou Repository to your list of Cydia Repos and download the best tweak for the official YouTube application.
Open Cydia app from your home screen.
Tap Sources → Edit → Add the https://miro92.com/repo/ Repository URL.
Cydia will automatically refresh packages available in the repository.
Search for uYou and install the package.
Restart the Springboard to apply changes.
Alternatively, please use the quick links available below to add the repository to your favorite package manager (Cydia, Sileo, Installer, Zebra) with just one tap.
Install uYou tweak with weblinks
uYou tweak can also be installed on your iPhone or iPad using direct web links. If you don't own a computer, you can try to install it using direct links without the need to use a PC. It uses a public certificate to sign the app, and it's often revoked by Apple, disallowing to install uYou.
uYou Install – direct weblinks (no PC)
Step 1. Tap on Install uYou from the Safari browser.
Step 2. Tap Install on message prompt "would like to install uYou".
Step 3. YouTube app Icon will appear on your Home Screen.
Step 4. Navigate to Settings → General → Device Management.
Step 5. Find the newly installed Enterprise App Certificate and trust it.
Step 6. Run YouTube app from Home Screen.
uYou like all other unofficial apps is using a pirated developer certificate. Those certificates are monitored by Apple, and they get very frequently revoked, meaning the app will not install or open. An always working solution is to sign the IPA by yourself and send it to your device.
What's new
Updated uYou to version 16.42.3.
Ability to select multiple Audios/Videos to delete or share at once.
Added "Fullscreen to the Right Side"
Added enable/disable custom double-tap to seek
Fixed a crash when there is an error while downloading.
Other small fixes.
Added PayPal and CashApp.
"Import to Music" will not require MImport anymore.
Added Cercube and DLEasy migration.
Added option to manually add YT URL.
Option to change artwork image.
Option to disable auto caption.
Option to hide dislike and report buttons.
Fixed sharing when the name has spaces.
Fixed sorting by date.
Fixed the crash caused by hiding buttons under the YT video.
Post a comment