TrollBox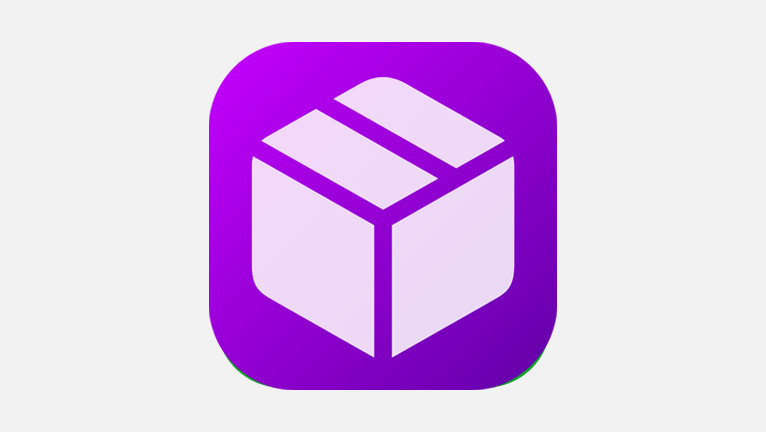 A lot of small tweaks were released for TrollStore allowing you to modify some iOS system parts without the need to jailbreak. c22dev created an all-in-one app named TrollBox, which combines all of these tweaks and works with all TrollStore devices.
Install TrollBox IPA
TrollBox was released as a TIPA package that can be downloaded and imported into TrollStore 2. Alternatively, use the direct Install to download the app automatically with TrollStore. This feature requires you to enable the URL Scheme from TrollStore Settings.
What is TrollBox?
TrollBox for TrollStore is a new tool combining most of the big and small tweaks released for iOS 14 and iOS 15 into one app. All features work without the need to jailbreak thanks to TrollStore installer. Change carrier name, theme Passcode faces, set fake GPS location, and more.
Once installed through TrollStore, the TrollBox app can be accessed from the Home Screen like any other app download from the App Store. It utilizes source code from popular tweaks such as TrollTools, Jaility, AirTroller, Cardio, WallpaperSetter, Mugunghwa, and WDBFontOverwrite, making it a comprehensive and convenient tool for modifying the iOS system.
TrollStore grants TrollBox access to certain restricted areas of the system, enabling the modification of iOS 14 and iOS 15 without the need for jailbreaking. As a result, TrollBox can only be installed through TrollStore, as it will not function when installed through any other means. Additionally, TrollStore is compatible only with specific iOS releases.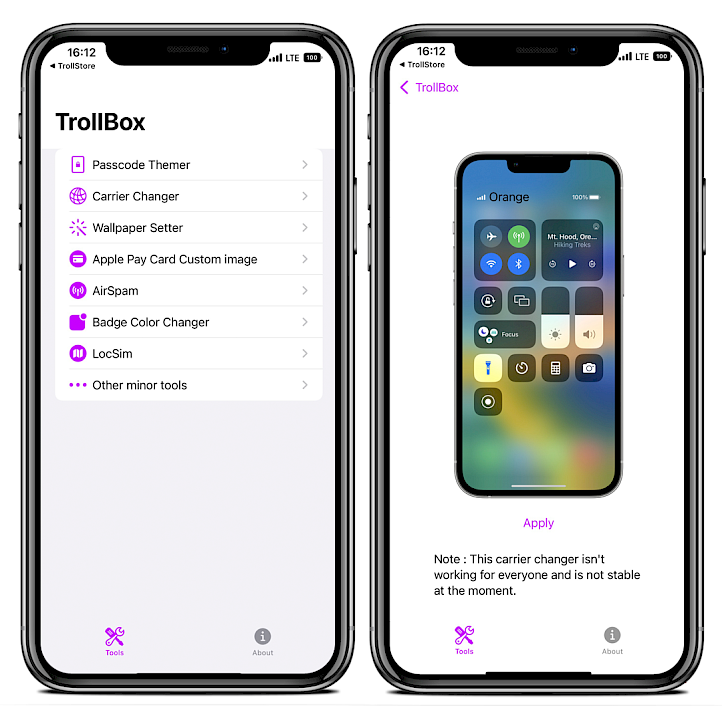 TrollBox for TrollStore is a comprehensive package that is based on other tweaks, offering a wide range of features all in one app. Some available features include a Passcode Themer that allows you to set custom images for lock screen faces, a carrier name changer, an Apple Pay card image customizer, and an icon badge color changer, among others.
TrollBox's carrier name changer feature detects the active carrier name displayed in the status bar and allows users to enter and apply a custom text value. However, it should be noted that this feature may not work for all users and is currently not fully stable.
There is also included dark and light mode wallpaper setter, AirSpam module, and LockSim. TrollBox is the first free tool allowing you to fake your GPS coordinates without jailbreak. Make your iPhone appear in a different location system-wide. All features are available for free.
LocSim provides basic functionality, requiring users to manually input latitude and longitude GPS coordinates. At this time, there is no option to select a location through Apple Maps, instead, there is a link to an online service where the coordinates can be obtained.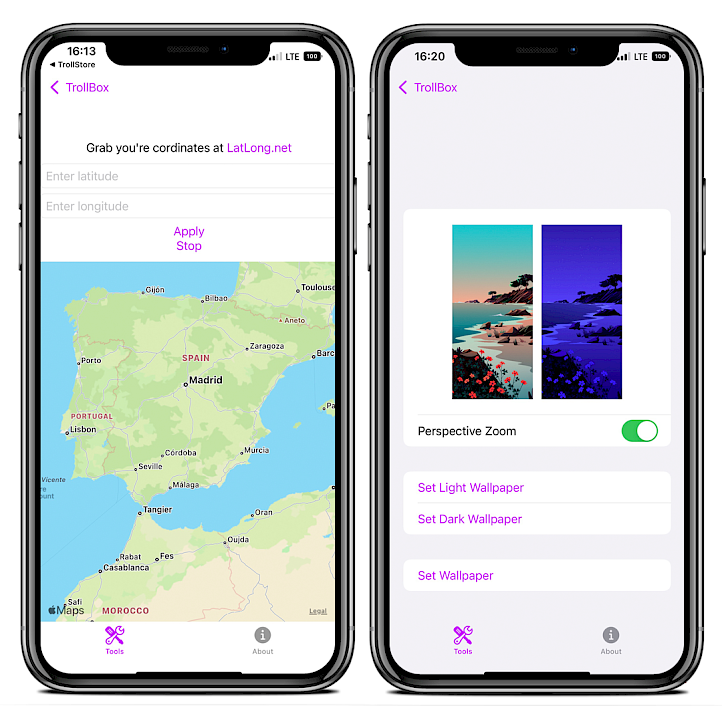 TrollBox can also activate some other features like to set your device layout to iPhone XS layout. It is totally safe, but you may experience some UI glitches and screenshot is not working at the moment. There is also supervise enabler, and show mute switch in Control Center toggle.
Supervise options is used for many things, and one of them is the option to enable the delayed OTA updates. It means that once activated, you can install an older version of iOS that is no longer signed. This change was possible only using the Apple Configurator available for macOS. Using the Jaility app, you can do it on your device running iOS 15.
The latest version of TrollBox introduces several new and exciting features, including the ability to alter the iOS version number, a system font changer, a lock screen footnote changer, and a Dock controller that allows you to hide the Dock, disable app switcher blur, hide the home bar, and hide folder blur, disable shortcut banner, among other options.
TrollBox IPA for TrollStore was released as an open source project under GPL 3.0 License. The source code of TrollBox was published through the official GitHub Repository. The app interface is written in SwiftUI, but it uses also C, and Objective-C programming languages.
c22dev is actively working on TrollBox development and promises adding even more useful features such as Crash Logger, Icon theming, Home Screen layout editing, Ringtone manager, Downgrader, Network Manager, System info, and Nonce setter (based on OPA's code).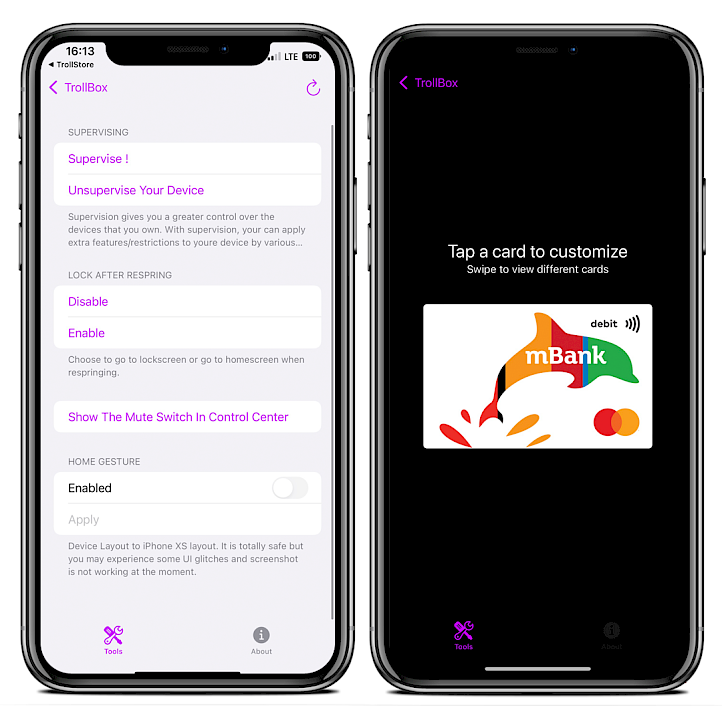 Download TrollBox IPA
The application is designed for devices running on iOS 14 up to iOS 15. TrollBox was released an IPA package with an option to install the tool on non-jailbreak devices running on iOS 14.0 up to iOS 15.5b4 thanks to the TrollStore permanent IPA installer. The application is in the Alpha stage.
Compatibility: iOS 14.0 – 15.4.1, iOS 15.5 beta 1 – 15.5 beta 4, iOS 15.6 beta 1 – 15.6 beta 5. Other iOS releases including iOS 15.6, iOS 15.5, and iOS 16 will never be supported.
To install TrollBox IPA on your iOS devices using TrollStore, follow the steps:
Install TrollStore for iOS on your iPhone.
Download TrollBox IPA for iOS in the mobile Safari.
Open the downloaded file in the Files app.
Send the TrollBox TIPA to the TrollStore app.
Access the installed TrollBox for iOS from the Home Screen.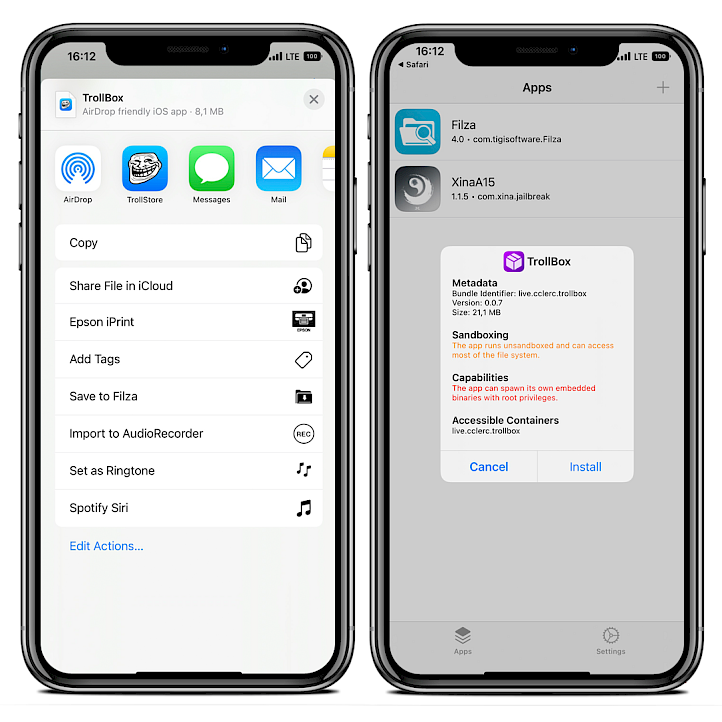 What's new
Updated TrollBox to version 0.2.
Added TrollStore 2 support.
Custom fonts' selector.
Add settings to modify the Dock.
iOS System Version Changer.
Lock Screen Footnote.
iOS System Font Changer.
No Shutter Sound.
Hide/Show Mute Switch in CC.
Added Badge Color Changer.
Show Mute in Control Center.
LocSim is working, custom location is now possible.
Custom Apple Pay Images were added.
Added Wallpaper setter.
Added option to disable supervising.
Sponsored links
Post a comment