Tongbu Assistant for Windows, Mac, and iOS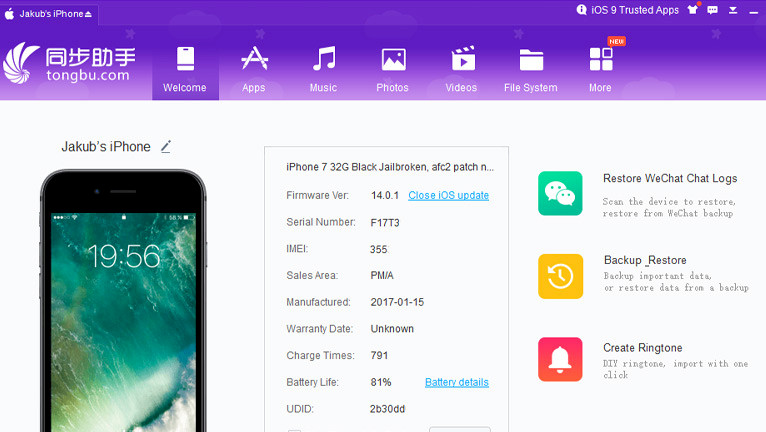 Tongbu Assistant was a very popular iPhone Helper for iPhones, iPads, or iPods, and it's still working in 2023. Download the latest version of Tongbu Assistant for Windows or Mac. Install Tui Store, the third-party Tongbu iOS App Store, and access paid apps for free, cracked games, and unofficial apps for iOS.
Download Tongbu Assistant
What is Tongbu Assistant?
Tongbu Assistant is an iPhone Helper that allows you to manage your iPhone in a much better way than iTunes does. This Assistant comes with a lot of tools not only to manage installed apps or backup data but also allows managing SMS and contacts, enable the real-time log, etc.
The app isn't as advanced as i4Tools, but still is a great and free manager for iOS devices. It displays some basic information about your devices such as firmware version, jailbreak status, INEI, manufactured date, number of charges, battery life, UDID, capacity, or warranty date.
Tongbu Assistant was released for both Windows and macOS users. The Windows version offers more features, but it requires you to install iTunes on the system. It's important, to download iTunes from the official Apple website, and not use the Windows Store version.
Tongbu Assistant for Windows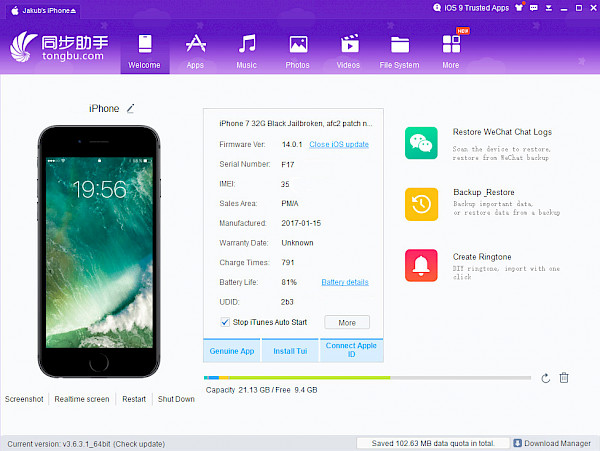 Tongbu works with all devices running iOS 9, iOS 10, iOS 11, iOS 12, iOS 13, iOS 14, iOS 15, and iOS 16. It allows you to take screenshots directly from your Desktop, enable real-time screen manager, restart or shut down the device, clean the file system from junk files, and more.
The iPhone's Helper Toolbox is sorted into three categories such as Messages, File Manager, and System Tools. Each category comes with its own tools to manage your iOS device.
Messages allow you to manage Contacts, SMS and iMessage, Note, Bookmarks, WeChat Stickers, WeChat, and Coexists messages. Tongbu's File Manager section is packed with tools such as U Disk (to copy files on your device), Documents, Voice Memos, Other Media, Icon Manager (change the location of icons of screens), Book, and Backup & Restore.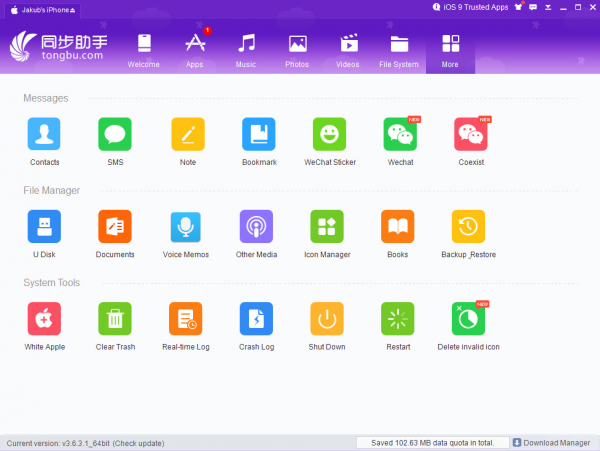 The System Tools section includes six tools: Clear Trash, Real-Time Log, Crash Log, Shut Down, Restart, and delete invalid icons. On top of that, Tongbu Assistant can also install Tui Store, a third-party App Store that offers access to apps not available in the official App Store.
On devices jailbroken with unc0ver or checkra1n, you can install AFC2 Patch. It allows you to install not-signed IPA files downloaded through Tongbu Assistant. The app offers access to its App Store with a variety of apps and games for iOS. Tongbu is available in the English language.
Tongbu Assistant for Mac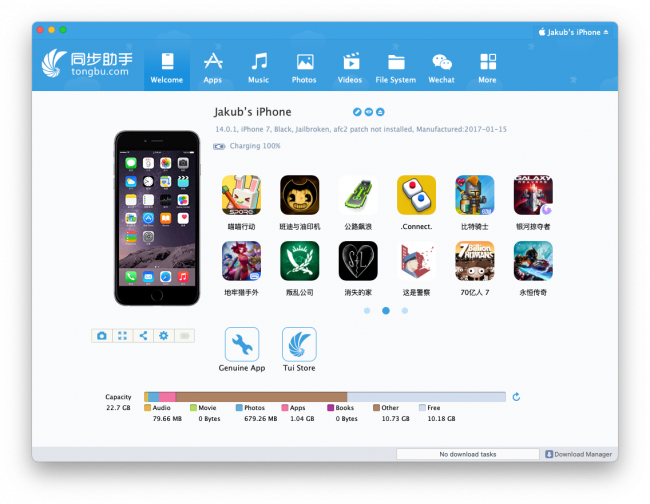 Tongbu Assistant for Mac offers a similar experience to the Windows edition, but it comes with fewer features. The Toolbox was cut off from half of the available options in the Windows version. Still, you can manage contacts, bookmarks, notes, SMS, backup and restore data, and view documents, voice memos, books, and other media. There is also U Disk Tool to copy files.
What's more, view the system crash log, and shut down or restart your device with one click. Tongbu Assistant Mac Edition can also install Tongbu for iOS on your device to access free third-party apps and games. You can also download IPA files directly from the Desktop app.
To connect your device with Tongbu Assistant, it's required to use a USB cable. The iPhone Assistant doesn't support synchronization through Wi-Fi.
Tongbu iOS
Tongbu iOS (Tui Store) is a third-party App Store for iOS devices that offers access to thousands of apps and games. Once installed on your device via Tongbu Assistant, you can open the app from your Home Screen. The app interface is in the Chinese language, but it's easy to follow.
All apps installed through Tongbu iOS are signed with a globally available certificate. If it gets revoked by Apple, all apps will not install or will stop opening. Jailbreak users don't have this issue thanks to anti-revoke tweaks that disable checking the certificate status.
Tongbu iOS comes not only with apps available in the App Store, but also offers access to popular console emulators such as Delta, PPSSPP, GBA4iOS, movie players like popular MediaBox HD, or jailbreak tools including unc0ver. To avoid revokes, you can try to buy a VIP certificate.
When you are using a jailbroken device, I would recommend you install alternatively the Panda Helper Lite. This third-party App Store can install apps and games on jailbroken devices for free and without any limitations. There is also available a non-jailbreak version of the store.
What's new
Updated Tongbu Assistant Windows to version 3.5.9.0.
Updated Tongbu Assistant Mac to version 3.1.5.0.
Fixed some common bugs on Windows.
Added support for the latest version of iOS.
Removed the tool to create ringtones.
Overall improvement and bug fixes.
Sponsored links
Post a comment