TikTok Unicorn tweak for iOS

qbap |
iOS Apps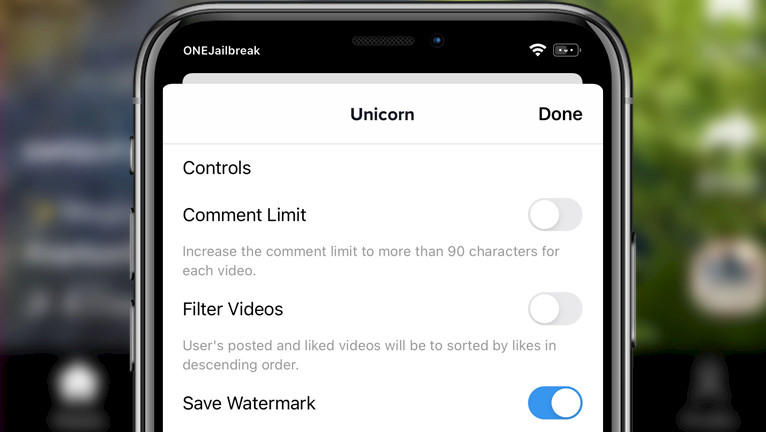 TikTok is a social media platform that has gained immense popularity due to its unique format of short-form videos ranging from 15 to 60 seconds. Unicorn for TikTok is an additional tweak available for the iOS that enhances your experience on the platform. It provides useful tools that make the app even more fun and enjoyable.
What is TikTok Unicorn?
TikTok Unicorn is the ultimate all-in-one tweak for the most popular video-sharing social network. This versatile tweak is compatible with all devices running iOS 14 or later, whether they're jailbroken or not. By installing Unicorn tweak or sideloading TikTok Unicorn IPA, you'll gain access to a wide range of features that the TikTok app lacks on iOS.
While the official name of the project is Unicorn for TikTok, it's commonly known as TikTok Unicorn. This powerful tweak seamlessly integrates itself into the official TikTok app in the Settings and Privacy section, providing you with easy access to all your preferences. With TikTok Unicorn, you'll be able to customize the TikTok app to suit your personal preferences.
With TikTok Unicorn, you'll have the ability to automatically like or dislike any videos you watch, as well as automatically scroll to the next video when one ends. Additionally, Unicorn enables you to download high-quality media without a watermark with ease. One of its most valuable features is the ability to sort all of a user's posted and liked videos in descending order based on the number of likes they've received. This feature is particularly useful for keeping track of why you followed a specific user and finding their best content quickly and easily.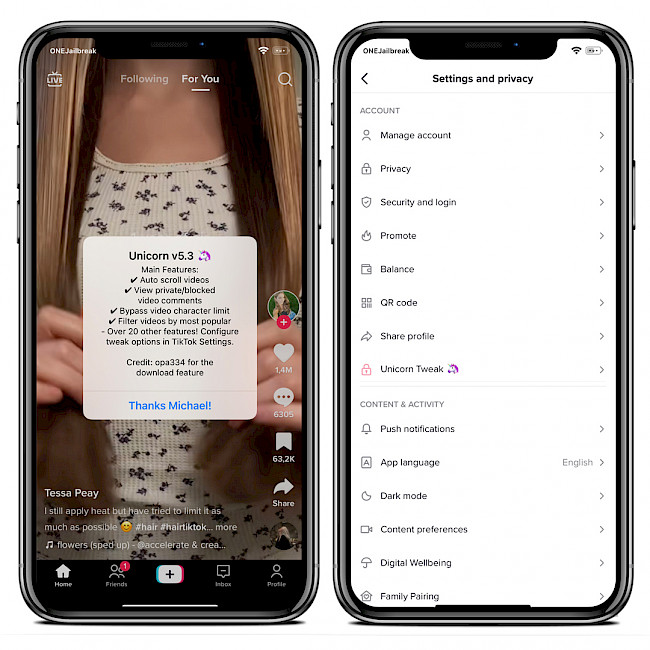 TikTok Unicorn offers even more features to enhance your TikTok experience. It allows you to increase the comment limit beyond 90 characters for each video by simply tapping the button on the left side of the text field. Once you're done typing, hit "Done" and your long message is ready to be sent. Another useful feature is the ability to spoof statistics.
To adjust the number of following, followers, and likes on your TikTok profile tap on the likes button. What's more, for a better user experience, you can enable "Perfect screen" and relaunch the app, which removes the extra buttons and provides a cleaner UI. Additionally, you can long-press any side button to hide the views and vice versa by default.
TikTok Unicorn was created by Michael Lema and released as an open-source project with all files available for download from the GitHub Repository. However, it's worth noting that the source code of the tweak hasn't been updated in a while, and it is outdated.
Unicorn was developed using a combination of Objective-C++ (71.8%) and Logos (28.2%) programming languages. Nonetheless, TikTok Unicorn remains a popular choice for TikTok enthusiasts and can still be used on the latest version of the video sharing app.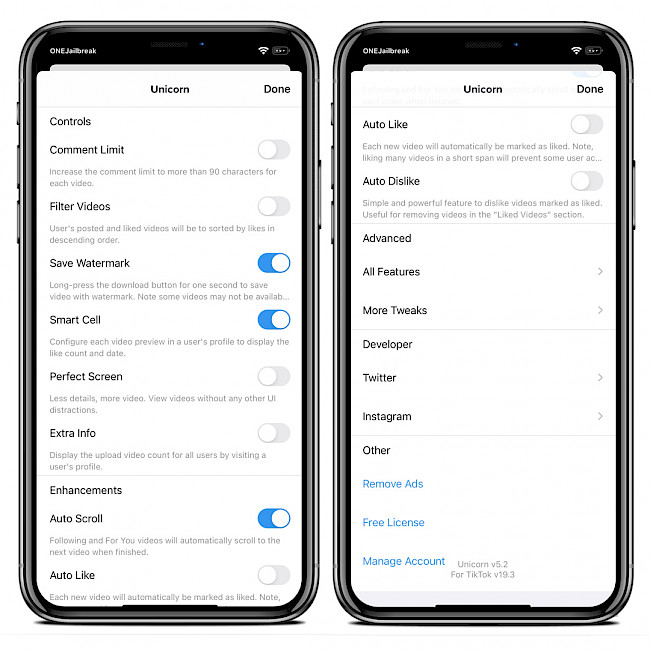 Download TikTok Unicorn IPA
TikTok Unicorn IPA can be sideloaded onto your iPhone using an IPA installer like Sideloadly (available for Windows and macOS) or SideStore the on-device IPA signing tool for iOS 14 – iOS 16. Both methods allow you to install TikTok Unicorn IPA on your non-jailbreak devices.
To install TikTok Unicorn IPA on iOS device using Sideloadly, follow these steps:
Download TikTok Unicorn IPA from the link below.

Run Sideloadly application on your PC or Mac.
Connect your iPhone or iPad to the computer via USB.
Load the IPA file into the app to begin the installation process.
Enter your Apple ID to sign the Instagram TikTok Unicorn IPA file.
Click the "Start" button to begin sideloading the IPA file onto your device.
When prompted, enter the password for your Apple ID.
Open the Settings app from the Home Screen.
Navigate to "General" → "VPN & Device Management".
Click on the developer app associated with your email.
Tap "Trust" to allow the app to run.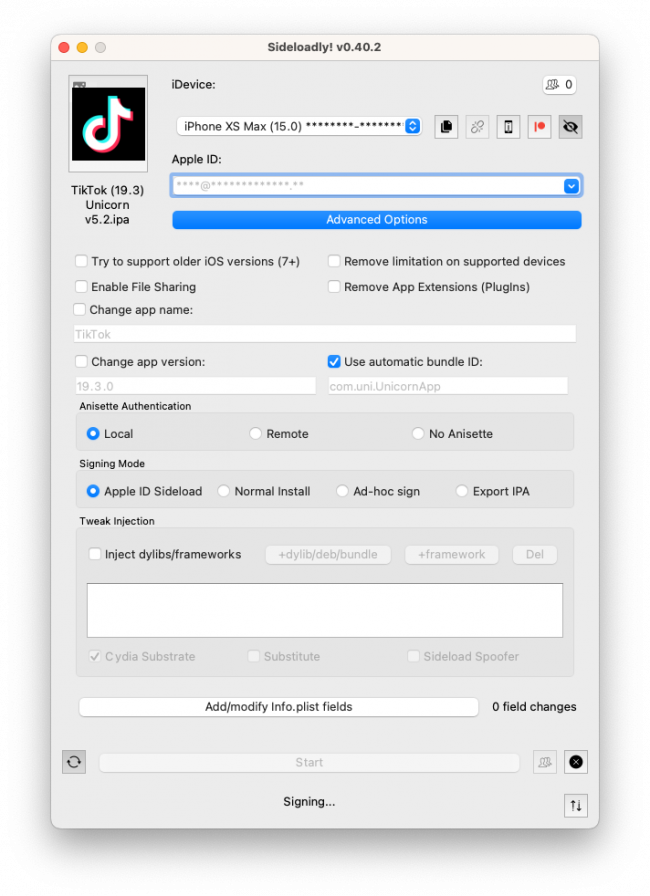 Note: If you don't have a developer certificate, you can use your free Apple account to sign and install Instagram Unicorn IPA and use it for up to 7 days before it needs to be re-signed. What's more, you can sideload the IPA also with TrollStore on iOS 14 – iOS 15.4.1.
Add Repository
When you are running a jailbroken environment you can install the Instagram TikTok Unicorn tweak on top of the TikTok app downloaded from the App Store. Add BigBoss repository to your package manager and install the all-in-one TikTok tweak for iOS. Note that the tweak may not work on XinaA15, so if you're using this jailbreak, you'll need to sideload the IPA file instead.
To install TikTok Unicorn with Cydia, follow those steps:
Open the Cydia app from the Home Screen.
Tap on the Sources tab, then select Edit button.
Add the following repository URL: http://apt.thebigboss.org/repofiles/cydia/
Cydia will automatically refresh packages available in the repo.
Search for TikTok Unicorn tweak and install the package.
Restart the Springboard to apply all changes.
Access Unicorn preferences from the TikTok Settings.
Alternatively, please use the quick links available below to add the repository to your favorite package manager (Cydia, Sileo, Installer, Zebra) with just one tap.
What's new
Updated Unicorn for TikTok to version 5.3.
Fixed crash when launching TikTok 19.6.
Added support for iOS 15 and iOS 16.
Post a comment