SneakyCam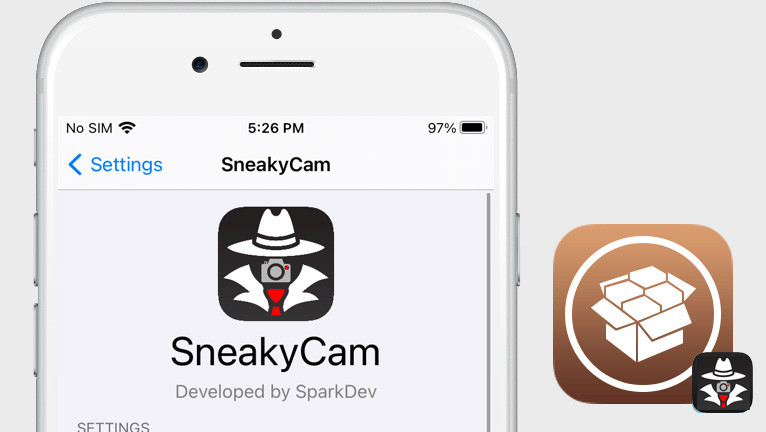 James Bond as a British secret agent working for MI6 was using a lot of spy gadgets. In real life, SneakyCam tweak could be one of his tools. Take discretely a photo or record a video from your iPhone, even with your screen off. Jailbreak is required to make it work.
Add SneakyCam Repo to your package manager.
What is SneakyCam?
SneakyCam is a jailbreak tweak that enables your iPhone to take photos and capture videos from everywhere on the device. There is no need to run any app to take photos or record videos.
After installing the tweak you can capture a photo by double-tapping the volume down button. The Camera app will run in the background taking a photo without releasing any sound messages. To start recording sound and video double-tap the volume up button.
SneakyCam preference pane is added to the Settings app from where you can manage all tweak settings. Disable the tweak on demand, deactivate take photo or record video feature, etc.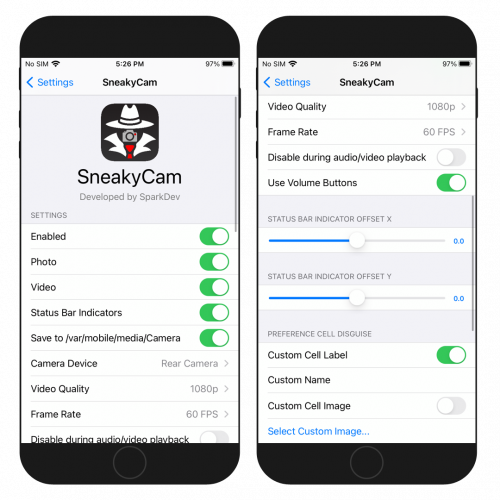 There is also an option to save the captured to a specific location on the iPhone not accessible by the Camera app. What's more, select between the rear and from the camera, change the video quality (288p - 2160p) and frame rate. SneakyCam supports all devices on iOS 9 - iOS 14.
To make SneakyCam less visible for third-party it can disguise the preference cell. What it means is you can change the name (custom cell label) and icon appearing in the Settings app.
When you start recording the screen stays turned off. But by default when it's on a small indicator is displayed in the status bar. You can disable it from the tweak settings page.
What's more, the buttons can be disabled during audio/video playback on your iPhone. This way no accidental photos will be taken. SneakyCam is your Spy Cam for iOS devices.
The latest version of SneakyCam is 2.0.6.
Cydia Repository
Adding SneakyCam Repository to Cydia Sources is simple and easy. Add the official Repo (via Spark's repository) to your list of Cydia Sources and install the tweak.
Open Cydia app.
Tap Sources → Edit → Add the https://www.sparkdev.me/Repo URL.
Search for SneakyCam and install the tweak.
Restart the Springboard when required.
This tweak configuration is available from the Settings app.
Alternatively, please use the quick links available at the top of this page to add the repository to your favorite package manager (Cydia, Sileo, Installer, Zebra) with just one click.
To remove the tweak from the system simply uninstall it from Cydia or other package managers you are using on your iPhone. After respring, the tweak will be completely removed.
Sponsored links
Post a comment