Shortmoji

qbap |
Cydia Tweaks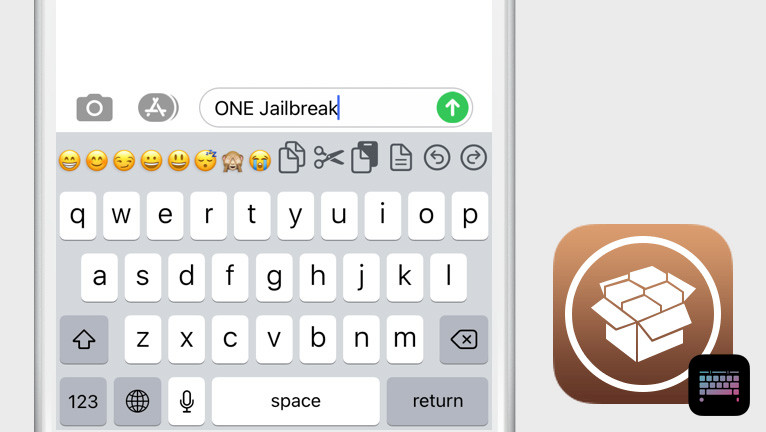 Customize the keyboard and add your own controls to the Prediction Bar and Keyboard Dock (the bottom area of the keyboard) areas in the keyboard with the free Shortmoji tweak for iOS 13 and iOS 14. Add tons of useful functionalities to your keyboard.
Add Shortmoji Repo to your package manager.
What is Shortmoji?
Shortmoji is a free jailbreak tweak that adds quick access to emojis and tons of shortcuts in the keyboard dock or prediction bar. This tweak works with all jailbreaks running iOS 13 and iOS 14. It offers access to access to dozens of useful shortcuts including copy, paste, next word, etc.
What's more, you can not only customize the keyboard but also add controls to Prediction Bar and Keyboard Dock. Shortmoji tweak works with notched and no-notched devices. The tweak provides an option to enable the iPhone X keyboard on older devices e.g. iPhone 8.
Once installed, Shortmoji tweak adds a dedicated preference pane to the Settings app from where you can enable the tweak and configure all options to your liking. You can easily add customizations to your Keyboard, Prediction Bar, and Keyboard Dock.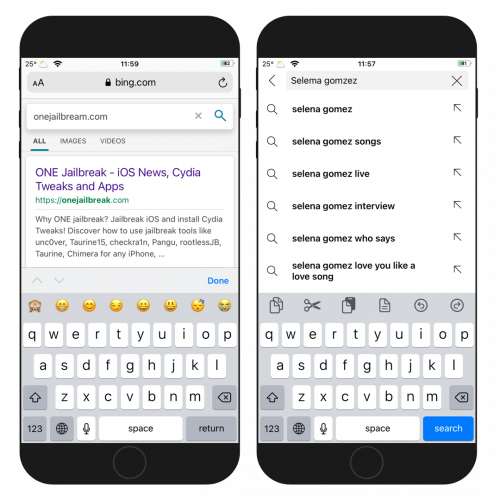 To each keyboard area, you can add up to 6 different views that come with the Shortmoji tweak. These include Emojis, Shortcuts, Emojis + Shortcuts, Numbers, Prediction Bar + AutoFill Passwords, and Custom Texts. To switch between vies use a swipe twice up gesture on the bar.
Each View has its own settings and configurations. The biggest and the most useful of them is the Shortcuts View which has more than 1800 shortcuts that you can choose from (including Activator). Shortmoji can also change the action behind the Globe/Emoji and Dictations icons.
Shortmoji is packed with dozens of actions to choose from including enabling airplane mode, Bluetooth, flashlight, Lowercase, etc. On top of that, you can define actions for tap, double-tap, and long-press actions on the Globe/Emoji and Dictations buttons available on the keyboard.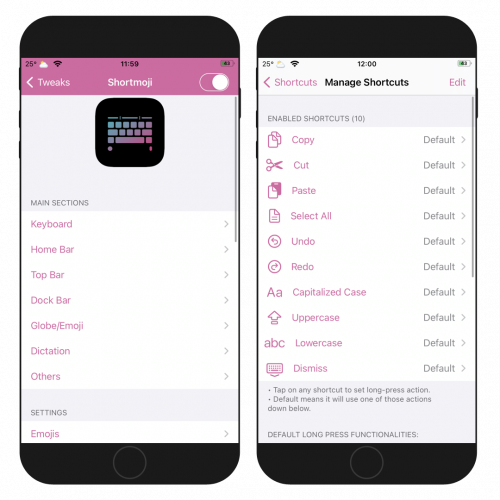 Shortmoji is a free alternative for some paid and broken keyboard tweaks like Textyle, KeyShortcut Pro, Translomatic, KBColor, HapticKeys, ColorBoard, AnywherePredict, HomeBarSizer, Barmoji, or DockX. And the Shortmoji 2 tweak comes with even more features.
It also offers support for third-party tweaks e.g Tranzlo, Copypasta, CopyLog, Wasabi, Translomatic, and Pasithea. There is the ability to import, export, and share your settings with friends and support Activator Actions and Filpswitch toggles.
In the official repo, there are two versions of the tweak. Shortmoji 2 adds some great features like Systemwide Synced Views, Systemwide Synced Pages, Synced Emojis, Return To Top, Blacklisted Apps, and other handy features. It was re-written from scratch and now it's faster.
Configuration
Shortmoji tweak is packed with a lot of useful features for the iOS keyboard. Now with the latest release, you can use Blacklisted Apps, a feature that lets you disable Shortmoji in any selected apps, and Systemwide Synced Views, a useful feature that keeps your views synced.
From tweak settings, you can additionally define the background color of the keyboard (based on app color),change the action bar, cursor, and text highlight colors (those options require Lateus tweak),and set a custom font size or enable layout for non-notched devices.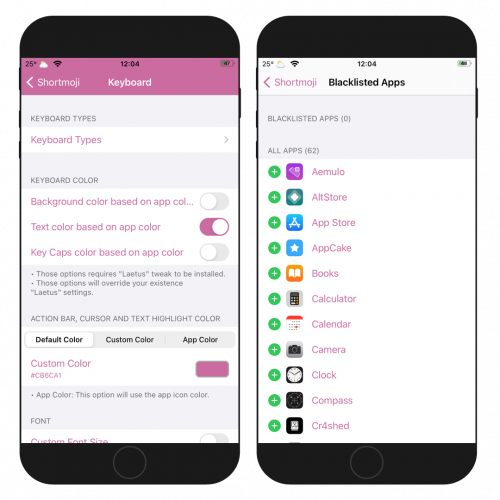 On top of that, you have also control over the Top and Dock Bar. From the dedicated settings page, you can select what kind of views should be associated with the bar, enable action swipe to switch, selects scroll direction, and activate the option to always show the prediction bar.
There are also options to set custom left, right, and button offsets for the bars. Shortmoji 2 has the ability to change any shortcut icon by choosing over 1600 iOS system icons or even add shortcuts to the keyboard for example hold the V letter to paste or hold the C letter to copy.
Repository
Shortmoji and Shortmoji 2 tweaks are available for download through the official Miro92 Repository. Add Shortmoji Repo to your list of Cydia Sources and install the most advanced keyboard tweak for iOS that brings tons of useful functionalities to your keyboard.
Open Cydia app from the home screen.
Tap Sources → Edit → Add the https://miro92.com/repo/ Repository URL.
Search for Shortmoji package and install it on your device.
Restart the Springboard to apply all changes.
To configure the tweak navigate to Settings → Shortmoji.
Alternatively, please use the quick links available at the top of this page to add the repository to your favorite package manager (Cydia, Sileo, Installer, Zebra) with just one tap.
What's new
Added donation button.
Fixed all preferences table on iPad.
Added new option "Shortcuts Per App" which shows certain shortcuts in certain apps.
Added two shortcuts (Auto-Correction and Check Spelling).
Shortcuts are now sorted alphabetically in the settings.
Duplicate characters are no longer accepted in "Keyboard Shortcuts".
Renamed "Dismiss Keyboard" shortcut to only "Dismiss".
Removed recent emojis limitation in iOS 14.
Fixed layout when switching to Left/Right Keyboard.
Post a comment