SecondHand IPA: Add seconds and date to Status Bar clock

qbap |
iOS Apps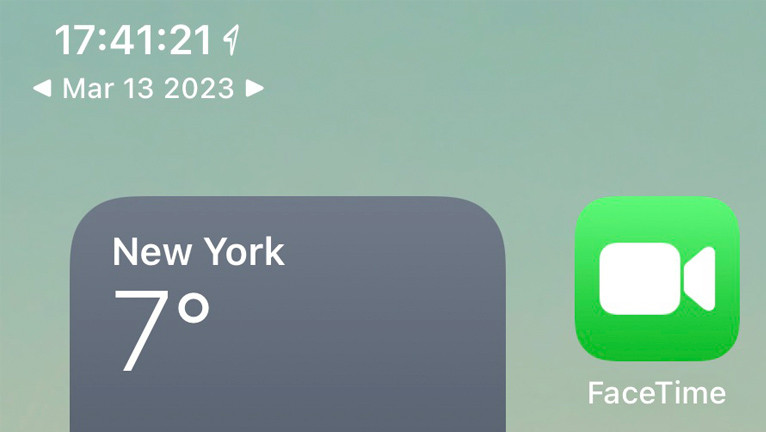 TrollStore is not only a platform that allows you to install IPA files permanently on iOS 14 – iOS 15.4.1 without jailbreak, but it also provides an option for apps to access some system files without the need for jailbreak. With SecondHand for TrollStore, you can easily add seconds and the date to your device's status bar clock.
What is SecondHand?
SecondHand for TrollStore is a free mobile application that can add seconds to the time displayed on the Status Bar. With real-time updates, you can be sure that the time is always accurate. Plus, SecondHand offers the added convenience of displaying the actual date in different formats right under the time display. The tweak is compatible with iOS 14 – iOS 15.4.1.
Whether you prefer a traditional format like MM/DD/YYYY or a more modern style like DD/MM/YY, SecondHand has you covered. Download SecondHand IPA today to elevate your timekeeping experience. Once installed, SecondHand will be available from the Home Screen.
SecondHand runs in the background to keep the time updated. However, some iOS apps are killed by the operating system after a certain period of time. To prevent this from happening, SecondHand uses a clever trick by requesting location data. This allows for longer sessions without interruption. It's important to note that SecondHand only fetches data.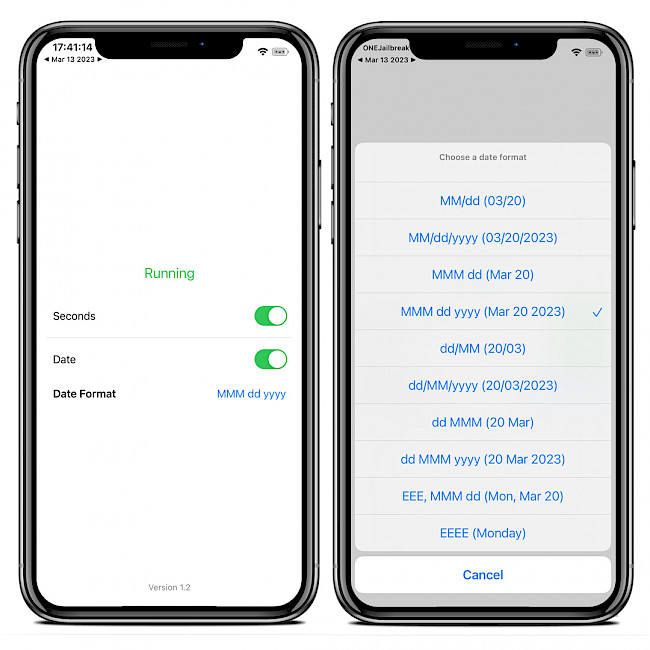 To ensure that SecondHand runs in the background, you'll need to set location services to "Always" on your device. Additionally, you can enable notifications to be alerted when the app stops running. However, keep in mind that this may impact your device's battery life.
Compatibility: iOS 14.0 — iOS 15.4.1, iOS 15.5 beta 1 — iOS 15.5 beta 4, iOS 15.6 beta 1 – 15.6 beta 5. No other firmware releases are or will be supported.
SecondHand was developed by the same person who created Cowabunga and is an open-source project released under the GPL-3.0 license. You can download the source code from the official GitHub repository, where you'll find that it's primarily written in Objective-C (72.9%) with some Swift (17.3%) programming as well. By making SecondHand open source, the developer has made it possible for others to contribute to the project and improve its functionality.
Download SecondHand IPA
SecondHand was released as an IPA package that can be installed only using the TrollStore IPA Installer on any iPhone device. The app takes the advantage of an iOS exploit allowing it to access and modify not allowed file system files on iOS 14 – iOS 15.4.1 (and some betas).
To install SecondHand IPA on your iOS device using TrollStore app, follow these steps:
Install TrollStore on firmware between iOS 14 up to iOS 15.4.1.
Download SecondHand IPA and save it on iCloud.

Share the downloaded IPA file with the TrollStore app.
TrollStore will install SecondHand IPA when the file is loaded.
Access SecondHand app from the Home Screen.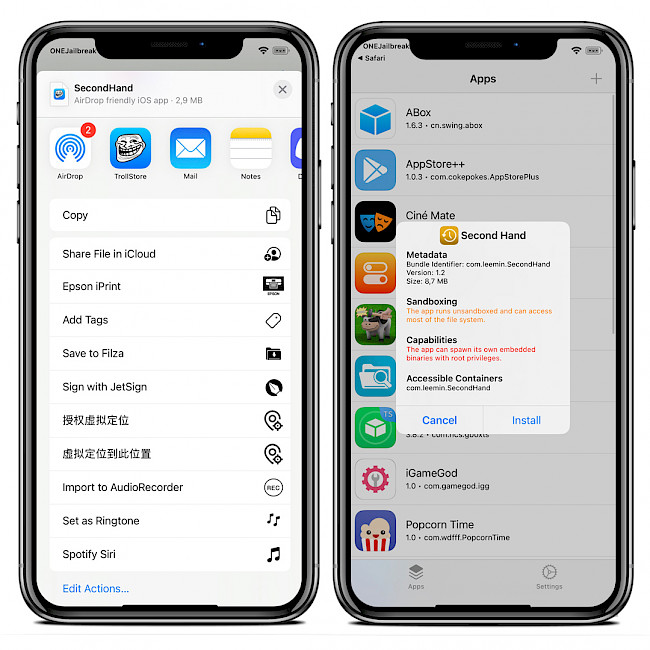 What's new
Updated SecondHand to version 1.2.
Added various date formatting options.
Added version checking on startup.
Support for TrollStore on iOS betas.
Post a comment