Access the Santander app from the Home Screen.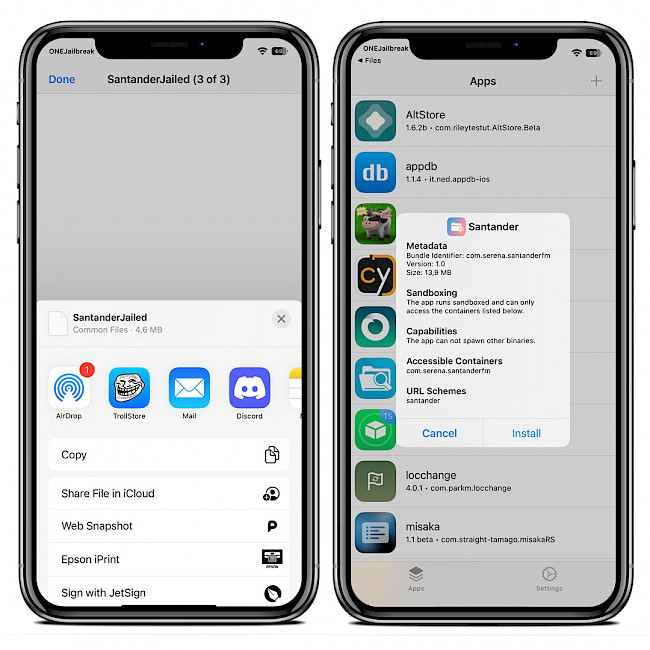 Santander for TrollStore supports: iOS 14.0 – iOS 15.4.1, iOS 15.5 beta 1 – iOS 15.5 beta 4, iOS 15.6 beta 1 – 15.6 beta 5. No other firmware releases are or will be supported. No support for iOS 15.5, no support for iOS 15.6, and no support for iOS 16.
Add Repository
Santander was not released in an official repository, but you can download a DEB package that can be easily installed on jailbroken devices with your favorites package manager. When you install packages from repositories, they are downloaded and installed from DEB files. Santander DEB file for non-rootless jailbroken devices was build from the latest source code.
To install Santander File Manager on iOS 15 or iOS 16, follow those steps:
Download Santander DEB package from the link below:

Share the Santander DEB package with Cydia.
Cydia will load the file as any other package.
Install Santander and respring your iDevice.
What's new
Updated Santander IPA to version 1.4.
Improved exploit, now supports all devices.
Updated Santander MacDirtyCow.
Add support for TrollStore installation on iOS 14 and iOS 15.
Implemented scroll up/down keyboard shortcuts.
Add new layout mode and customization to the asset catalog.
Assets.car support.
Audio player and toolbar fixes.
Added support for Symlink.
More iPad optimizations and code cleanup.
Add Context Menu action.
Post a comment