Prysm - The Control Center tweak for iOS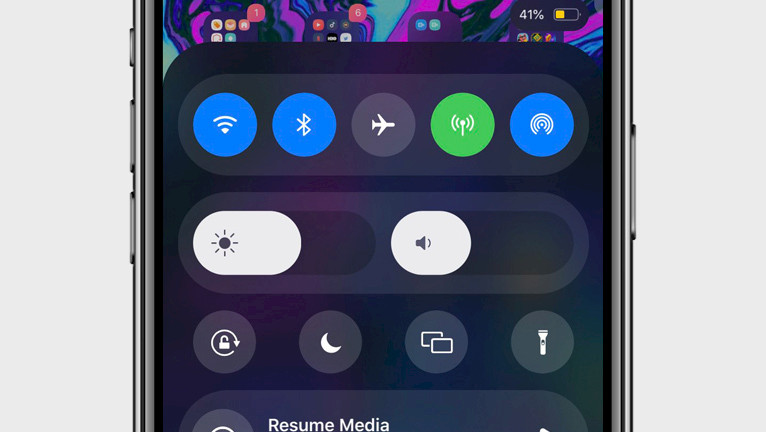 Control Center in iOS 11 through iOS 14 can be rather uninspiring, and using it might not be the most enjoyable experience. However, with the introduction of a jailbreak tweak like Prysm, you can completely transform your interaction with the Control Center, offering a fresh and redesigned experience. In 2021, Prysm was among the top bestsellers in Packix Store. Now it's free, but without support for newer jailbreaks.
Add Prysm Repo to your package manager:
What is Prysm?
Prysm is a remarkable jailbreak tweak that revolutionizes the appearance of Control Center on iOS devices, breathing new life into older models. Initially released as a paid package priced at $1.39, it has now become available for free, allowing a larger audience within the jailbreak community to enjoy its benefits. The tweak was designed for iOS 11.0 up to iOS 14.8.
Once the Prysm tweak installation process is finished, you'll notice a new preference panel seamlessly integrated into your Settings app. This panel empowers you to effortlessly toggle the tweak on or off at your convenience, while also granting access to an array of modules that can be easily customized and reorganized to suit your preferences.
Prysm offers a selection of modules encompassing connectivity toggles, brightness and audio sliders, quick access toggles, a media widget, weather conditions, power controls (including reboot, shutdown, respring, and lock),and Bluetooth device management, with the quick access toggle module accommodating your existing control center configuration while any unassigned modules can be accessed by swiping up on the Prysm control center.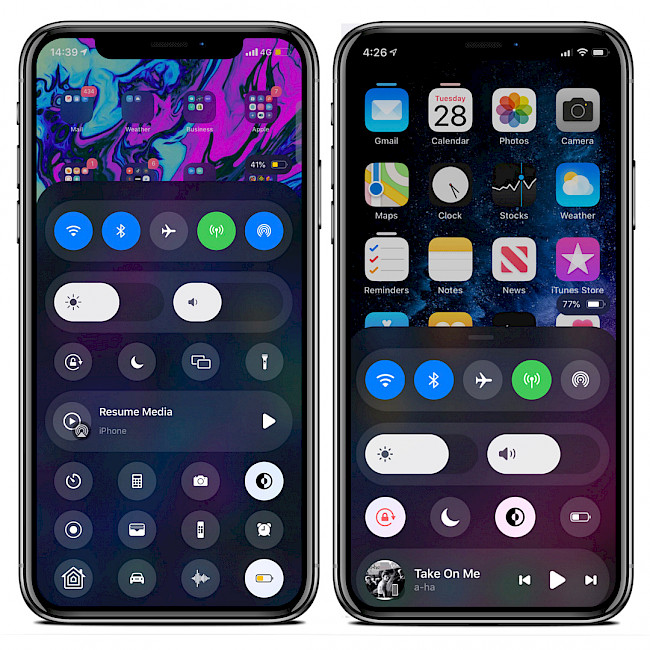 Regrettably, Prysm has ceased active development, and its support concluded with iOS 14. Unfortunately, it is not compatible with newer jailbreaks like Palera1n or Dopamine. However, it still injects a breath of fresh air into older jailbreaks running on iOS 11 through iOS 14.
Warning: Prysm is not supported by XinaA15 and it will freeze your device after installing.
Prysm tweak offers two appearance modes, accommodating both light and dark themes and seamlessly integrating with iOS 13's dark mode and popular tweaks like Noctis12 and NoctisXI for a smooth dark mode experience. It supports most control center tweaks right out of the box.
Haptic Touch functionality is prevalent throughout most Prysm modules, allowing users to simply long-press on an element to reveal expanded content; this feature extends to most toggle modules activated through the iOS control center configuration.
Additionally, Prysm tweak for iOS 11 all the way up to iOS 14 introduces intuitive gestures as an alternative means of accessing the control center, allowing users to effortlessly swipe up from the bottom corners of their device or choose to enable the stock gesture.
Prysm Control Center tweak for iOS offers an extensive range of configuration options from its preference pane. Customize tweaks behavior to your liking, such as selecting its display position (top or bottom),selecting a preferred gesture (including Stock Control Center gesture, Lower Left, Lower Right, or Both),adjusting gesture activation sensitivity, defining interface corner radius, showing or hiding the floating battery level and indicators.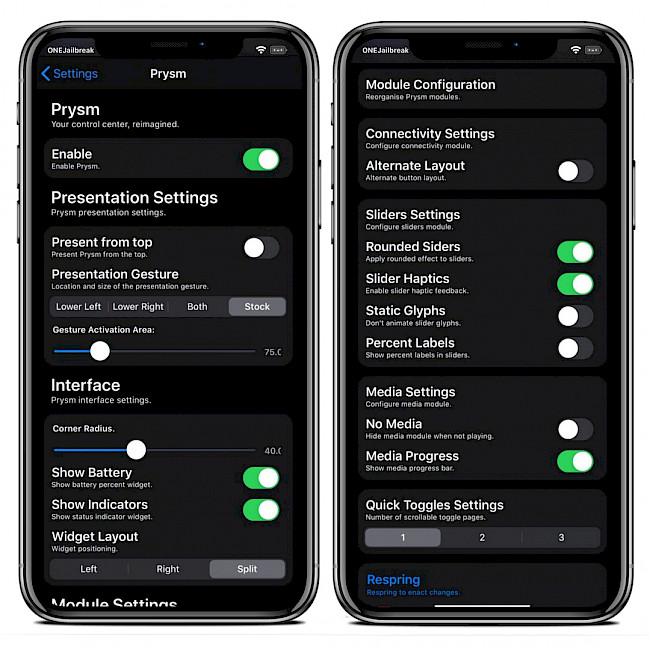 You have also the freedom to specify widget layouts (Left, Right, or Split),reorganizing module layouts, enabling or disabling an alternative button layout, toggling rounded sliders, adjusting slider haptics, controlling static glyphs, displaying percent labels in sliders, automatically hiding the media module when not in use, adding a media progress bar, and selecting the number of scrollable toggle pages (1, 2, or 3). Use the Respring button to save any changes you make.
Alternatively, try BigSurCenter tweak that replaces the default iOS Control Center with a new design inspired by macOS Big Sur. The tweak works on all modern jailbreaks released for iOS 13 up to iOS 16. It works on iOS 15 running Palera1n and XinaA15 jailbreaks, and what's more, the most recent version has been updated to work with rootless Dopamine jailbreak.
Add Repository
Prysm can be downloaded for free through the Havoc Repository. To install the amazing multitasking tweak on your iPhone running iOS 11 to iOS 14, simply add the official Prysm Repository to your package manager. Prysm tweak supports only rootful jailbreaks.
To install Prysm tweak on your jailbroken iOS device, follow these steps:
Open the Sileo app from the Home Screen.
Tap on the Sources tab, then select Edit.
Add the following repository URL:


​​​​​​​https://havoc.app

Install Prysm package from the new repository.
To apply all changes, respiring your iPhone.
Once installed, Prysm tweak can be enabled from the Settings app.​​​​​​​
For added convenience, you can quickly add the repository to your preferred package managers (Cydia, Sileo, Installer, Zebra) by using the convenient quick links provided at the top of this page. With just one tap, you can easily add the repo and download Prysm.
What's new
Prysm for iOS 13 – iOS 14.8
Updated Prysm tweak to version 1.9.1.
Released the tweak as a free package.
Fixed Apple TV remote toggle not appearing.
Overall improvements and bug fixes.
Added support for iOS 14.
Post a comment