PowerSelector tweak for iOS

qbap |
iOS Apps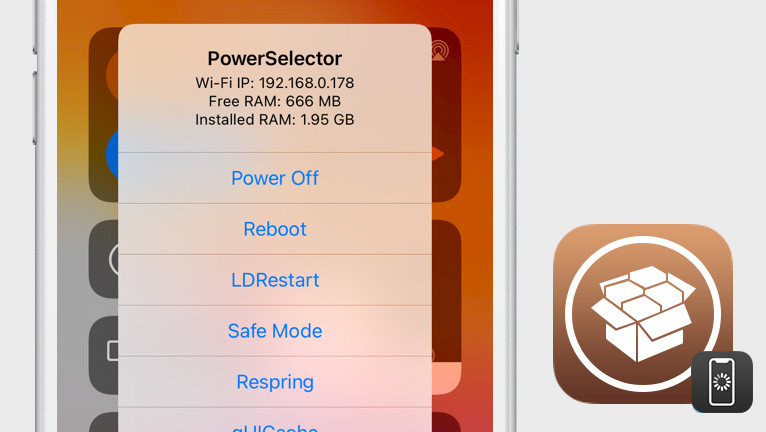 Operate iOS power with the PowerSelector tweak on any jailbroken iPhone or iPad. When you need a tool to execute respring, ldrestart, safe mode, uicache and other commands from Control Center PowerSelector is the right app for that. Supports iOS 11 - iOS 14.
Add PowerSelector Repo to your package manager.
What is PowerSelector?
PowerSelector is a jailbreak application that allows you to execute some useful functions including power off, reboot, ldrestart, safe mode, respring, uicache, and UserSpace Reboot. PowerSelector tweak adds also a widget for quick access to the Control Center.
After installing the tweak, you can access all functions by tapping on the app icon displayed on the home screen. I mentioned this because the PowerSelector app can be also accessible from ControlCenter's information section. Works on iOS 11, iOS 12, iOS 13, and iOS 14.
Once installed, the PowerSelector tweak adds a dedicated preference pane to the Settings app from where you can configure all options to your liking. Use this option to toggle control center settings, set power slider settings, and activate Use Apps.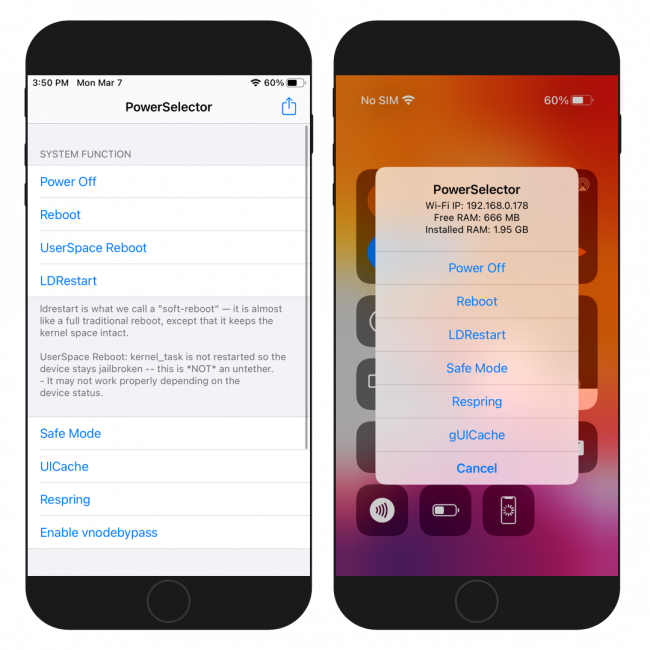 What's more, the PowerSelector Control Center module can display additional information including Wi-Fi IP, Global IP, uptime, and RAM information (free and installed). You have also full control over what kind of functions will be accessible through the module.
To respring the device tap and hold the Control Center module icon.
LDRestart is almost like a full traditional reboot, except that it keeps the kernel space intact. Use this option when you have issues with jailbreak apps or Cydia and you don't want to lose your jailbreak while restarting the device. This is one of the most useful functions besides Respring.
PowerSelector can be also used to enable and disable the vnodebypass tweak. This is a jailbreak detection bypass tool designed to hide jailbreak files for bypass detection.
Alternatively, use the UserSpace Reboot. It also keeps the kernel_task intact so the device stays jailbroken. After performing UserSpace Reboot, libhooker and OpenSSH may be disabled.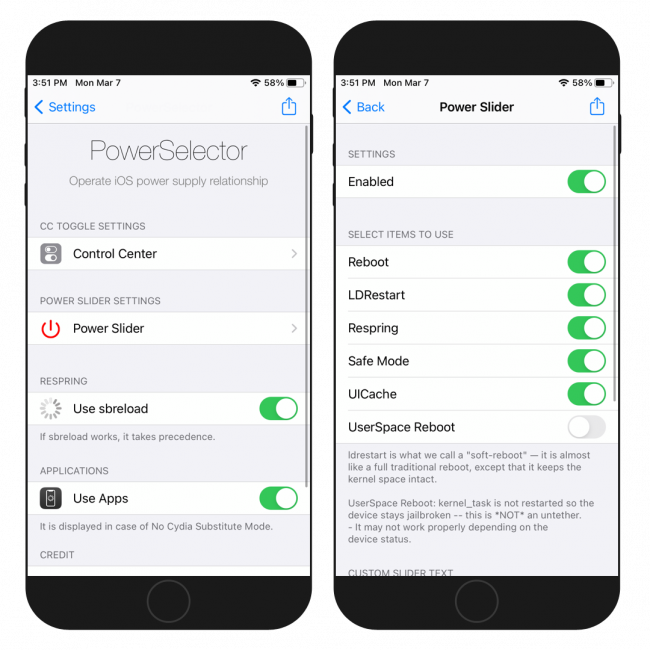 PowerSelector tweak works on checkra1n, unc0ver, and odysseyra1n jailbreaks. It may not work properly depending on the device status. Support for iOS 14 was added in the latest release.
Repository
PowerSelector tweak was released as a DEB package that can be easily installed through the private ichitaso repository. Add the PowerSelectorRepo to your list of Cydia Sources and install the tweak to quickly operate iOS power and restart the Springboard app.
Launch the Cydia app from the Home Screen.
Tap Sources → Edit → Add the https://cydia.ichitaso.com Repo URL.
Install the PowerSelector package from the new repository.
Restart the Springboard to apply all changes.
Access the tweak from Home Screen or the Settings app.
Alternatively, please use the quick links available at the top of this page to add the repository to your favorite package manager (Cydia, Sileo, Installer, Zebra) with just one tap.
What's new
Fixed: PowerSelector app crashes in Substitute v2.2.3.
Fixed: Can't disable vnodebypass in PowerSelector app.
Added UserSpace Reboot on unc0ver.
For iOS 13 and above, the dark mode of the app now works with the system.
Fixed an issue where uicache wouldn't work (in Coolstar's jailbreak).
Added enable libhooker & OpenSSH on odysseyra1n.
Fixed Sileo's extra annoyance.
PowerSlider Support for iOS 13.
Added Use Respring Only (Control Center).
Added dark mode in application.
Added compatibility with PreferenceOrganizer 2 and shuffle.
Post a comment