Popcorn Time iOS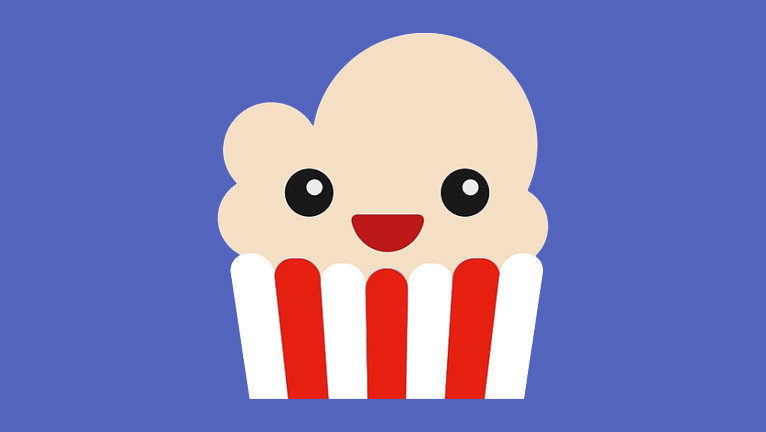 Popcorn Time for iOS 15 – iOS 16 was one of the most popular apps to stream and watch on the go your favorite TV shows and movies on your iPhone screen. Now after years, it's back with a huge collection of content and the same old features that you love.
Install Popcorn Time for iOS
With TrollStore, you can permanently sign Popcorn Time on iOS, eliminating the hassle of signing in every 7 days. In contrast, methods like AltStore or Sideloady require you to re-sign the IPA again. However, you can download Popcorn Time IPA and sign it with a different method.
What is Popcorn Time for iOS?
Popcorn Time for iOS is a popular app that gives iPhone users the freedom to stream movies and TV shows from the BitTorrent network without having to download the whole file. Recently, in 2023 the project was revived and is already gaining traction among iOS 15 - iOS 16 users.
After installing Popcorn Time IPA on your iOS device (iOS 13 – iOS 16), you will have access to an extensive library of the best and latest movies and TV shows – all for free! Some features may be missing, but these are just early builds that will be improved over time. If you did use Popcorn Time for iOS in the past, you will quickly become familiar with the app's interface.
Within the main interface of the Popcorn Time app for iOS, you can easily access to the list of available movies and shows for streaming. Given the vast selection of movies, the app offers various filters, categories, and a search feature to help you find your desired video with ease.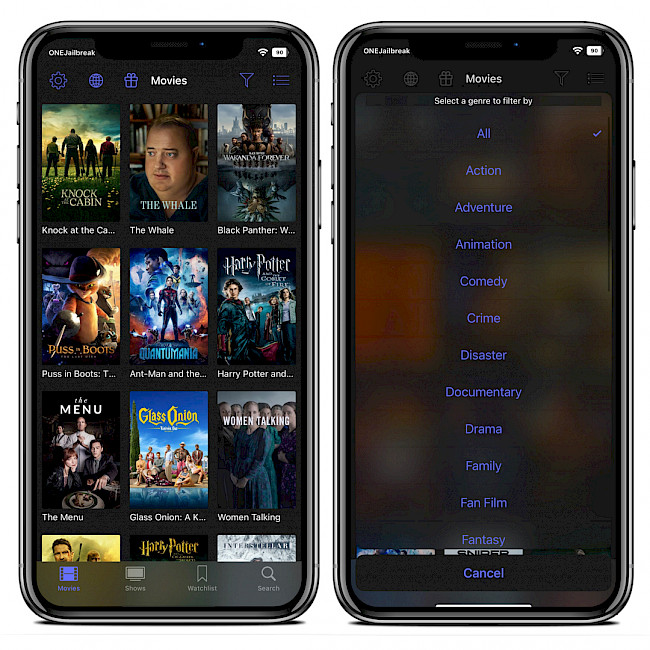 Popcorn Time iOS
In the Popcorn Time for iOS Settings, you can access various features such as joining the Discord server, enabling auto quality for movie streaming, clearing cache upon exit, or toggling streaming on cellular networks. Additionally, Popcorn Time Player offers support for automatically downloading subtitles, which can be customized with options to change the font type, size, color, style, and encoding. This feature is especially helpful for non-native speakers.
In Popcorn Time for iOS 15 - iOS 16, movies and TV shows are played directly from Torrent files without requiring the entire file to be downloaded. These files are available in various quality options, including 720p, 1080p, and 2160p. The download speed is dependent on the number of available seeds, with higher seed counts resulting in faster download speeds.
With Popcorn Time for iOS, you can quickly discover trending, popular, top-rated, and recently added movies and TV shows using the available filters. These filters help you to find new content with ease. You can also add your favorite shows and movies to a watchlist, making them easy to access. Popcorn Time app supports both jailbroken and non-jailbroken devices.
It's important to note that by using the Popcorn Time iOS, users are accessing copyrighted materials. It is critical to keep in mind that using such apps may be illegal in certain countries, and it is recommended to use legal streaming services to access movies.
Popcorn Time for iOS
Currently, the built-in video player in Popcorn Time for iOS offers several basic features, including the ability to scrub through the timeline, adjust the volume, pause and resume video playback, view the current timestamp, scale the video to fit the entire screen, and cast content to AirPlay-enabled devices. The latest features may require screen mirroring to be enabled.
On top of that, Popcorn Time IPA for iOS also offers integration with the Trakt service, which provides many benefits. With Trakt, you can track what you're watching, add content to lists, discover new shows and movies, find out where to watch them, see what's up next, get recommendations, and much more. Popcorn Time displays ads, but they are not interrupting.
Popcorn Time was released as a free and open-source streaming app that allows users to watch movies and TV shows via BitTorrent. It was first released in 2014 and quickly gained popularity due to its user-friendly interface, large library of content, and the ability to stream high-quality videos without having to wait for them to fully download.
The app was originally created by a group of developers from Argentina and became widely known as the "Netflix for Pirates." Despite its legal gray area, the app garnered a massive user base before it was eventually shut down due to legal pressure from the entertainment industry.
Popcorn Time for iOS is a version of the app that's specifically designed to work on iPhones. It offers users a fantastic alternative to other movie streaming apps like MovieBoxPro or ZiniTevi, both of which are compatible with iOS 13 through iOS 16 and offer similar features.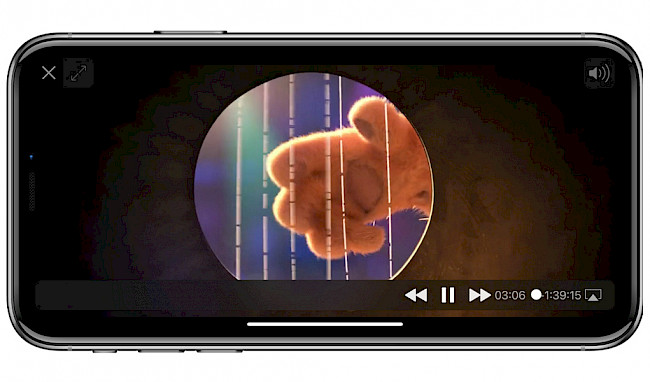 Download Popcorn Time IPA
Popcorn Time for iOS was released as an IPA package that can be sideloaded onto your iPhone using an IPA installer like Sideloadly (available for Windows and macOS) or SideStore the on-device IPA signing tool for iOS 12 – iOS 16. Both methods allow you to install Popcorn Time IPA.
To install Popcorn Time IPA on iOS device using Sideloadly, follow these steps:
Download Popcorn Time IPA from the link below.

Run Sideloadly application on your PC or Mac.
Connect your iPhone or iPad to the computer via USB.
Load the IPA file into the app to begin the installation process.
Enter your Apple ID to sign the Popcorn Time IPA file.
Click the "Start" button to begin sideloading the IPA file onto your device.
When prompted, enter the password for your Apple ID.
Open the Settings app from the Home Screen.
Navigate to "General" → "VPN & Device Management".
Click on the developer app associated with your email.
Tap "Trust" to allow the app to run.
Note: If you don't have a developer certificate, you can use your free Apple account to sign and install Popcorn Time IPA and use it for up to 7 days before it needs to be re-signed. What's more, you can sideload the IPA also with TrollStore on iOS 14 – iOS 15.4.1.
What's new
Updated Popcorn Time for iOS to version 1.1.
Overall improvements and bug fixes.
Sponsored links
Post a comment