Pocket Translator tweak is a lightweight translator for iOS

qbap |
Cydia Tweaks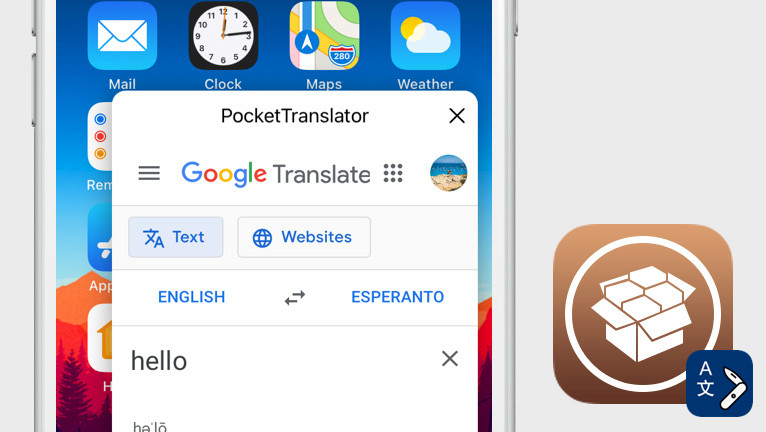 Having the ability to translate between two different languages can be an invaluable asset, especially when you will install a jailbreak tweak like Pocket Translator. Quick access to the most popular translation engines from a floating window.
Add Pocket Translator Repo to your package manager.
What is Pocket Translator?
Pocket Translator is a jailbreak tweak that adds a CC module to the Control Center with quick access to a lightweight mobile translator floating window. The tweak comes with support for multiple translation engines: Google Translate, Bing Translate, DeepL, and Baidu Translate.
Once installed, the Pocket Translator tweak adds a new preference pane to the Settings app, from where you can enable the tweak and select the translation engine you would like to use. Pocket Translator was released as a free tweak, and it's compatible with iOS 14.0 to iOS 15.0.
To run the tweak, it's required to enable the pockettranslatorcc module in Control Center and add it to included controls. A new button will be added to CC from where you can quickly lunch the Pocket Translator window that can be freely moved on your device screen.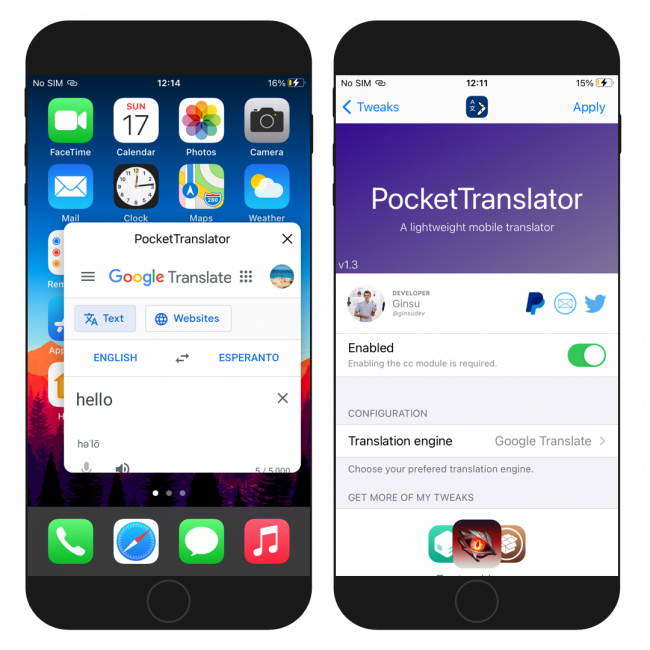 Pocket Translator floats on top of the screen and when you don't want to use the tweak, simply tap on the x button to terminate the window. It's a great tweak that makes mobile language translation more convenient on your jailbroken iPhone or iPad.
Depending on the translation engine you choose, it may be required to connect with your confidential login and password for accessing the translation service.
Translate text or entire websites between languages like Afrikaans, English, Zulu, German, Polish, Russian, Italian, Ukrainian, Esperanto, Irish, Greek, Latin, Chinese, and many others.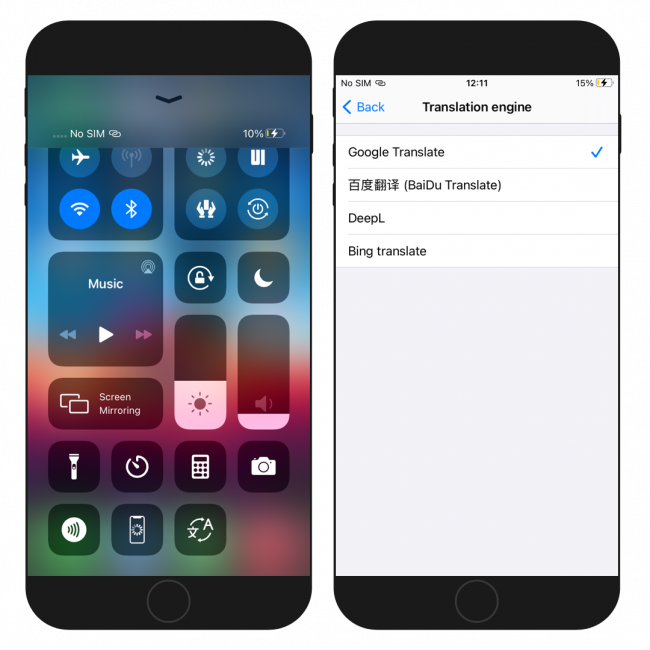 Repository
Ginsudev Repo is the right place to find the latest version of Pocket Translator. To install the free tweak, add on your jailbroken device the official Pocket Translator repository to the list of Cydia Sources. The tweak works on iPhones and iPads running iOS 14 – iOS 15.
Open the Cydia app from the Home Screen.
Add the https://ginsudev.github.io/repo/ Repo URL to Sources → Edit → Add.
Install Pocket Translator tweak from Ginsudev Repo.
Respring the device to finish the installation.
Configure the tweak through the Settings app.
Add the CC module to Control Center.
Alternatively, please use the quick links available at the top of this page to add the repository to your favorite package manager (Cydia, Sileo, Installer, Zebra) with just one click.
What's new
Updated Pocket Translator to version 1.3.0.
Better iPad support.
Fix some landscape and rotation issues.
Added support for Bing Translator.
Post a comment