Palen1x ISO: Palera1n Jailbreak LiveCD for Windows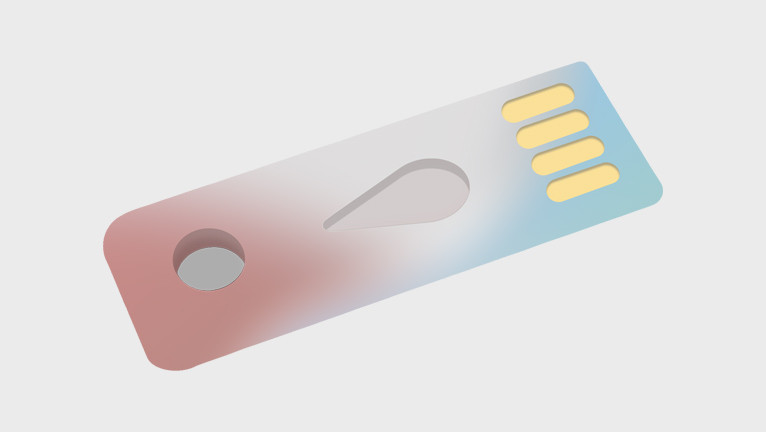 Palera1n Jailbreak for iOS 15 to iOS 16 is not available for Windows PC, which has led to the development of a new project called Palen1x. The goal of Palen1x is to enable Windows users to access Palera1n directly from their PCs. Palen1x is based on the latest Palera1n-c rewrite, ensuring users to access the most up-to-date version of jailbreak.
Download Palen1x ISO
What is Palen1x?
Palen1x is a compact Linux distribution of approximately 25 MB, designed for jailbreaking iOS devices using the new palera1n-c jailbreak. This jailbreak provides enhanced stability and a superior jailbreaking experience with Palera1n Jailbreak for iOS 15 to iOS 16 on A8 – A11.
This Alpine-based distro allows you to install both rootful and rootless Palera1n-c on your iPhone or iPad. Compared to the Palera1n Jailbreak, Palera1n-c offers several advantages, including a much smaller size (7 MB) and support for passcodes on A10(X) devices. Additionally, it features automatic execution of tweaks, similar to Checkra1n, eliminating the need to manually press "Do All" from the loader. Sileo Nightly is used as the default package manager.
It's an ideal solution for PC users who wish to use Palera1n for Windows to jailbreak iPhones ranging from the 5s to the X, running iOS 15 – iOS 16.6. Palen1x is a light distribution that can be installed on a USB stick. It contains only the necessary libraries to run Palera1n, but it still does not work on iOS 16.4. Attempting to do so will cause an infinite loop trying to mount the rootfs. Palen1x Windows was never released, but this tool you can use on a PC.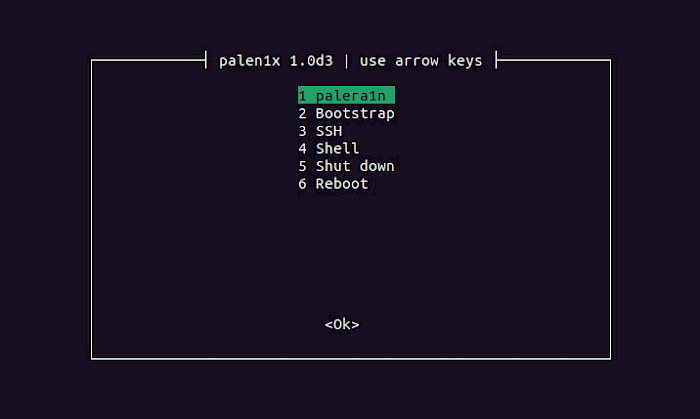 The updated loader supports both rootless and rootful jailbreaks and will automatically switch depending on your choice. It will also no longer display the install button if a jailbreak is already installed. Another advantage of Palera1n-c is that it does not require an internet connection after the initial download, and there is no need to create a ramdisk or install gaster or pyimg4.
As a LiveCD, Palen1x Windows works seamlessly with any version of Windows, regardless of whether you are using Windows XP, Windows 7, Windows 8.1, Windows 10, or even the latest Windows 11. The specific edition of Windows you have installed is not a factor.
Info: Palera1n-c will never work in Oracle VirtualBox, VMware Workstation or any other virtual machine that doesn't support a PCI pass-through.
The ISO file of Palen1x includes the latest release of Palera1n-c, ensuring that you have access to the latest jailbreaking technology. It installs Substitute, an alternative to the commonly used platform for jailbreak tweaks, Cydia Substrate. Substitute is known for its stability, compatibility, and improved performance, making it a sought-after solution for jailbreak enthusiasts.
The latest version of Palera1n-C includes several significant improvements. Firstly, it now offers support for iOS 16.4 – iOS 16.6, which expands the range of devices that can be jailbroken. Additionally, the jailbreak now includes BindFS 16.0+ support, a fully rewritten loader with UIKit that is now 90% smaller in size, and generates randomized string in the procursus folder.
Palen1x is an open source project that was developed and released by the Palera1n Team under the MIT license. The source code is publicly available through the team's GitHub repository, and the entire project was written in shell language. This allows users to access, modify, and contribute to the development of Palen1x, making it a truly community-driven effort.
Good alternative for Palen1x
In recent developments, a set of new Palera1n tools has emerged specifically tailored for Windows users. These tools empower individuals to effortlessly jailbreak their devices using a native PC application, eliminating the need for Live CDs or virtualization.
Palera1n Windows presents a compelling alternative to Palen1x, featuring compatibility with iOS 15 and iOS 16 devices that support the checkm8 exploit. This Windows-based jailbreak solution offers a user experience akin to that of checkra1n, boasting remarkable ease of use.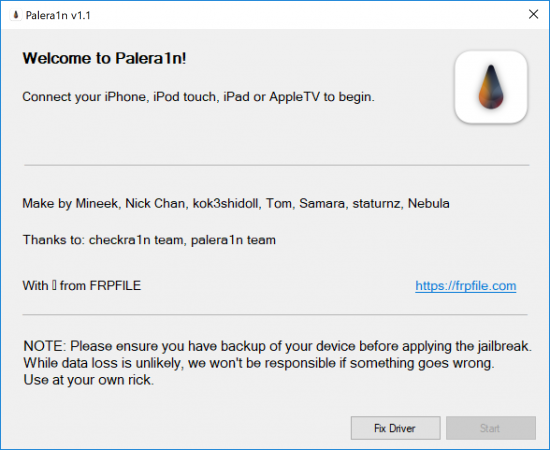 An additional choice that comes with a pre-installed Palera1n for Windows is WinRa1n. This jailbreaking tool, rooted in checkra1n's framework, empowers Windows users to harness the checkm8 exploit effortlessly and seamlessly install Palera1n Loader onto their jailbroken devices.
Once this step is completed, users gain access to the capability of installing bootstrap along with Sileo or Zebra, expanding their device's functionality for tweak support. WinRa1n supports A8-A11 devices running iOS 12 – iOS 16. It's also a great alternative for Palen1x Jailbreak.
Supported devices
All A8-A11 systems on a chip (SoC) are supported by jailbreak. Below, you can find the actual list of compatible Palera1n-C Jailbreak iPhones and iPads. The jailbreak was tested to run and work without issues on iPhone X (GSM),iPhone 8, iPhone 7, and iPhone 6s running iOS 16.
| | |
| --- | --- |
| SoC | Device |
| A8X | iPad Air 2nd gen |
| A8 | iPad Mini 4th gen |
| A9X | iPad Pro (12.9-inch) 1st gen |
| A10X | iPad Pro (12.9-inch) 2nd gen, iPad Pro (10.5-inch) 1st gen |
| A9 | iPhone 6S, iPhone 6S Plus, iPhone SE, iPad 5th gen |
| A10 | iPhone 7 and iPhone 7 Plus, iPad 6th gen, iPad 7th gen |
| A11 | iPhone 8, iPhone 8 Plus, and iPhone X |
Prepare the USB drive
As Palen1x is made available in the form of an ISO file, you can easily burn it onto a CD/DVD. However, the preferred method is to flash the OS image onto a USB drive and run Palera1n from it. This approach offers greater versatility and allows for a more efficient jailbreaking experience for Windows users requiring Palera1n Windows to jailbreak their devices from a PC.
To run Palen1x on Windows PC, follow these simple steps:
Download and install Etcher on your computer.
Obtain the Palen1x ISO file (the link can be found at the top of the page).
Use Etcher to flash the ISO to your USB drive.
Restart your computer and enter your BIOS's boot menu.
Select the prepared USB drive as the boot device.
Once the Palen1x OS has loaded, run Palera1n from the menu.
Follow the on-screen instructions to jailbreak your iPhone.
Tip: On A11, you must disable your passcode while in the jailbroken state (on iOS 16, you need to reset your device before proceeding with palera1n-c on A11).
Migrate from palera1n.sh
Before attempting the new jailbreak, it is important to note that if you have previously used a Palera1n tethered jailbreak, you will need to restore the rootfs before proceeding.
Go into your palera1n folder, or clone a new one if needed.
Execute the following command to restore the rootfs.


./palera1n.sh --tweaks <your iOS version> --restorerootfs

Make sure usbmuxd is restarted​.


sudo systemctl stop usbmuxd
sudo usbmuxd -f -p

Run Palen1x LiveCD and follow the on-screen instructions.
What's new
Updated Palen1x to version 1.1.0.
Based on palera1n-c 2.0.0 Beta 7.
Added support for iOS 16.4 – iOS 16.6.
Added -f to debug info, minor overlook.
bindFS option now available in palera1n options.
Fully switch to an Alpine-based distribution for smaller ISO size.
Update bootstrap-rootful and fix bootstrap scripts.
Update Palera1n menu.
Post a comment