OneSettings brings Samsung's OneUI Settings app to iOS

qbap |
Cydia Tweaks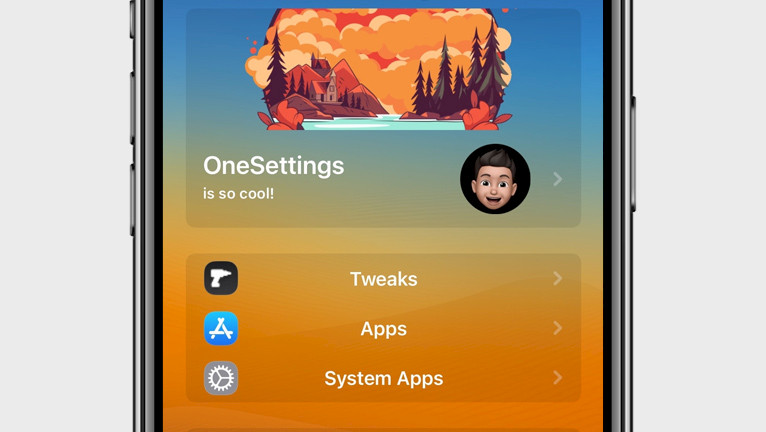 When you jailbreak your iPhone, it is highly likely that you will install various tweaks. Once installed, you'll undoubtedly find yourself accessing the Settings app to configure your preferred tweaks. The OneSettings tweak is designed specifically to give the Settings app a contemporary and rejuvenated appearance on iOS 14 – iOS 16.5.
Add OneSettings Repo to your package manager and install the tweak:
What is OneSettings?
OneSettings is an exquisite jailbreak tweak that transforms the aesthetics of the Settings app on iOS, taking inspiration from the sleek interface of Samsung's OneUI Settings app. This tweak goes beyond mere visual enhancements and also provides an array of customization options for the Settings app. With OneSettings, you can personalize the settings background, select custom colors, and even customize the appearance of table cells, among many other features.
Once the installation process of the OneSettings tweak is complete, a dedicated preference pane is seamlessly added to the Settings app. From this conveniently located pane, you gain full control over the tweak, allowing you to enable it and fine-tune every aspect according to your preferences. The default Settings app look is amazing, but you can tune it further.
To simplify customization, Nightwind, the brilliant developer behind this tweak, has thoughtfully organized preference sections, including colors, offset, title, table cells, account cell, and miscellaneous. These sections make it effortless to personalize your settings with ease.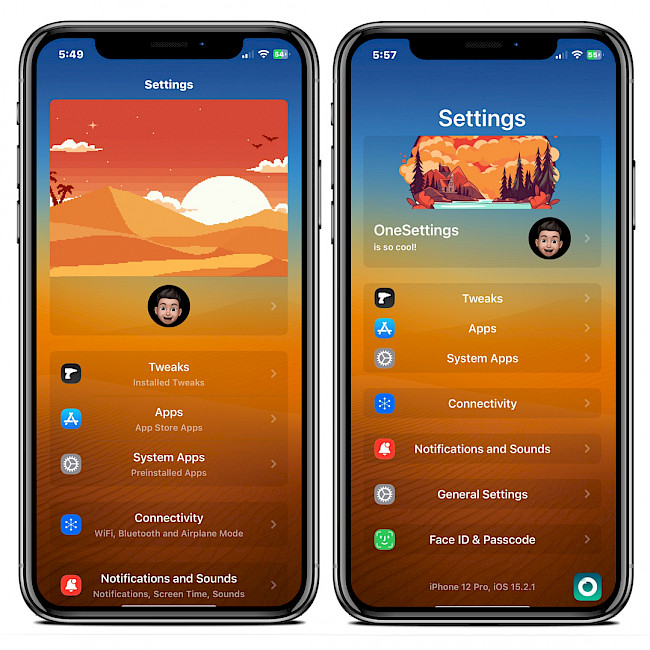 OneSettings tweak stands out as one of the most sophisticated customization tweaks available for the Settings app. It empowers you with unparalleled control over the app's appearance. With OneSettings, you can effortlessly set a custom background image for both Dark Mode and Light Mode, along with the option to apply a stylish blur effect to the background image.
With this powerful tweak, you have the flexibility to customize the background color, navbar colors for both dark and light modes, table view colors, account button colors, search button colors, border color, border width, title color, top and bottom label colors, switch on and off colors, detail label color, accessory arrow color, scrollbar color, searchbar color, and even the color of the navbar menu. These color features give you the ability to design Settings app.
Additionally, OneSettings provides the ability to customize the text within the Settings app. You have the freedom to modify settings such as the center alignment of the settings title, control the visibility of the settings title, adjust the title value, and even choose whether to make the settings title appear bold or unbold. Furthermore, you can also opt for a smaller settings title, allowing for a more compact and streamlined visual experience.
OneSettings tweak offers extensive customization options for the Account cell. You can make use of features like alternative account icons, stock iCloud cell customization, the ability to hide the search icon, account icon, or profile picture. Additionally, you can even pick to display an iCloud profile picture and adjust the account image position as per your preference. Furthermore, the tweak enables you to change custom names associated with the Account cell.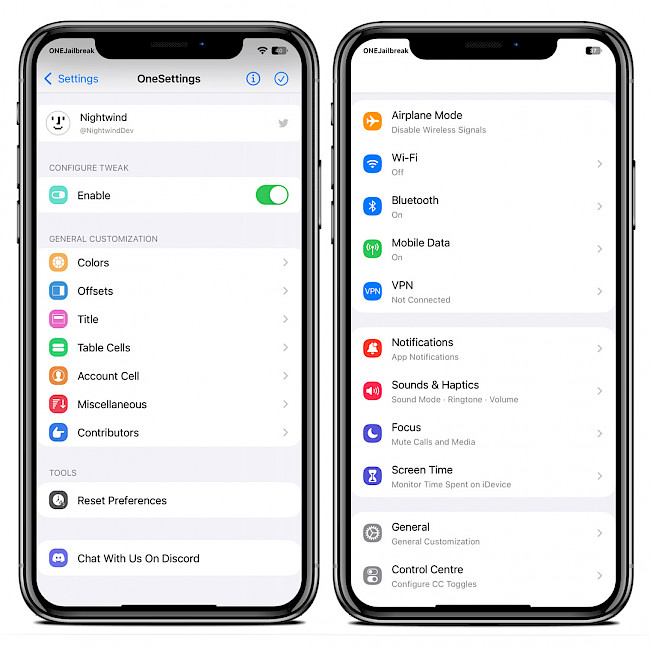 In addition to the previously mentioned features, OneSettings tweak for iOS 14 – iOS 16 offers an array of customization options for table cells, allowing you to fine-tune their appearance and functionality. You have the ability to add or remove table cells, organize them into groups such as Connectivity, Notifications & Sounds, General, Tweaks, Apps, and System Apps. Moreover, you can hide specific cells that are not relevant to you.
Adjustments can be made to table cell height, table view insets, and even the corner radius of the table view itself. The tweak also provides options to customize icons, including the choice to display circular icons, and the ability to modify table cell labels, spacing, and separators. Additionally, you can configure arrow accessory visibility, hide switches, disable detail labels, highlight table cells, show IP for Wi-Fi connections, and even display the amount of storage.
Last but certainly not least, OneSettings encompasses the Miscellaneous section, which offers a diverse range of additional customization options. Within this section, you can fine-tune settings such as manual slider adjustment, adjust the appearance of banners by customizing the banner spacer and height, center labels in submenus for improved visual alignment, and even spoof the storage amount to reflect a desired value.
Furthermore, you have the ability to hide the search bar and its background, adjust the search bar's corner radius, display a jailbreak icon, show device and iOS information, hide the update badge, set a default tweak icon for tweaks that lack one, hide the scrollbar, configure the nav bar menu, and enable confirmation popups for menu actions.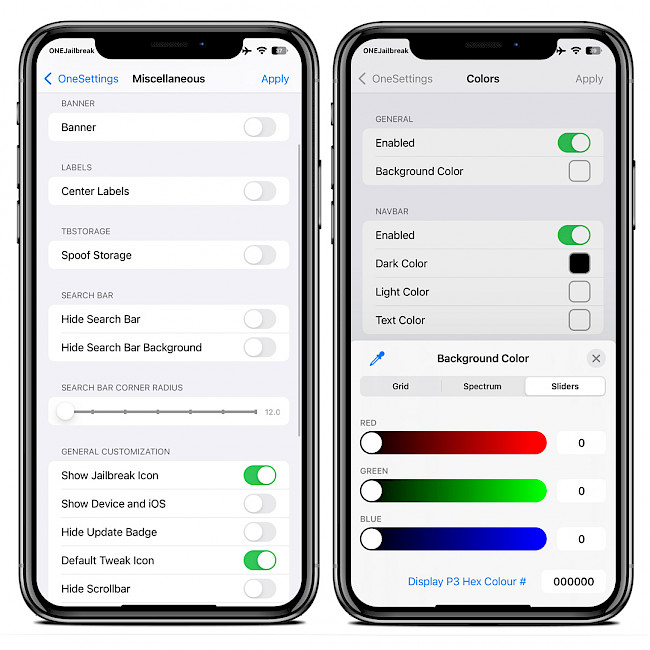 Additionally, OneSettings can even perform about page spoofing by modifying software version, model name, model number, and serial number information. battery spoofing capabilities, allowing you to modify battery-related details. This comprehensive suite of miscellaneous options empowers you with the ultimate level of control over the finer aspects of Settings app.
Add Repository
OneSettings 2 tweak was released as a paid package $1.49 available for purchase from Chariz Repository. Add the official OneSettings 2 Repo to your package manager and install the Settings app customization tweak for iOS 14 – iOS 16. OneSettings 2 supports rootless jailbreaks running iOS 15 including Dopamine, Fugu15 Max Beta, Palera1n, and XinaA15.
To install OneSettings 2 on your jailbroken device, follow those steps:
Open the Sileo app from the Home Screen.
Tap on the Sources tab, then select Edit button.
Add the following repository URL: https://repo.chariz.com/
Search for OneSettings 2 rootless and install the tweak.
Restart the Springboard to apply all changes.
OneSettings 2 tweak can be activated from Settings app.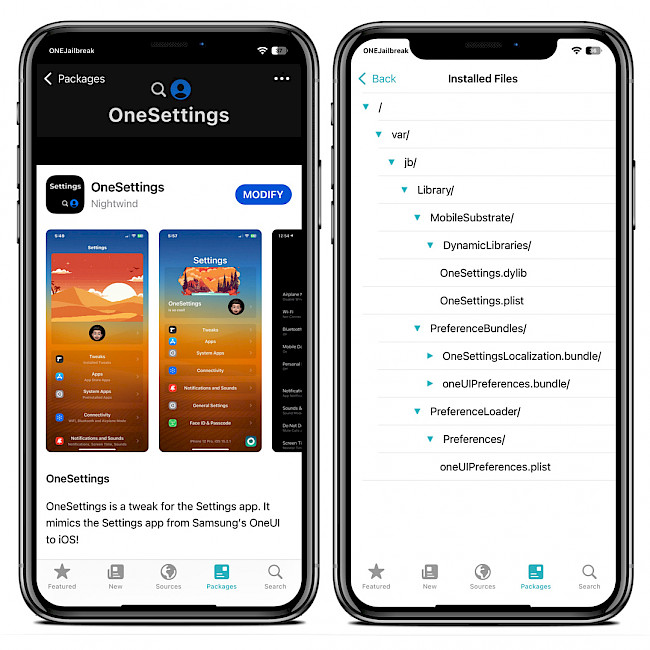 For added convenience, you can quickly add the repo to your preferred package managers (Cydia, Sileo, Installer, Zebra) by using the convenient quick links provided at the top of this page. With just one click, you can easily add the repo and download OneSettings for iOS 15.
What's new
Updated OneSettings to version 2.0.2.
Fixed a crash when the Settings app was opened.
Adapted towards rootless devices on iOS 15.
General bug fixes geared towards the stability of the tweak.
Manual Slider Adjustment.
Removed iOS 13 Support (use version 1.3).
Post a comment