NoMoreAppBar

qbap |
Cydia Tweaks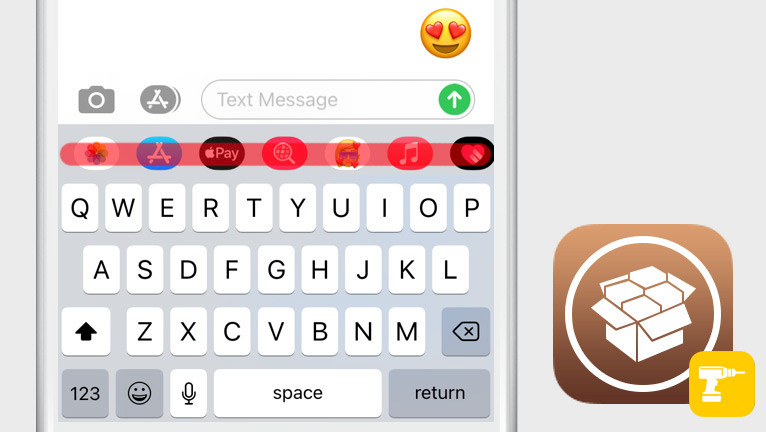 On iOS 11 and iOS 12 there is no simple solution to hide the app bar displaying quick access to some features provided by installed apps. NoMoreAppBar fixes this issue by removing completely the app bar from the iMessage app.
Add BigBoss Repository to your package manager.
What is NoMoreAppBar?
NoMoreAppBar tweak is a small jailbreak package that hides the app bar in Messages app on iOS 11 and iOS 12. Reed Haffner created this tweak to remove the annoying app bar from the bottom of the Messages app. Install NoMoreAppBar from the official Cydia Repository.
With a jailbroken device it's easy to remove the App Drawer in the Messages app on iOS 12 or hide the App Bar from iMessage app on iOS 11. After installing the tweak, NoMoreAppBar immediately hides the App Drawer / App Bar in the Messages app.
There are no options to configure. To disable the tweak you must uninstall it from Cydia. Even though the tweak was not updated for a long time it still works with the latest iOS 14.
NoMoreAppBar is compatible with the latest version of unc0ver jailbreak. It requires the MobileSubstrate framework that allows developers to create tweaks and apps.
Repository
NoMoreAppBar tweak is a free package released through the BigBoss repository. Add the official NoMoreAppBar Repo to your list of Cydia Sources and remove the annoying App Drawer on iOS 11 and iOS 12. The tweak is compatible also with newer iOS releases.
Launch Cydia from the home screen.
Tap Sources → Edit → Add the http://apt.thebigboss.org/ Repo URL.
Search for NoMoreAppBar and install the package.
Restart the Springboard to apply all changes.
This tweak doesn't offer any options to configure.
Alternatively, please use the quick links available at the top of this page to add the repository to your favorite package manager (Cydia, Sileo, Installer, Zebra) with just one tap.
Post a comment