MiniXS

qbap |
Cydia Tweaks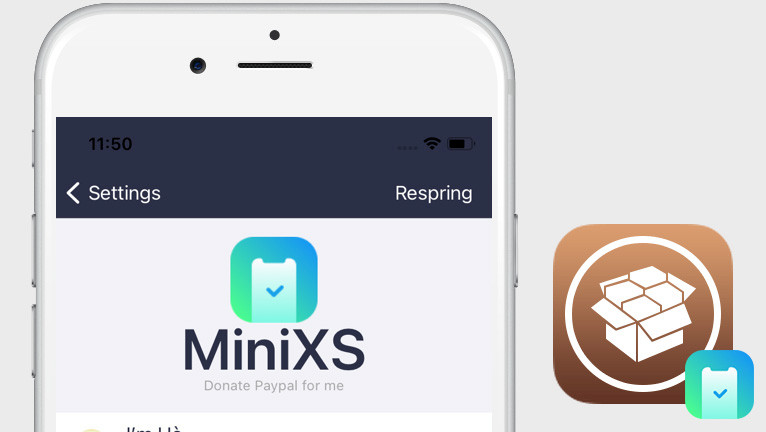 iPhone XS comes with a brand new status bar, new bigger keyboard, and access to flashing and camera buttons from the Lock Screen. MiniXS tweak adds those features and more to older devices running a jailbreak. Works on iOS 11 up to iOS 14.
Add MiniXS Repo to your package manager.
What is MiniXS?
MiniXS is a jailbreak tweak that was created to bring iPhone XS features to OLD devices but it offers much more. Use this tweak to make your iPhone look more like iPhone X. Supports iPhone, iPad, and iPod touch running iOS 11.0 up to 14.8.1. Jailbreak required!
After installing MiniXS tweak on your iPhone a new preference pane is added to the Settings app. From here you can enable or disable the tweak globally and apply all settings. The developer included also a respring button to quickly apply all changes.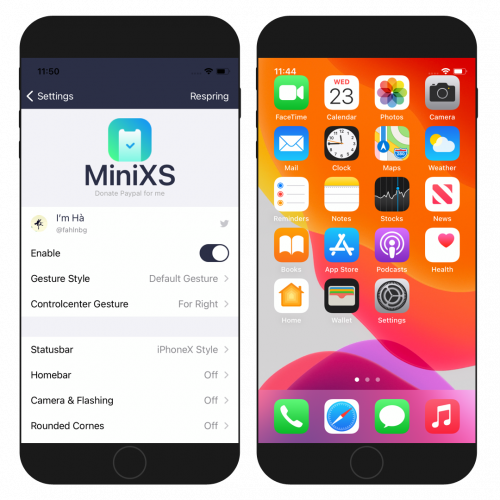 From MiniXS Settings pane you can enable the iPhone XS status bar that displays only the time, Wi-Fi connection, and battery level. The icons are a bit too high but with tweaks like Boxy, Cuboid, or HomePlus you can modify the Hom Screen layout for a better fit.
There is also an option to change the status bar to default or iPad look (displays time, day & month, wifi status, and battery level). MiniXS can display the Homebar on Lockscreen, Homescreen, or both. You can add camera and flash icons on the lock screen for quick access.
The tweak works with all modern jailbreaks running iOS 11, iOS 12, iOS 13, and iOS 14.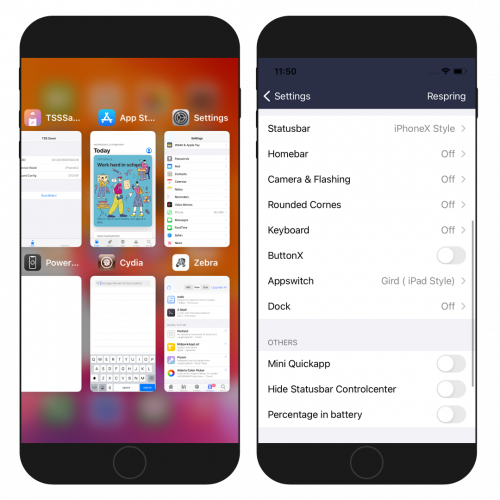 MiniXS tweak can as well change the default keyboard to iPhone X style or Inset with Home bar, and set rounded corners. What's more, enable the iPad Style grid switcher on your iPhone to view all open apps in a more ergonomic way on your device.
The last but not least feature that can be enabled with the MiniXS tweak is the dock style. Choose between the default, iPhone X, and iPad styles. Last mentioned displays a floating dock with access to pinned apps and additional three recently opened apps.
Besides, you can hide statusbar controlcenter, show the percentage in the battery, and activate Mini Quickapp. It's really nice to have this tweak installed on your device.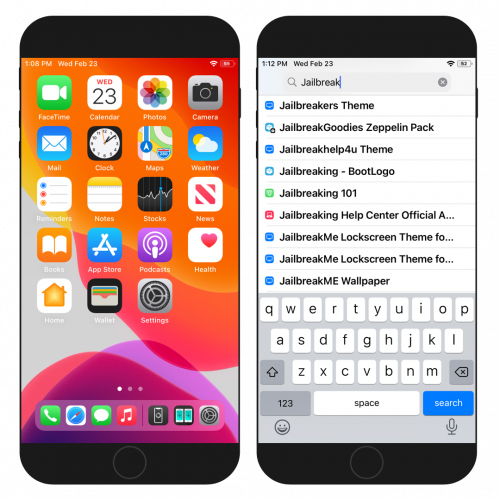 If for some reason the settings are not applied by SpringBoard respring, try again. Respring on iOS 14 using the button from the tweak is required twice.
Repository
MiniXS tweak was released for free through the BigBoss repository. Add the MiniXS Repository to your list of Cydia Sources and simulate iPhone X features on iOS 11 - iOS 14.
Open Cydia app for the Home Screen.
Tap Sources → Edit → Add the http://apt.thebigboss.org/ Repo URL.
Search and install the MiniXS package from the new repo.
Restart the Springboard to save all changes.
Configure the tweak from the preference pane in the Settings app.
Alternatively, please use the quick links available at the top of this page to add the repository to your favorite package manager (Cydia, Sileo, Installer, Zebra) with just one tap.
What's new
Bugfix release.
Added support for iOS 13 / iOS 14.
Post a comment