MilkyWay 4 tweak enables multitasking on iOS 15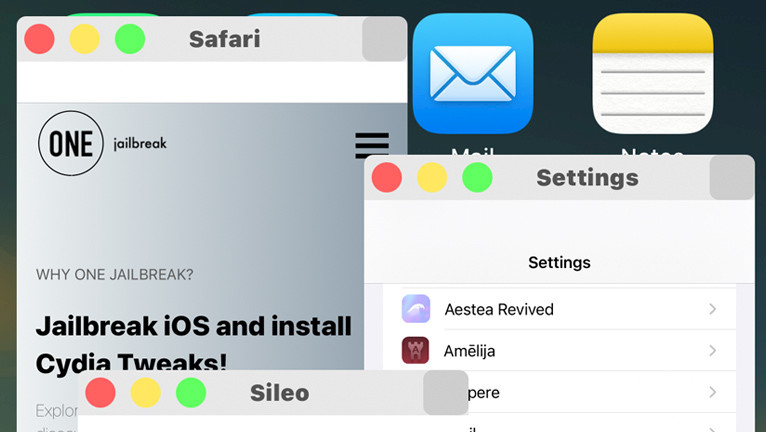 Among the most sought-after features on the iPhone is the ability to multitask and seamlessly manage multiple apps. Fortunately, with the power of jailbreaking, you can already indulge in this desired functionality by installing the groundbreaking MilkyWay 4 tweak. Specifically designed to support Dopamine on iOS 15 – iOS 15.4.1.
Add MilkyWay 4 Repo to your package manager and install the tweak:
What is MilkyWay 4?
MilkyWay 4 stands as the latest breakthrough in the world of jailbreak tweaks, revolutionizing multitasking capabilities on rootless jailbreaks like Fugu15 and Dopamine. With this exceptional tweak, you gain the power to effortlessly launch apps in windows, enabling seamless multitasking and empowering you to simultaneously view apps items on your iPhone screen.
Once you've successfully installed MilkyWay 4, a dedicated preference pane will be seamlessly integrated into your Settings app. This convenient addition grants you full control over the tweak's functionality. Within this pane, you can effortlessly enable the tweak and unlock a brand-new option in the 3D Touch menu, aptly named "Launch As Window."
Furthermore, you'll find the option to activate the visually pleasing dark mode, as well as the ability to enable scaling mode for specific apps of your choosing. It doesn't stop there—apps can be opened in window mode effortlessly by employing a simple tap and hold gesture within the App Switcher. As for now, MilkyWay 4 was released for rootless jailbreak only.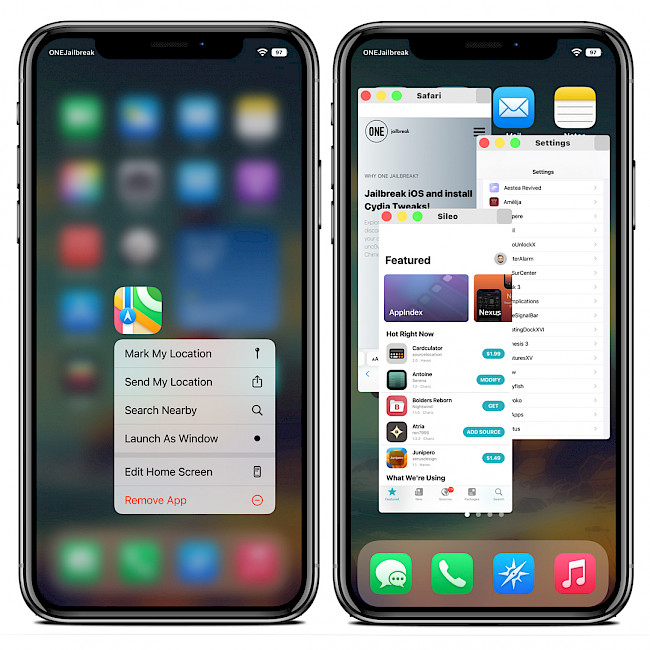 In essence, MilkyWay 4 tweak transcends the boundaries of conventional iOS functionality by introducing a remarkable free-floating multi-window capability reminiscent of macOS. With its sleek and sophisticated design, this tweak seamlessly brings the experience of a modern desktop operating system to your jailbroken iPhone running Dopamine on iOS 15.
Once you've taken the necessary steps, a window will gracefully materialize on your Home Screen, enabling multitasking on iOS 15. Feel free to open multiple windows, effortlessly working alongside the initial one. An app window can be closed, minimized, maximized, and also resized.
MilkyWay 4 not only preserves the exceptional features present in the previous MilkyWay 2 release for older jailbreaks but also brings support for latest jailbreaks. While staying true to its roots, the tweak exudes a sense of visual brilliance that remains as stunning as ever.
Alternatively, you can try Zetsu rootless package that is also compatible with Fugu15 jailbreaks running on iOS 15 – iOS 15.4.1. Zetsu is a jailbreak tweak that enhances an iPhone's multitasking capabilities, enabling you to concurrently operate multiple apps from the Home Screen.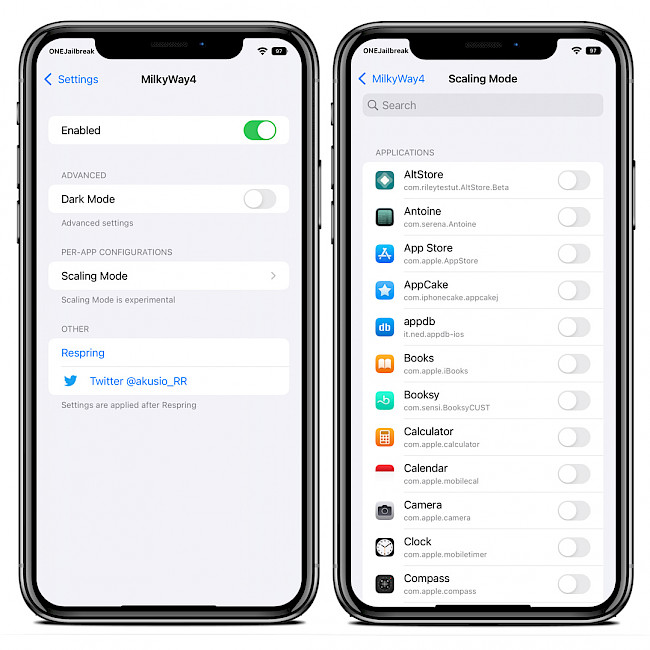 Add Repository
MilkyWay 4 was released as a free package available for download through the private Akusio Repository. Add MilkyWay 4 Repo to your package manager and install the latest version of multitasking tweak for iOS 15 rootless jailbreaks. The most recent release of MilkyWay4 is compatible with Fugu15 Max Beta, Dopamine, Palera1n, and XinaA15 jailbreaks.
To install MilkyWay4 on your jailbroken device, follow those steps:
Open the Sileo app from the Home Screen.
Tap on the Sources tab, then select Edit button.
Add the following repository URL: https://akusio.github.io/
Search for MilkyWay4 rootless and install the tweak.
Restart the Springboard to apply all changes.
MilkyWay4 tweak can be activated from Settings app.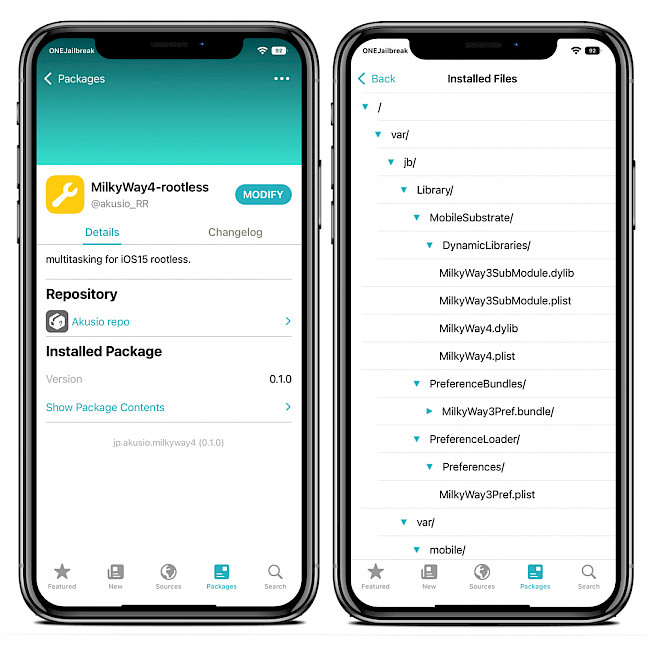 For added convenience, you can quickly add the repo to your preferred package managers (Cydia, Sileo, Installer, Zebra) by using the convenient quick links provided at the top of this page. With just one click, you can easily add the repo and download MilkyWay4 for iOS 15.
What's new
Initial release of MilkyWay 4 0.1.1.
Added "Force resize and rotate" option.
Some screen rotation issues will be resolved.
Added support for rootless jailbreaks.
Sponsored links
Post a comment