MagicCFG Reloaded 2.0 and 2.1 with purple mode boot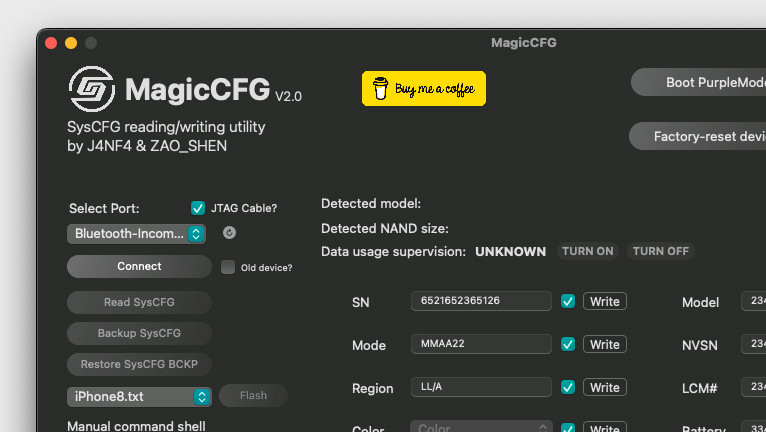 Editing NAND data on iPhone, iPad, or iPod was never easier thanks to the open source MagicCFG Reloaded software for macOS. Now you can change iPhone serial number, or restore the device to factory iOS without the need to upgrade with only a small accessories like DCSD cable. Download MagicCFG Reloaded 2.0 & 2.1.
Download MagicCFG Reloaded for Windows:
What is MagicCFG Reloaded?
MagicCFG Reloaded stands as the leading SysCFG Writing Utility, renowned for its exceptional capabilities in effortlessly modifying NAND data on a wide range of checmk8 compatible iOS devices, including iPhone, iPad, and iPod. Its unparalleled popularity among users attests to its reliability. MagicCFG Reloaded was developed by Jan Fabel as open source project.
One of the standout features of MagicCFG Reloaded 2.0 is its ability to initiate purple mode on your iOS device, enabling access to the highly coveted diagnostic mode. This unique functionality sets it apart from other similar tools, providing users with option to read, write and restore important configuration data on iDevices. In version 2.1 purple mode boot was removed.
With MagicCFG Reloaded for macOS, you'll experience a game-changing NAND programming utility that demands no additional accessories except for a simple DCSD cable/adapter. This streamlined approach makes it not only cost-effective, but also significantly faster when compared to conventional NAND programmers from the Far East.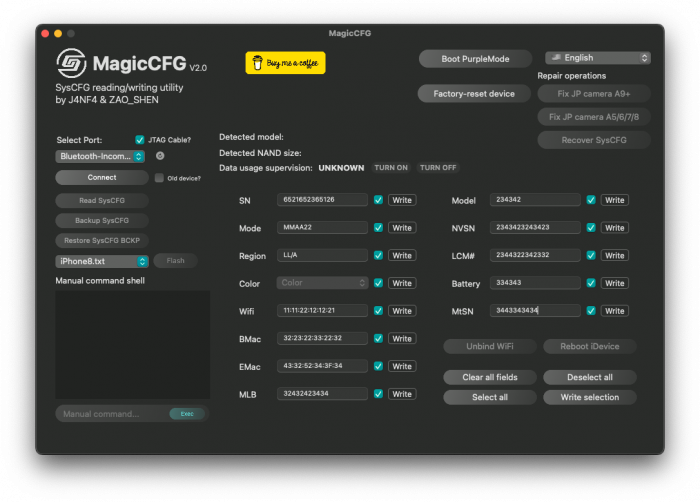 MagicCFG Reloaded 2.0 features a plethora of advanced functionalities are at your fingertips. Seamlessly accessing Diagnostic Mode, reading SysCFG, repairing drivers, backing up SysCFG, performing device reboots, and executing factory resets without the need to upgrade are just a few of the remarkable tasks that this versatile tool effortlessly handles.
Please be aware that this tool is compatible with checkm8 devices running Apple A5 – A11 SoC. It means that you can try this tool with iPhone 5S, iPhone 6S, iPhone SE, iPhone 7, iPhone 8, and iPhone X. Everything newer than iPhone X are not supported with MagicCFG Reloaded.
MagicCFG Reloaded sets the standard for iOS device SysCFG Writing Utilities, boasting an array of remarkable features designed to empower users like never before. With the ability to boot purple mode and modify SysCFG data, such as iPhone Serial Number (SN),this utility opens up a world of NAND customization possibilities. MagicCFG Reloaded was released for macOS only.
With this tool you can make changes to the SN, mode, region, WMac, BMac, EMac, MLB, model, NVSN, NSRN, LCM#, BCMS, FCMS, and MTSN with ease. MagicCFG Reloaded offers a diverse range of other indispensable features. From flashing the device to reading, backing up, and restoring SysCFG data, your device management becomes seamless and efficient.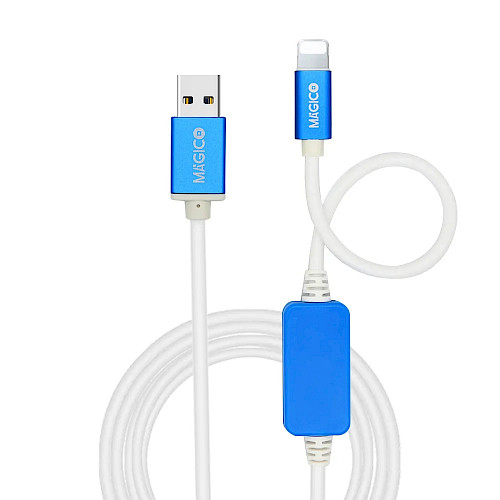 Say goodbye to camera issues with specific fixes for JP cameras on A9+ devices and A5/6/7/8 devices. Unbind Wi-Fi effortlessly, reboot your device when needed, and access essential information like NAND size. Moreover, MagicCFG Reloaded lets you execute manual commands, granting you unprecedented control over your iOS device's NAND configuration.
With the release of MagicCFG Reloaded as an open-source project on GitHub Repository, a new horizon of possibilities emerged. iAldaz, recognizing the potential, took the initiative to create the Windows version of this remarkable tool. Introducing MagicCFG Windows, the solution that empowers you to edit NAND data on your iDevice directly from your PC.
How to restore iPhone without iOS upgrade
MagicCFG Reloaded can be used to change NAND data such as iPhone serial number, but also execute a factory reset without the need to jailbreak app like Succession. Factory reset allows you to install a clean iOS version, by restores iOS to stock. Unlike iTunes, the MagicCFG application will not upgrade your device to the latest iOS firmware during the process.
Download the latest version of MagicCFG Reloaded 2.0.
Save the MagicCFG Reloaded app in Applications folder.
Enter DFU mode on your device.
Connect your iPhone or iPad to your Windows PC.


Note: DCSD cable is required for all devices.

Open MagicCFG Reloaded app,
Click on "Boot PurpleMode" to enter diagnostics mode.
Save all data of your device.
Click "Factory reset device" to restore iOS without upgrade.
What's new
Updated MagicCFG Reloaded to version 2.1.
Added MagicCFG Reloaded 2.0 with option to boot Purple Mode.
Overall improvements and bug fixes.
Post a comment