Kalm tweak: Redesign Lock Screen on iOS 13 - iOS 14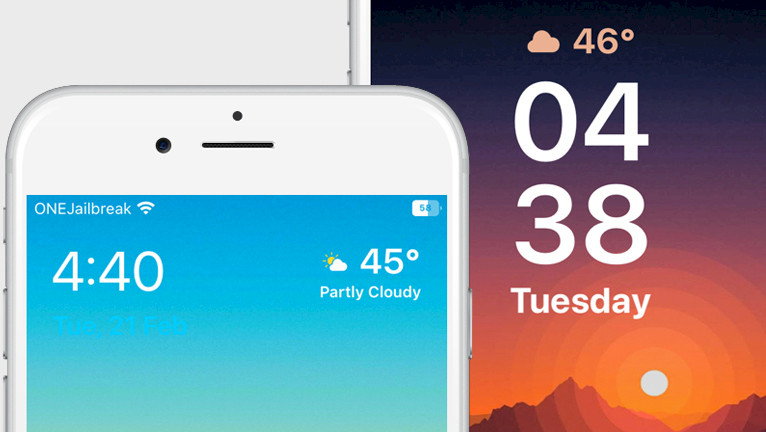 Transform the appearance of your Lock Screen with the exquisitely crafted Kalm tweak, available for iOS 13 – iOS 14. With Kalm, you can revamp the time, date, weather, and Up Next sections of your Lock Screen, imbuing them with stunning design elements.
What is Kalm?
Kalm is a jailbreak tweak that allows you to redesign Lock Screen look on iOS 13 – iOS 14. It boasts an array of customization options and three default styles. Additionally, the tweak is always tinted to match the colors of your wallpaper, ensuring seamless integration.
Once the Kalm tweak is installed, a new preference pane is added to the Settings app. From this pane, you can customize the appearance of your Lock Screen. Kalm provides a range of features to enhance your Lock Screen, including displaying the current time, temperature, and weather conditions, as well as upcoming events in your calendar, reminders, and alarms.
As Kalm has not been updated since March 2021, it is incompatible with the XinaA15 jailbreak on iOS 15 – iOS 15.1.1. Attempting to install the tweak on this jailbreak will result in a system boot loop. However, Kalm tweak works still without issues with unc0ver or checkra1n jailbreaks.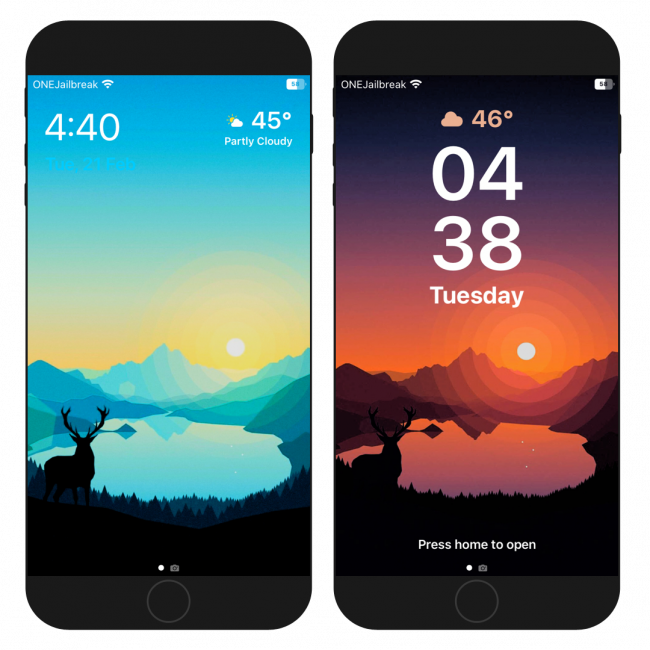 With Kalm, you can view the current temperature and weather conditions on your Lock Screen. From the tweak's settings, you have the option to customize how the weather information is displayed. You can choose to hide the weather icon or adjust its size, modify the appearance of the weather display, view the "feels like" temperature, change the update interval, and even add supplementary information to the weather icon such as location, or condition.
Kalm offers more than just three predefined Lock Screen looks. If you opt for the Compact Appearance, you can also modify the alignment of the Up Next view. Furthermore, the tweak provides a plethora of global customization options, allowing you to change the colors, set custom saturation and brightness levels, define fonts, sizes, and weights, adjust the positioning of Lock Screen elements with sliders, customize the date and time format, and more.
The Up Next section offers a variety of customization options. You can modify the appearance of the Up Next text by switching from the default view to the compact or mini view. Additionally, you have the ability to hide header information, set maximum events, and toggle which events will be displayed in the view, such as calendar appointments, reminders, and alarms.
Kalm works with other popular Lock Screen tweaks including Artsy, ColorFlow, LatchKey, Quart, Photon, Axon, Grupi, Tritium, Lisa, Complications, AOD, Watermelon, and Xen HTML.
Add Repository
Kalm tweak was released as a paid package available for purchase ($1.99) from the Chariz Repository. The tweak allows you to customize the Lock Screen appearance on iOS 13 – iOS 14 with Main, Weather and Up Next events coming up in your calendar. iOS 15 is not supported.
To install Kalm tweak for iOS using Sileo, follow those steps:
Open the Sileo app from the Home Screen.
Tap on the Sources tab, then select Edit button.
Add the following repository URL: https://repo.chariz.com
Search for Kalm and install the package.
Respiring your iPhone to apply all changes.
Access the Kalm tweak from the Settings app.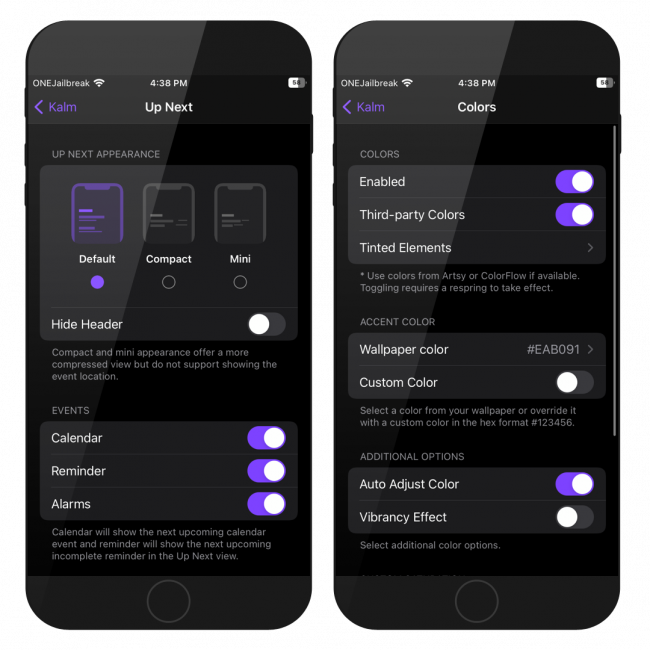 Alternatively, please use the quick links available below to add the repository to your favorite package manager (Cydia, Sileo, Installer, Zebra) with just one tap.
What's new
Updated Kalm to version 3.0.3.
Fixed an issue where Kalm would be hidden/in the wrong position.
Fixed default margin on iOS 14.
Added custom scale of Kalm when wind-down/bed time is shown.
Added spacing adjustment for up next header and up next events.
Added toggle to enable/disable the charging view.
Added toggle to enable/disable fixed time string insets.
Removed hard-coded font limitations.
Optimized settings and main appearances.
Fix for iOS 13 crash with modal views.
Fix for iOS 13 issue with today view.
Sponsored links
Post a comment