Jellyfish tweak
Lock Screen on iOS is boring and with a tweak like Jellyfish, you can change it. Jailbreak doesn't offer only great apps and tweaks but also allows you to modify the look of the iPhone.Jellyfish tweak supports iPhones and iPads running iOS 13 – iOS 15.
What is Jellyfish?
Jellyfish is a tweak for iOS that changes the look of your Lock Screen. This is one of the most beautiful time designs inspired by the watchOS Motion face. It displays the date, actual time, and local weather conditions with a big font that looks much better than the stock style.
The date can take its color from used wallpaper, creating a blended effect, while still retaining its legibility, or you can select a custom color instead. When you connect your iPhone with a charger Jellyfish tweak will also display the percentage of charge on the Lock Screen.
Once installed, Jellyfish tweak adds a dedicated preference pane to the Settings app where you can configure all options to your liking. From here you can also quickly turn on or off the tweak and enable all available options such as weather text and icon, proud lock, and color time.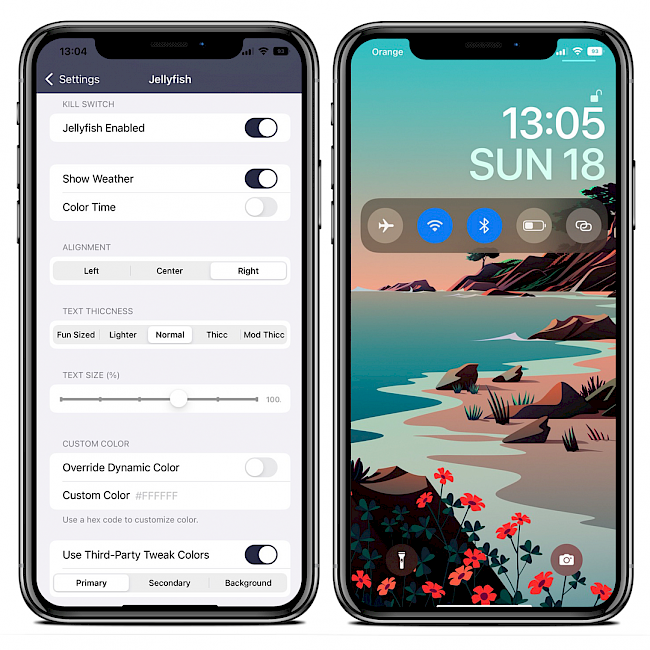 The minimalistic design of Jellyfish tweak makes a perfect fit for any iPhone Lock Screen. After installing the tweak, you will fall in love with the design and you will take a glance at the screen to check the time more often. This is how simple and awesome it is.
If you would like to change the look of Jellyfish the preference pane is the place to start. The tweak offers a lot of customization options. Change text size and thickness, orientation, disable show weather, set the text alignment to left, right, or center, and use a custom date format.
There is also an option to override dynamic color with customized hex code, customize Jellyfish's transparency, the position from the edge of your screen, tint weather icon, use third-party tweak colors, enable text-shadow, and color saturation using the Advanced settings.
On top of that, Jellyfish can use third-party tweak colors and hide weather conditions when not available. Jellyfish tweak works officially with iOS 13 and iOS 14 jailbreaks, but it can run also on XinaA15 Jailbreak released for iOS 15 – iOS 15.1.1, and Palera1n for iOS 15 – iOS 15.7.1.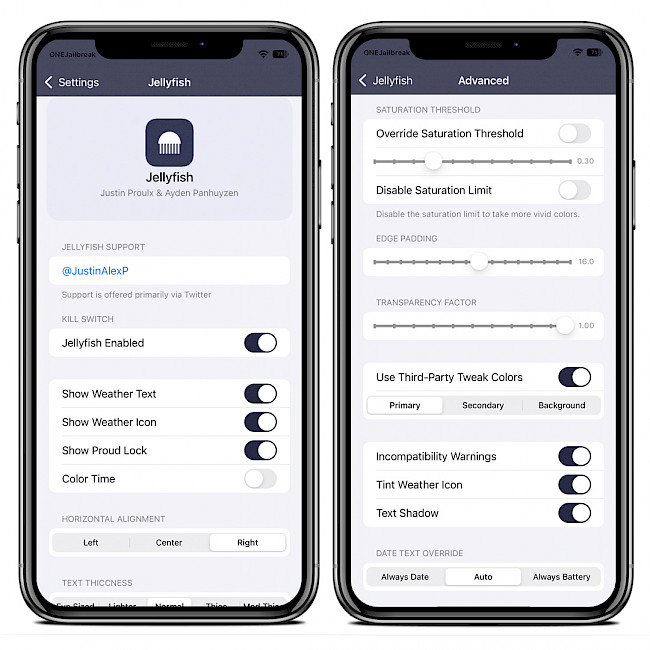 Note: When you run the Lock Screen tweak v1.6.5 on iOS 15 all features work besides the weather condition data that isn't displayed on the Lock Screen.
There are many jailbreak Lock Screen tweak alternatives for Jellyfish such as Kai, Kalm, Viper, or more advanced LockPlus Pro. Still, the Jellyfish tweak stands out as a simple and not overweight solution for your Lock Screen. It was created by Justin Proulx and Ayden Panhuyzen.
Add Repository
Jellyfish tweak was moved from Dynastic Repo to the Chariz Store. Add the official Jellyfish Repo to Cydia Sources and install the tweak. This inspired by the watchOS Motion face modern Lock Screen tweak for iOS 15 and can be purchased for $1.99 from Chariz Store. Jellyfish rootless was never officially released, but there is a build for Dopamine on unofficial repo.
To install Jellyfish tweak on your jailbroken iOS device, follow these steps:
Open the Cydia app from the Home Screen.
Tap on the Sources tab, then select Edit.
Add the following repository URL:


https://repo.chariz.com
https://now4u2kid.github.io

Install the Jellyfish tweak package from the official repo.
Cydia will ask you to respring the device. Accept.
Access the Jellyfish tweaks preference pane from the Settings app.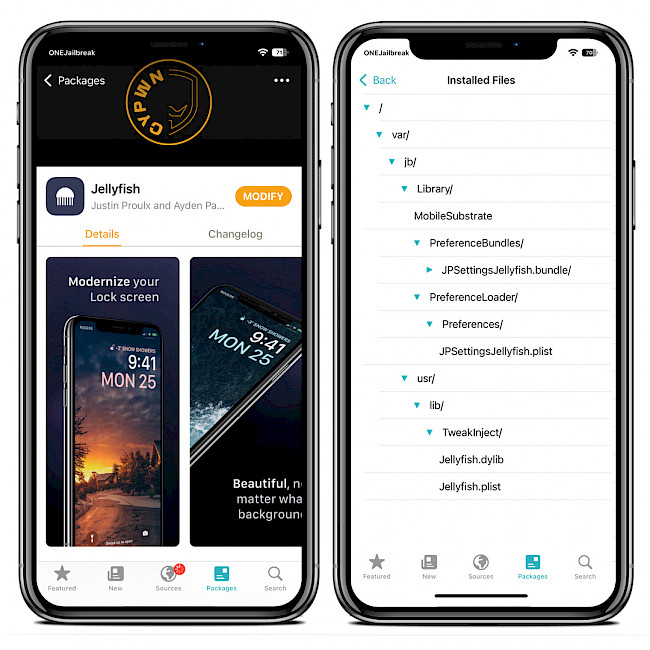 For added convenience, you can quickly add the repository to your preferred package managers (Cydia, Sileo, Installer, Zebra) by using the convenient quick links provided below. With just one click, you can easily add the official repo and download Jellyfish tweak.
What's new
Updated Jellyfish tweak to version 1.6.5.
Adds an option to remove the text-shadow for Jellyfish.
Fixed a bug causing colors set by other tweaks to not behave as expected.
Jellyfish color changes now have a fading animation.
Recompile to support arm64e devices on iOS 13.
Initial release on Chariz.
Post a comment