iTransmission Download the torrent client for iOS

qbap |
iOS Apps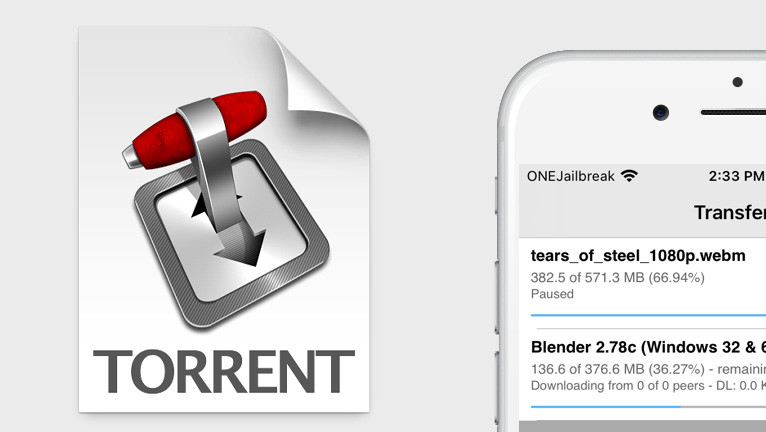 iTransmission is a simple BitTorrent client for iOS allowing you to download .torrent files directly on your mobile device. This app is not available in the official App Store but there is a solution to install it on your iPhone. Works on non-jailbroken and jailbroken devices.
Download iTransmission IPA
What is iTransmission?
iTransmission is a native BitTorrent client for iOS that uses the same backend as Transmission on macOS does. The app is not updated since 2016 but it still works on the latest iOS devices. No matter if you are using iOS 14 or iOS 15 you can install the app and download torrents.
The torrent client for iOS offers only some basic features. Download torrent files from magnet links or direct URLs to .torrent files. iTransmission is packed also with a built-in web browser allowing you to view torrent websites directly from the app.
Once you will add a torrent file to iTransmission to download the BitTorrent client for iOS will display some useful information about the file. You can view the name and size of the downloaded file, the number of connected peers, the actual download and upload speed, and download progress. When you will tap on the torrent you will view even more details.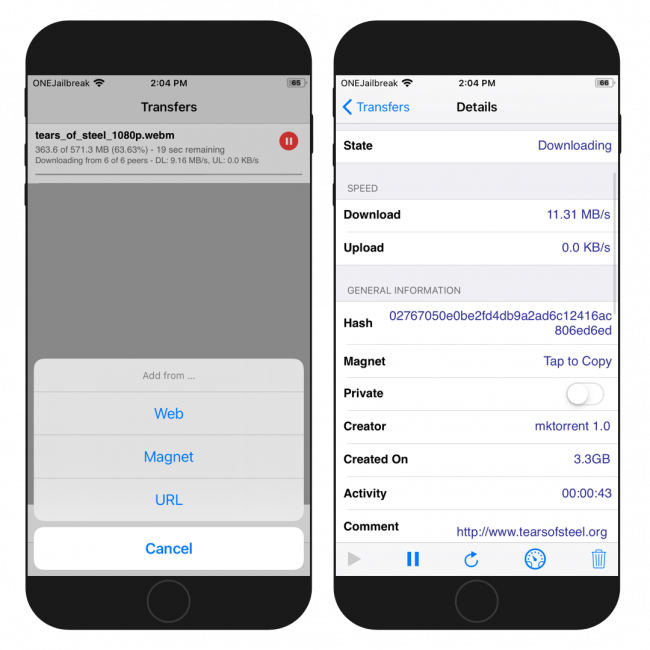 In .torrent details, iTransmission displays: file hash value, comment added by the creator, the app used to generate the torrent file, an option to copy the magnet URL, view all included files, and edit trackers. From here you can also recheck data, pause downloads, and set bandwidth settings such as maximum peer connections and speed limits for download and upload.
iTransmission for iOS offers also a dedicated preference pane from where there is an option to enable background downloading, set port listening, configure maximum and global connections per torrent, or set upload and download limits for all torrents.
The torrent client for iOS features also supports for push notifications to inform you when a file was downloaded in the background. Most importantly iTransmission was designed in such a way as to use as low memory as possible while working in the background.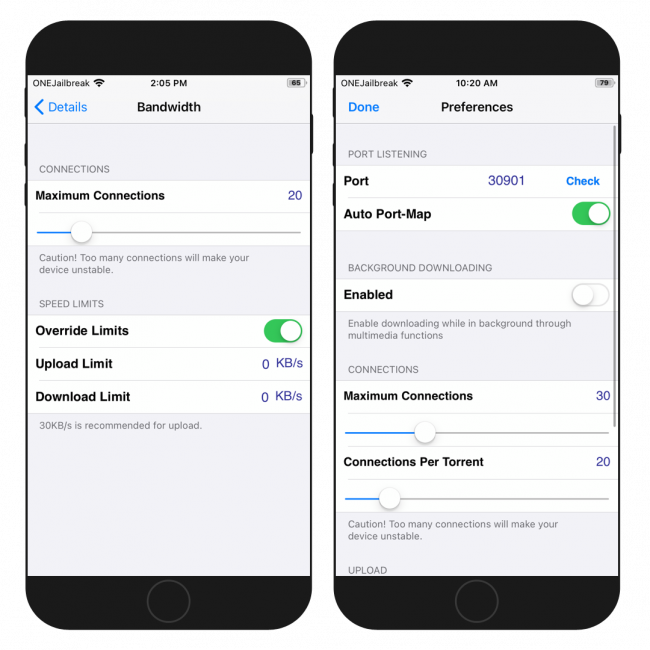 iTransmission supports all devices running on iOS 9, iOS 10, iOS 11, iOS 12, iOS 13, iOS 14, and iOS 15. To download the application on a jailbroken device simply add the repository to your package manager and install the package. For a non-jailbroken device, you can sideload the prepared iTransmission IPA package with your favorite Cydia Impactor alternative.
This BitTorrent app for iOS was not updated for a few years but it still works as expected. Alternatively, you can use iTorrent. This is a free BitTorrent client for 13 - iOS 15 devices offering similar features to download torrents on iOS such as supports .torrent files, URL links, and magnet links to download data from the BitTorrent network.
Downloaded torrent files are stored on your device in the location:
/var/mobile/Containers/Data/Application/iTransmission/
How to install iTransmission
iTransmission was released in the BigBoss Repository for jailbroken devices for easy installation. When you are running an iOS device without jailbreak you can also sideload iTransmission IPA on your iPhone or iPad. What's more, we provide also direct web links allowing you to install the torrent client for iOS without the need to use a computer.
Download and sign IPA
iTransmission IPA can be installed on your iPhone using Sideloadly (Windows and macOS). If you don't own a developer certificate the app can be signed with a free Apple account allowing the torrent client to work for 7 days without revokes. After that time you must re-sign the app.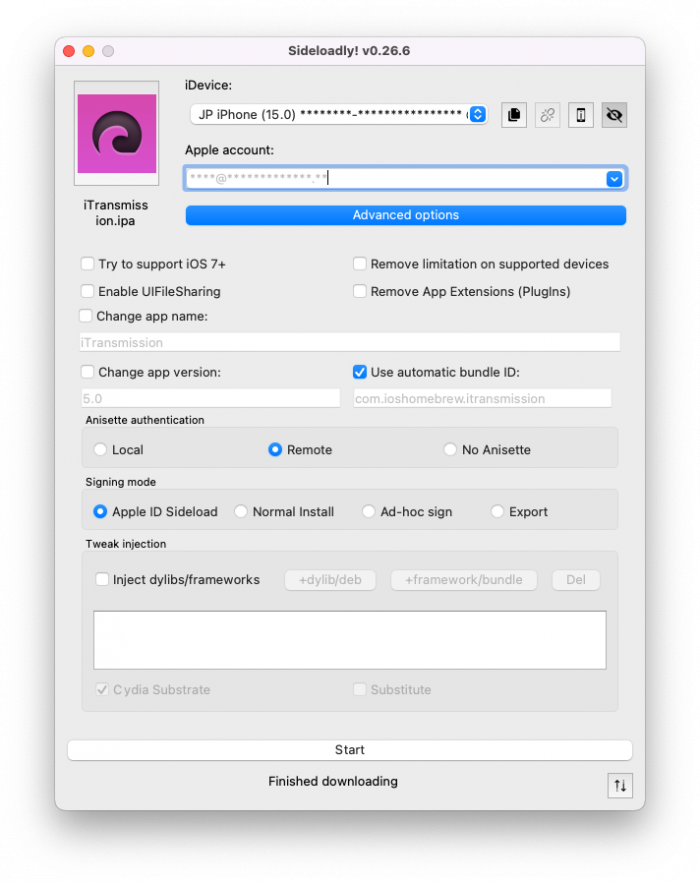 Step 1. Download iTransmission IPA from the link on the top of this page.
Step 2. Run Sideloadly from PC or Mac.
Step 3. Connect your iPhone / iPad to the computer via USB.
Step 4. Load the downloaded IPA file to the app to install.
Step 5. Provide your Apple ID to sign the iTransmission IPA file.
Step 6. Click the Start button to sideload the IPA file on your device.
Step 7. When prompted, enter the password for your Apple ID.
Alternatively, please use the quick link available at the top of this page. Install via the Sideloadly button will automatically download and install the latest IPA with just one click.
Install iTransmission without a computer
iTransmission for iOS can be installed on your iPhone or iPad using direct web links. If you don't own a computer you can try to install it using direct links (available below). The app was signed with a public certificate and those get often revoked by Apple disallowing to install the app.
iTransmission Install - direct weblinks (no PC)
Step 1. Tap on "Install iTransmission" from the Safari browser.
Step 2. Tap Install on the message prompt "would like to install iTransmission".
Step 3. iTransmission app will appear on your Home Screen.
Step 4. Navigate to Settings → General → Device Management.
Step 5. Find the newly installed Enterprise App Certificate and trust it.
Step 6. Run iTransmission from the Home Screen.
To make this process even easier we included on top of this page quick URL links allowing you to download, sign and install the iTransmission IPA file with just one click through your favorite tools such as Sideloadly, ReProvision, or AltStore. Because iTransmission IPA was signed by your own certificate it's required to trust it to open the app.
Step 7. Open the Settings app from the home screen.
Step 8. Navigate to General → VPN & Device Management.
Step 9. Click on the developer app with your e-mail.
Step 10. Tap on Trust to allow the application to run.
Repository
iTransmission was released as a DEB package through the popular BigBoss Repo. To install the torrent client for iOS first you need to add the transmission Repo to your package manager and install the app. The process is as simple as you would expect it from installing a jailbreak app.
Open the Cydia app from Home Screen and tap on the Sources tab.
Tap on Edit → Add buttons and enter the Repo URL: http://apt.thebigboss.org/.
Search for the iTransmission app and install the package.
Respiring your iPhone to apply all changes.
Once installed, the iTransmission icon will be added to the Home Screen.
Alternatively, please use the quick links available below to add the repository with just one tap to your favorite package manager (Cydia, Sileo, Installer, Zebra).
Add iTransmission Repo to your package manager.
How to download torrents on iPhone
To download torrent files on an iPhone is really straightforward once you will install the iTransmission BitTorrent client for iOS. This is how to download torrents on your iPhone.
Install iTransmission with your preferred method.
Open the iTransmission app from the Home Screen.
Tap on the + button to add a .torrent file.
Enter the URL to a .torrent file or use the magnet link option.
iTransmission will add the BitTorrent file to the transfer list.
Once download you can view the files.
Source Code
iTransmission is an open-source project released under the GNU General Public License v3.0 through GitHub Repository. It means that you can freely distribute and modify the source code by yourself. The latest changes to the code were added on 14 Mar 2019.
The torrent client for iOS was primarily written in C language, but it uses also some parts written in C++ 7.9% and Objective-C 5.6%. To compile the project you need a macOS with Xcode development tool installed. iTransmission works also sideloaded on iOS 15.
What's new
Added video and audio player.
Now with support for iOS 14 and iOS 15.
Code optimizations.
Added support for magnet links.
Minor bug fixes.
Post a comment